Ann "Babe" Huggett
April 30, 2009
Snap out of it

Ann "Babe" Huggett
When did the comic advices of, "When in danger, when in doubt, run in circles, scream and shout." go from a mere joke to today's reality? Honestly. It's like the American People are being purposely kept off balance in one big Obamagasm Psy Ops designed to distract them from all the achingly awful, unconstitutional legislation roaring through the Democrat majority Congress and the filibuster proof Senate now.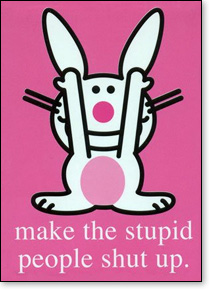 While news commentators are debating The Great Usurper's first 100 Days and how the grotesquely self-entitled cretin Senator, Arlen Specter (RINO) ran back to his original Democratic Party roots in order to stay in power past the 2010 elections, Joe and Jane Average are cowering under their respective covers because the rapidly developing-into-a-pandemic swine flu is stalking the land thanks to the feckless Department of Homeland Security refusing to seal the borders. If you add to that Air Force, or should I say Air Farce, One being taken out for a joy ride photo op, which terrorized New York City, supposedly without President Obama's permission, the FBI spying on the attendees of the Tax Day TEA Parties and everyone else being smeared as a racist every time one objects to Obama and his leftist agenda, it's enough to induce mass agoraphobia.
What we need instead is to snap out of it and continue the massive pushback that started with the Tax Day TEA Parties. We should be fighting back against H.R. 1913, The Local Law Enforcement Hate Crimes Prevention Act a.k.a "The Hate Crimes" bill, which criminalizes free speech, thought, Christians and the Bible while establishing a special and privileged position for politically correct favored sexual and ethnic groups du jour. That bill just passed the House 249-175 with no Republicans voting for it. It is a stronger version of a bill that President Bush killed off by threatening to veto it in 2007 and its chief Senate sponsor is Senator Ted Kennedy, which is enough to make anyone familiar with Kennedy's scorched America policies reel back in terror.
It's the Gay Agenda soon to be enshrined into law and heaven help us all if we so much as look askance or object to anything homosexuals say or do. No Christian is safe and no Christian preacher is safe. Canada's despicable and misnamed Human Rights Commission actually views the Holy Bible as hate literature and routinely harasses Christian ministers as hate mongers. Oddly enough, the Koran, which does qualify as hate literature, what with its prime directives of misogyny, slavery and assaulting or killing of non-Muslims as the mood strikes, has been given a pass. Evidently if you further the Left's agenda attacking Western Christian values and freedoms then you're free to be as hateful and as violent as you wish.
By its very nature of establishing privileged status, H.R. 1913 is clearly unconstitutional because it negates the Equal Protection clause in the 14th Amendment But, hey, what's a shredded U. S. Constitution among friends and lovers? And it should be a real bonanza to cash-strapped state and local governments because the Federal government will provide the necessary grants to persecute,... oh! Excuse me! Prosecute anyone unlucky enough to inadvertently hurt the exquisitely sensitive feelings of the whips and chains gang. Maybe H.R. 1913 should be renamed, "The Keep Lawyers Solvent And Living In Luxury" Bill. Extra snaps to you if you're a homosexual lawyer!
Right now all Perez Hilton can do is call Miss California, Carrie Prejean, names for defending marriage as the union between a man and a woman. Next week he could have her jailed. Today this editorial is legal. Soon it won't be. But, according to the Department of Homeland Security's Janet Napolitano, I'm already a domestic terrorist. I never thought that I would be adding "criminal" to my resume for exercising my First Amendment rights of freedom of speech (I'm a talk show co-host), freedom of religion (I'm a Christian), freedom of the press (I'm writing this article, aren't I?), the right to peacefully assemble (More TEA Parties!). At this point petitioning the government for a redress of grievances is almost a moot point because those in charge aren't listening if you aren't toeing that old socialist line.
And if you think this is bad, just think of what they are doing to our Second Amendment right of gun ownership! Without the Second Amendment, the other 26 Amendments can not be defended and that's just the way the Obamunists like and want it.
Be afraid, be very afraid but be afraid on your own terms, not theirs. They want you to cower with their entire manufactured daily distraction of one crisis after another when your justified fear for your Constitution and country should galvanize you into fighting back. Now go call (US Capitol
Switchboard
at (202) 224-3121), write and/or fax what we laughingly call our Senators and make pests of yourselves. Tell them, "NO on the Hate Crimes bill!!" The only thing you have to lose is your freedoms and your country.
© Ann "Babe" Huggett
By
---
The views expressed by RenewAmerica columnists are their own and do not necessarily reflect the position of RenewAmerica or its affiliates.
---