Desmond McGrath
Cherry picking Don's poppy rant

New Canadians need to respect the poppy as well

By
Desmond McGrath
November 15, 2019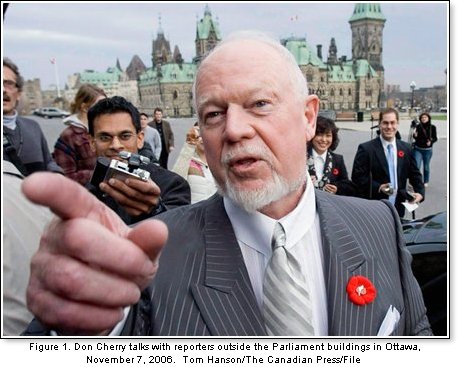 Foreword to American Readers: Don Cherry was well known to Hockey Fans on both sides of the border long before his 38-year stint on Hockey Night in Canada came to an end for the following comments as he discussed with
Tucker Carlson
:
FULL TRANSCRIPT OF DON CHERRY'S POPPY RANT: from the National Post

"You know, I was talking to a veteran. I said 'I'm not going to run the poppy thing anymore because what's the sense? I live in Mississauga, nobody wears – very few people wear a poppy. Downtown Toronto, forget it! Downtown Toronto, nobody wears a poppy.'

He says, 'Wait a minute, how about running it for the people that buy them?'

Now you go to the small cities, the rows on rows.

You people love – that come here, whatever it is – you love our way of life, you love our milk and honey. At least you could pay a couple of bucks for a poppy. These guys paid for your way of life, the life you enjoy in Canada. These guys paid the biggest price.

Anyhow, I'm going to run it again for you great people and good Canadians that bought a poppy."

Living in the USA and not watching Live Smellyvision much, I was quite taken aback by the vehement scorn and dismissal of Don Cherry's comments about the lack of Poppy wearing in Major Canadian Urban Centers like his home town Mississauga or Downtown Toronto. 'Now Jesus himself had pointed out that a prophet has no honour in his own country' (John 4:44)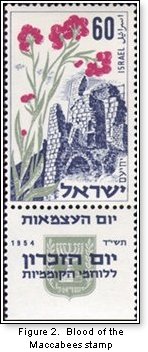 "Don," as he introduced himself to me in Calgary Alberta some 30 years ago, made no mention of Race, Creed, or Country of origin but was referring en masse to "New Canadians"
"You people love – that come here, whatever it is – you love our way of life, you love our milk and honey."
Exodus 3:7-8.
Then the Lord said, "I have surely seen the affliction of my people who are in Egypt and have heard their cry because of their taskmasters. I know their sufferings, and I have come down to deliver them out of the hand of the Egyptians and to bring them up out of that land to a good and broad land, a land flowing with milk and honey."
The people of Israel to this very day have not forsaken the travails of their long existence nor do the new Israelis ignore the significance or symbolism of the flower known as "Blood of the Maccabees" has become the symbol for Yom Hazikaron, the Memorial Day for Israel's fallen soldiers and victims of terrorism.
"There is no child in this country,"
writes Ben Yehuda,
"who does not recognize this sticker.
We Newfoundlanders and Labradoreans were forewarned by Major Peter J. Cashin Machine Gun Corps, Royal Newfoundland Regiment #1387
"I say to you, that there is in operation at the present time a conspiracy to sell, and I use the word sell advisedly, this country to the Dominion of Canada. Watch in particular the attractive bait which will be held out to lure our country into the Canadian mousetrap. Listen to their flowery sales talk which will be offered to you; telling Newfoundlanders they're a lost people, that our only hope, our only salvation, lies in following a new Moses into the promised land across the Cabot Strait."
With that Union of two Commonwealth Nations Newfoundland and Canada, on April 1st 1949; our Memorial Day, July 1st (1916 Opening of the Battle of the Somme). competed with Canada Day July 1st 1867 and our WWI Remembrance Flower, the Forget-Me-Not competed with the Poppy.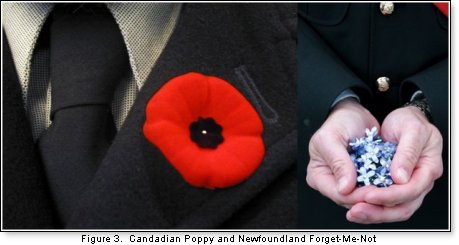 Despite those significant differences between Newfoundland's and Canada's "Remembrance of Things Past" we as New Canadians ( 49% of us were made Canadians against our will via an Act of the Imperial Parliament – Hon R.S. Furlong ) have taken the "The torch; to hold it high and not broken faith with those who died"; adapted from
"In Flanders Fields"
by Lieutenant-Colonel John McCrae, Canadian Expeditionary Force, WWI. The first official Remembrance Poppy was not a Canadian Invention like Basket Ball, but rather the brainchild of
Moina Michael, a College Professor from Georgia who was working with the YWCA in New York
and inspired by McCrea's words, penned
"We Shall Keep the Faith"
before November 11th, 1918 and started the trend of remembering the fallen by wearing a Poppy.
Our Province, like West Virginia; despite our poverty, have both birthed more recruits to our respective military per capita than any other Province or State.
For the feeble and sanctimonious pundits who wrap themselves in the Marxist cloak of "Political Correctness"; Don's paternal grandfather, Sub/Cst. John T. (Jack) Cherry, was an original member of the North West Mounted Police and is maternal grandfather,
Richard Palamountain
, was a Cornish child immigrant to Canada and served in the Canadian Expeditionary Force of WWI. Even the famous statue of the US Marines raising the flag over Iwo Jima shows a Czechoslovakian Immigrant
Michael Strank
.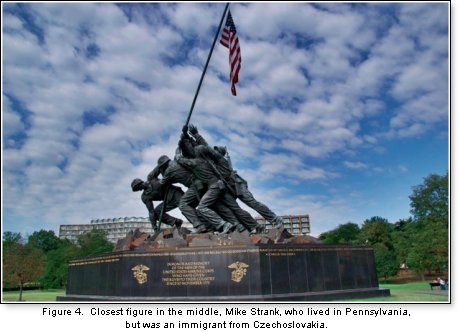 From the
Canadian War Museum
:
"In the war's early years, most Canadian troops were not Canadian born. In the First Contingent that went overseas in late 1914, 70 percent had been born in the United Kingdom. This reflected pre-war immigration from the British Isles and the patriotic ties between recent arrivals and the mother country, but it was still a high number. In Australia's first contingent, for example, 73 percent were native-born. At war's end, despite the compulsory service imposed by the Military Service Act, only 51 percent of the Canadian Expeditionary Force (CEF) was Canadian-born. The comparable figure for Australia was 84 percent."
Even one of my distant relatives Lt. T.J. McGrath (Right Standing) was an immigrant to the USA and rode in the US Cavalry with General Pershing against Pancho Villa. The world is full of those from other nations who serve in the armed forces of countries not of their birth and to name a few: Friedrich Wilhelm von Steuben, Marquis de Lafayette, John Paul Jones or
Eugene Jacques Bullard
.
What all of these individuals have in common is that from the fallen Tommy Canucks at Vimy Ridge or of the Royal Newfoundland Regiment at Beaumont Hamel or Monchy-le-Preux, or the Doughboys at Meusse-Argonne or the US Marine Devil Dogs at Belleau Wood or Mike Strank, who died before Iwo Jima was liberated; they all did so for the greater good of their adopted country. They all put their pants on one leg at a time and while
"All Gave Some, Some Gave All"
.
I do not blame the New Canadian's for their woeful ignorance of our past, I place the blame squarely at the feet of Federal Leadership and in particular Prime Minister, (Justin) Trudeau- the Younger, who
said he is "jealous" of immigrants to Canada and their families, who, he said, have more of a stake in the country than others.
The country added 71,131 immigrants in the final three months of 2018
, for a full year increase of 321,065, according to the latest estimates released Thursday by Statistics Canada in Ottawa. The annual increase is the largest since 1913 – when 401,000 immigrants flocked to the country – and the fourth largest in historical data going back to 1852. To put that into perspective, when Newfoundland joined Canada it had a population of approximately 318,200.
The Federal disdain for remembering Newfoundland and Labrador's losses on July 1 1916 was painfully evident during the 100 year memorial service at Beaumont Hamel that I previously wrote about in
Newfoundland Government and the God of Abraham MIA at Mordor of Beaumont-Hamel
and
HERE
.
Here is a very important speech by a late friend of mine, Philip Riteman. the only member of his family to survive Auschwitz concentration camp. Philip became a Newfoundlander in 1946 when he was not allowed into Canada at the time because of then Canadian Prime minister William Lyon McKenzie King's earlier Nazi sympathetic and antisemitic policies. He became a New Canadian on April 1st 1949 against his will, having voted for a return to Responsible Government.
TEDxSTJOHNS – Philip Riteman – A Life Beyond Hatred
. "God Bless your Veterans"; I strongly suggest you watch it!
All those who criticized and castigated Don Cherry for his comments are the same people who were strangely silent about myriad things degrading North American society. While many of their number call themselves Journalists, they have no such professional training; nor are they intellectual observers of the Human Condition, as I could walk barefoot through their deepest thoughts and never get my feet wet. They are nothing more than propagandists obfuscating painful truths from their Potemkin's villages; Orwell's talking heads manufacturing consent. Where Don Cherry has made a living honestly speaking his mind, those who criticize him mindlessly regurgitate the propaganda from the colonial overlords of the Globalists.
Why were they so strangely silent about Iqra Khalid's motion M-103 regarding Islamophobia that refused to include anti-Semitism or the associated antisemitic behavior of the Canadian Leaders including "Trudeau the Elder" who wrote a vehemently anti-Semitic play titled Dupés (meaning "We've been had!") and Trudeau the Younger omission of the words Jew and Anti-Semitism from a Holocaust speech? They were also, strangely silent to Representative Ihlan Omar's "CAIR was founded after 9/11 because they recognized that some people did something and that all of us [Muslims in the U.S.] were starting to lose access to our civil liberties." My open letters to Ms. Khalid are
HERE
.
They certainly never howled like banshees over Trudeau the Younger's, with apologies to Sophocles, Freak Tragedy, the multiple acts so far being labeled,
"Head" Master
,
Brown Face
, Jew-less and Anti-Semitic-less Holocaust speech, SNC Lavalin, Trans Mountain Pipeline, Bill C-69, ethnic costume of the week, Ad nauseam... After Canada's election/intermission the Tragedy continues and the silence is deafening!
Why I stand by Don Cherry's remarks:
I stand by Don Cherry's rant that the media's minions have conveniently cherry picked to their own narrow objective as more Panem Et Circenses for Emperor Justinian of the 'Arabian Nights.' To quote Winston Churchill: "A nation that forgets its past has no future" and my late friend
Roland Nungesser
a French Resistance fighter during WWII who was often fond of saying "La terre est le peuple et une terre sans agriculteurs et les pêcheurs sont un cadavre sans âme!" (The land is the people and a land without farmers and fishermen a soulless corpse!). Like Don Cherry, we all have a right to admonish "New Canadians" who are either accidentally or deliberately kept ignorant of Canada's past. Blindfolded from the lives of everyday Canadians in the hinterlands, they feel no national pride running through their veins to commit to humble homage for the 49% of the Canadian Expeditionary Force who were also "New Canadians"; whose blood had stained Flanders Fields. They have no collective guilt from not buying a Poppy to wear.
They have no knowledge about "The Last Great Cavalry Charge" where "New Canadian" volunteer Lt. Gordon Muriel Flowerdew was mortally wounded on March 31st, 1918 for which he was posthumously awarded the Victoria Cross for valor the very day there were riots in Quebec City against Conscription (The Draft).
Is this woeful "Poppy-less" display by the "New Canadians" or "Born Canadians" in the burgeoning megatropolis's of Canada of their own accident or do "we perceive the evidence of calculating organization"? Was Don Cherry silenced because he had the temerity to point out that the Emperor had no clothes? Or was Don Cherry's crime that he dared to expose that there is a growing protected class in Canada's urban centers that have been imported as a Liberal voting constituency the same way the Democrats in the USA want to open the Mexican Border?
"If a nation expects to be ignorant & free, in a state of civilization, it expects what never was & never will be. the functionaries of every government have propensities to command at will the liberty & property of their constituents. there is no safe deposit for these but with the people themselves; nor can they be safe with them without information. where the press is free and every man able to read, all is safe". – Thomas Jefferson.

In closing, while Don Cherry was too young to have stormed the Beaches of Normandy and just old enough to have routed the North Koreans; He like myself personally knew the long-passed veterans of WWI and the dwindling numbers from WW2 or the Korean war. Don Cherry may be gone from Hockey Night in Canada, Alberta may seek independence from the equalization parasites, AKA the City States of Ottawa and Quebec, and Newfoundland & Labrador may seek to reclaim our Commonwealth Sovereignty; it can never be said that any of them left Canada. Rather Canada left us all behind long ago when (Pierre Elliot) Trudeau – the Elder was in power and "up sprang a trebled multiculturalism program that functioned as a slush fund to buy votes." From "The truth about Pierre Trudeau and immigration" A new book argues Trudeau's record on immigration is a myth worth puncturing by Maclean's, Jun 5, 2013.
Sound farfetched? Consider Danielle Smith:
UN Migration Pact part of the plan to extinguish Canadian identity
, Global News
"stopping allocation of public funding or material support to media outlets that systematically promote intolerance, xenophobia, racism and other forms of discrimination towards migrants.... According to Mansur, the $600-million media bailout is the last piece of the strategy to ensure compliance by financially punishing those outlets that don't play along with the new speech and thought code."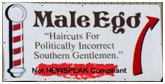 Desmond McGrath
Reporting from New Orleans
© Desmond McGrath
---
The views expressed by RenewAmerica columnists are their own and do not necessarily reflect the position of RenewAmerica or its affiliates.
---