Wes Vernon
Howard Zinn: Communist liar

Poisoning your kids' minds? Hate-America Howie outed by AIM

By
Wes Vernon
August 9, 2010
The Hate-America left scored big-time with its late Stalinist front man Howard Zinn, author of
A People's History of the United States.
Not surprisingly, irrefutable evidence has emerged that the man who hated America for at least 70 of his 87 years was — (Guess what! Shhhhh! No coaching from the audience, please!)....Hate-America Howie was — a Communist. We always knew that was the worldview of his heart. But now it turns out that he made it official. Hate-America Howie was a formal member of the Communist Party-USA.
Might as well make it official. Hate America Howie has been peddling the Communist Party Line all his life. Might as well pay his party dues.
A fraud
Red-diaper baby turned anti-communist David Horowitz — one of the foremost authorities on Communism — has correctly pronounced Zinn's screed a "wretched tract" — a "political cartoon which even the socialist magazine
Dissent
described as an intellectual fraud, which it is."
Damn the U.S.
Now we have documented proof that Howard Zinn, who died in January of this year, was a Communist. OK, so the man is dead and we normally hesitate to speak ill of the recently departed. Here's the problem with that: "Hate-America" Howie is gone, but his evil deeds live on.
Perhaps some establishment foundation using tax-exempt money to study such urgent matters as the sex life of ants might spare a few bucks to measure the extent to which Howard Zinn's sick, lying version of American history has influenced young people for decades.
More to the point — how have this one man's literary stink bombs (dropped on America) influenced those who later in their lives controlled levers of power and influence in government, academia, media, business, labor — whatever? (Hmmm...community organizing?)
Why not? The book printed over a million copies and was used in high schools and universities. Sustained efforts were aimed at directing this poison to elementary and even pre-school students, as well. "Next up is the comic book version," according to
Conservapedia.
And people wonder why more parents are homeschooling their kids. (Bulletin! "Hate America" propagandists are virulent in their sustained denunciation of homeschoolers. Surprise!)
A capital "C"
How often we have heard pink parlor drivel that, "Well, yes, Joseph Stalin did some beastly things, but after he died, the good 'progressives' who succeeded him were just good, well-intentioned welfare staters." And really, you know — all together now — "Real communism has never been tried."
Feed that to the birds — preferably the buzzards. Hate-America Howie for years was a secret Communist with a capital "C" — both during
and
after the blood-soaked Stalin regime. (The post-Stalin regimes were hardly bloodless either.)
The source
We are indebted to Cliff Kincaid, Editor of Accuracy in Media's
AIM Report,
who has done the shoeleather work in bringing the 423-page FBI file on Zinn to the light of day. Kincaid was mentored by the late Reed Irvine — a respected economist and pioneer media whistle blower. Nothing — but nothing — especially media cover-ups — escaped the investigative prowess of Reed Irvine.
The record
Through a Freedom of Information Act (FOIA) request, we learn that multiple witnesses identified Zinn as a member of the Communist Party, USA.
Herewith are some little nuggets of information on this predator of innocent young minds:
Hate America Howie (HAH) taught a class on "Basic Marxism" at party headquarters in Brooklyn, N.Y., advising his "students" that the basic teachings of Marx and Lenin "were sound and should be adhered to by those present"; HAH was a pro-Castro activist and backed radical groups such as the Students for a Democratic Society (SDS), Socialist Workers Party (SWP), Progressive Labor Party, and Black Panther Party; supported a Communist victory in Vietnam, visiting the Communist regime in Hanoi (ala "Hanoi Jane" Fonda — who — BTW — paid tribute to Howie upon his departure); in 1962, while President John F. Kennedy warned the Soviets to back off or suffer the consequences, HAH — at his quisling best — publicly protested the U.S. demand for withdrawal of missiles from Cuba ("hence," according to Kincaid, "Zinn wanted the United States and its citizens to be vulnerable to a Soviet nuclear attack" — Attention, parlor pinks: Note this great nice guy humanitarian's wish for you and me was nearly 10 years
after
Stalin died); a video tribute to Zinn was posted by the pro-Marxist Institute for Policy Studies (IPW) (
for info on that outfit, see this writer
).
More of the record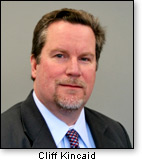 The summary above hits some of the highlights of Howard Zinn's involvement with Communist and pro-Communist organizations and causes. Kincaid has done a stellar job of extracting information from the voluminous FBI file. This is by no means the full extent of his work (which we will keep on file for a re-visit)
Unlike Cliff, we have not yet plowed through all 423 pages, but we'll get there. Herewith some of what we've noted thus far: Howard Zinn was heavily involved over the years with the American Veterans Committee — noted in numerous reports as heavily Communist infiltrated, if not Communist-dominated; HAH wrote a letter to the editor of the New York Times urging that one Communist who had vacated a seat on the city council be replaced with another Communist; he was a delegate to the New York State Communist Party Convention and a member of the International Workers Order; Zinn told a man seated next to him on a train trip from Washington to New York that he attended Communist Party meetings 5 nights a week; he was involved with the Committee of One Thousand, created to raise money for the defense of 19 "unfriendly witnesses" before the House Committee on Un-American Activities' probe of Communist influence in Hollywood; and he was involved with a division of the Civil Rights Congress, which was on the Attorney General's list of subversive organizations.
Oh! — almost forgot. Howard Zinn supported Barack Obama for President. No surprise there.
Howie's "history"
The guts of HAH's "history" is that the founders were bad; the people who built the USA and made it the greatest nation on earth — complete with all its blessings — were evil; capitalism is to blame for everything; every war we ever fought including World War II was conducted either for imperialist ends or to cover our hypocrisy. If the 100 million people who were killed by world Communism could speak, they would be puzzled by Hate-America Howie's affinity for the murderous movement that has stalked the world for decades.
Here are a couple of many comments on how Mr. Zinn viewed this country's "history":
His book "is bad history" and "violates virtually every rule of good historical thinking."
— Historian and author John Fea of Messiah College.
"Zinn reduces the past to a Manichean fable," whose failure to explain adequately why most Americans accepted the legitimacy of the capitalist republic "is grounded in a premise better suited to a conspiracy-monger's Web site than to a work of scholarship." — Michael Kazin, Professor in the Department of History, Georgetown University.
David Horowitz first labeled Zinn "a wicked man," but then deleted that from the original web text, explaining he would reserve that category for child-molesters such as Daniel Ortega (Sandinista Communist) and mass murderers such as Stalin and Pol-Pot — though Zinn actively abetted and supported all three. "Howard Zinn," opines Horowitz, "was a fool with wicked ideas and wicked allegiances which continued to his last breath."
Our epitaph:
Here lies Howard Zinn (literally in life as in death — same word, different meaning).
He lied to the FBI when he repeatedly denied being a member of the Communist Party.
He lied when he said he was a "liberal" or a "leftist" but that he would,
of course, never ever
be a Communist.
He lied to millions of innocent kids throughout America's schools when he poisoned their minds with garbage masquerading as "people's history." Which "people?"
Lesson learned: Pay attention to what your child is taught in school.
Howard Zinn — aka "Hate America" Howie. Communist. Liar from A to Z.
© Wes Vernon
---
The views expressed by RenewAmerica columnists are their own and do not necessarily reflect the position of RenewAmerica or its affiliates.
---