Wes Vernon
Stalin's secret agents: why their deeds still matter in the 21st century (Part 1)

By
Wes Vernon
January 17, 2013
Alger Hiss, Soviet agent inside our State Department, had far more influence at the Yalta Conference than previously imagined.
That is news, not history. In fact it is one of many news firsts now revealed as to how America was stabbed in the back before and during World War II, but especially as the dark clouds of the Cold War emerged to plague the entire globe for nearly a half century, starting in World War IIs 1945 aftermath and lasting until the 90s as the Soviet Union finally met its demise.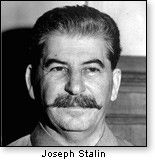 The after-effects of that conflict are still felt in today's very troubled world. Soviet infiltration of our government, and of those other nations beyond the Soviet orbit, which at one time included one third of the world, helped set in motion a string of international disasters that have left behind a wreckage strewn throughout the globe.
Organized treason
That Alger Hiss was with President Franklin Roosevelt as FDR, Britain's Prime Minister Winston Churchill, and Soviet dictator Joseph Stalin crafted a post-war plan for world influence is
history
. What is
news
– finally revealed in the 21st century – is the tremendous influence the quisling Hiss wielded at the 1944 conference. At the time, the full story was covered up, shielded from the public by Soviet assets themselves, by dupes who let the infiltration happen, and by ideologues seeking to avoid political embarrassment.
That is relevant news, given that the conference was one of many events of the era that enabled a strengthened Soviet Union to double down on a marathon threat that would cost the free world in blood and treasure for most of the rest of the century. What better way to advance the Red designs on the West than to plant Soviet agents within the very nerve centers of its rival superpower, the United States? And Alger Hiss was a key operative in that organized treason.
Living a lie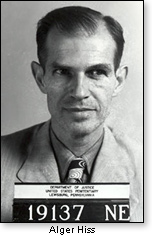 Hiss advised FDR at Yalta, though secretly he was looking out for the best interests of the mass murderer with whom Roosevelt was negotiating. What is news is Hiss's huge impact whereby the Soviets effectively dominated both sides of that bargaining table.
That Soviet-imposed stacked deck against the USA is revealed for the first time in
Stalin's Secret Agents: The Subversion of Roosevelt's Government.
There the authors explode the myth – perpetrated by apologists for the FDR legacy – that Hiss was nothing more than a mid-level State Department bureaucrat whose role at Yalta was barely beyond that of a clerk-technician.
Top-flight expertise
This book is authored by two intrepid investigators with the highest blue-ribbon credentials.
Herbert Romerstein has occupied major intelligence positions at both executive and congressional levels of government. His intel contacts are worldwide.
M. Stanton Evans is a veteran author, commentator, and editor whose specialty is investigative reporting at its most fundamental and basic level – the shoe-leather unearthing of original documents in far-flung locations. (Yes, there are still some things you can't simply access with a click of an internet mouse).
Romerstein, with the help of his wife Patty, secured material from the British and Soviet archives (before the Russian government barred access).
Evans mined the FBI files and other U.S. government documents, as well as those stashed away and heretofore ignored in university archives.
Smoking guns – lots of them
With Hiss sitting "cheek by jowl" one seat removed from FDR, the president gave in to Stalin on virtually every critical post-war issue. Hiss, along with others, even had private meetings with the president himself. His dealings at Yalta were as an equal to those of foreign ministers such as Britain's Anthony Eden, and spoke authoritatively for the U.S. government. In this role, Hiss filled a knowledge void left by Secretary of State Edward R. Stettinius who had been in office for all of two months.
The late Secretary Stettinius, in documents recently obtained from the University of Virginia for this investigative work, detailed the previously untold story of his discussions with historian Walter Johnson, who helped the secretary with his memoirs. Therein, more startling news: that it was Communist Hiss – despite his denials – who had placed the subject of post-war China into the mix of topics for discussion on the eve of the conference with Stalin. This is verified by a document reproduced in
Stalin's Secret Agents
.
Further, Hiss told the British that U.S. policy was aimed at encouraging the anti-Communist regime of Chiang-Kai-shek to welcome the Communist Chinese as part of a coalition government.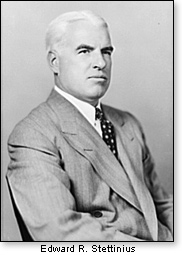 And it's not as if Hiss had been "talking out of school." The Stettinius papers revealed that Hiss – the de facto Stettinius confidante at Yalta – made that statement in the presence of the secretary.
Of course, we all know how that the "coalition" Chinese government idea turned out. Today, there are knowledgeable analysts who see China as our number one threat – even ahead of the Islamists in the Middle East (and in our midst) who long for a world without America.
And oh, by the way: Had anyone suggested in those days that a government run by its Communist Party would eventually have America on the hook for money loaned to finance its deficit spending, that person would have been adjudged a bit daft. But not to worry. We'll probably be gone when our poverty-stricken kids and grandkids have to pay up or learn to speak Chinese, or both.
Brilliantly? For whom?
Time after time during the conference, Stettinius relied on Hiss to represent U.S. foreign policy to other nations.
Stalin's Secret Agents
is replete with such instances where the rookie secretary would tell those who inquired as to America's post-war policy to "see Alger Hiss about this," "Alger Hiss can fill in the background," "See Alger and we can discuss this again."
These were not unimportant policy issues. They included a high commission to govern peacetime Europe, the role of France, war reparations (which we will discuss later in this series), and occupation zones in peacetime.
The latter left the Western powers boxed in as they occupied West Berlin. Relying on Soviet good will after the war, the U.S., Britain, and France had never bothered to negotiate a formal agreement with the Soviets to guarantee land-based rights of access to West Berlin through the Soviet zone. Stalin's aim in that blockade was to starve West Berliners into submission as Moscow prepared to impose Soviet-backed currency on the populace. The blockade – along with other parts of the scheme – was foiled only after an American airlift that lasted for months.
The plot
In addition to an inexperienced secretary of state at Yalta, the U.S. was represented by a president who was sick and dying. President Roosevelt's appearance and condition shocked many who came in contact with him. He had collapsed at a previous post-war planning conference. And his surprise at being told later what he had agreed to suggested that a good part of the time, he really did not know what was going on. The doctor who proclaimed to the world just before FDR was elected to a fourth term that the president was in good health performed an extreme disservice to the public.
So considering that the U.S. had an ill-informed secretary of state, a president on the brink of death, and a young alert State Department official: Guess which one moved forward the impact of America at Yalta?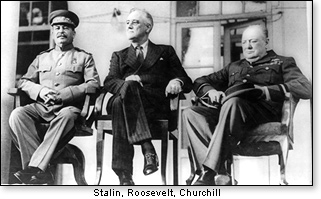 Add to that the fact that even in his better days, Roosevelt viewed the Soviet Union and Stalin through the proverbial lens of unwarranted optimism. He had expressed a belief that if he would just give Stalin everything he wants, the Soviet Union would be a trusted partner in the post-war world. That goes to a point made by Evans at a recent lecture: Deception works best when the target wants to be deceived. Indeed, FDR saw what he wanted to see in Stalin.
Secretary Stettinius believed that Hiss – with his knowledge of the ins and outs of foreign policy – had performed brilliantly at Yalta. In the service of Stalin, yes.
Finally, it is well to shatter a popular misconception that
spying
as understood to connote the art of purloining documents to be slipped "over the transom" to the enemy is the greatest undercover danger to our security. A far greater threat is
influence.
Whittaker Chambers, the former Soviet agent who later exposed Alger Hiss, expressed it this way:
In a situation with few parallels in history, the agents of an enemy power were in a position to do much more than purloin documents. They were in a position to influence the nation's foreign policy in the interest of the nation's chief enemy, and not only on special occasions like Yalta (where Hiss's role, while presumably important, is still ill-defined
[until this book's research clarified that role – WV]
or through the Morgenthau Plan for the destruction
[of post-war Germany by turning that nation into a virtual cow pasture unable to stand in the way of Soviet efforts to take over Western Europe – WV] w
hich is generally credited to [Soviet agent Harry Dexter White], but in what must have been the staggering sum of day-to-day decisions.
Commenting on
The Spy Museum,
a tourist and local attraction in Washington, Evans recently mused aloud as to how perhaps someday an
Influence Museum
might be erected.
We will have more on this later. But space limitations permit only a condensed version here. To get the full story, you really need to read the book
Stalin's Secret Agents.
© Wes Vernon
---
The views expressed by RenewAmerica columnists are their own and do not necessarily reflect the position of RenewAmerica or its affiliates.
---