Wes Vernon
Navigating life's pathways

Mickey Mouse games with Hillary's speed bumps; the Iranians; and ineligible voters

By
Wes Vernon
July 6, 2015
Hillary Clinton, the "all-but-inevitable" Democrat nominee for President in 2016, has finally "clarified" what she means when she declares that "Republicans are systematically and deliberately trying to stop millions of Americans from voting."
(Huh? Well, sure.
Latin
Americans by definition are "Americans" aren't they? They just lack
U.S.
citizenship. "What difference at this point does it make?" So shouldn't they have the same right as you to vote in any of the U.S. states? Got a problem with that, bigot! It's sort of like figuring the meaning of
is.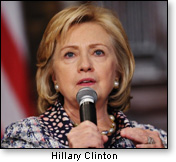 Translated into Hillaryspeak: "We may not win a fair election, so haul out the strong-arm 'voting monitors' to bail us out and dragoon ineligible 'voters' to the polls to rig the big races in 2016."
All of which makes the perfect segue to:
Billionaire George Soros has laid out $5 million on the line to fund a campaign aimed at mobilizing non-citizens to the voting booth next year. Columnist Robert Knight reports the money is to include "educational" material (Soros propaganda) to be digested by the non-citizens, along with felons previously ineligible. (Ever wonder why ex-cons and the Clintons make such logical political allies?)
Other "persuasions"
Of course, "citizenship" anymore is seen by liberals as a mere "speed bump" to illegal voting, a pejorative phrasing to Mr. Knight, but a badge of honor to the Clintonistas; sort of a metaphoric analogy for breaking the glass on the fire alarm box when all else fails – simply to "cheat."
Transparency is a term seldom associated with the Clinton machine...with one exception: Very little in this world is more transparent than what motivates the assertion that those wascally Wepublicans "are systematically" trying to deny "Americans" the right to vote. It is code language for "we've got to slime and smear those who would deny us our sacred right to manage crooked elections."
New York's pilot cheat project
New York's City Council Speaker Melissa Mark Viverito is backing a plan to allow legal residents who are not U.S. citizens to vote in city elections. The group Citizen Action New York – or CANY – is suspected of being disingenuous in describing the effort as getting "legal" resident aliens to the polls merely to focus only on local "elections."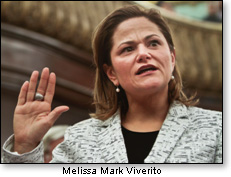 There would be some credibility to that claim if you honestly believed that George Soros would shell out five million because he lies awake at night deeply concerned that something must be done to improve the quality of garbage collection in the Bronx.
At a time when our nation is under attack from within our borders and from beyond our shores, this suspect "get out the vote" project is deserving of a closer look. Mr. Soros – judging by his obsession with bringing down America – has long been hell-bent on using illegal immigration as a cover for making this nation a socialist state.
No American should be so naïve as to think for a minute that there is anything but dangerous mischief at hand here. Good citizenship would demand resistance and protest. Widespread reports of unlawful votes cast by
illegal
aliens over the years invite an inquiry as to whether
legal
resident non-citizens are being hauled to the voting booth because the Clinton machine is suddenly on the warpath against the potholes in Brooklyn or Queens.
Non-citizen voting, needless to say, is unlawful whether by a guest legal resident or by someone who crashed the border insisting he is owed the rights of U.S. citizens.
Again, words don't "mean things"
Meanwhile, Iran complains about international inspectors charged with the task of determining if the would-be nuke state is cooking up something naughty (like a bomb capable to killing millions of U.S. Americans) that is of more consequence than "what's for dinner."
Seems that a U.S. negotiator at the Iran talks had the gall to suggest that inspectors should be allowed to show up unannounced and at will "anytime anywhere." Without even giving them time to set the table for their Potemkin village? Nervy, indeed. The Iranians cry the idea is unfair because they do not have an equal right to show up "anytime anywhere" to inspect U.S. military facilities.
Retorts House Foreign Affairs Committee Chairman Ed Royce (R-Cal.): "In dealing with the critical issue of inspections, it is beyond me why our negotiators are equating Iran's illicit nuclear program – still subject to many UN Security Council Resolutions that it be halted – with the United States. Of course, the U.S.is a recognized nuclear weapons state under the Non-Proliferation Treaty – subject to different access standards – Iran is not. Surely U.S. negotiators recognize this difference."
What is called for here (at the polling booth and elsewhere) is an America that can pierce the wall of misinformation, and lack of information of any kind, on the threats to bring the United States of America to its knees.
On the one hand, a vehement billionaire whose fondest dream is the end of America as we know it plots to add "ringers" to the voter list to benefit a candidate for president with a political sense of entitlement that stems from her gender.
On the other hand, a sitting president looks the other way when in plain sight a rogue nation is preparing for a massive attack on the United States, arguably hoping the phony "negotiations" will stall just long enough for him to leave the White House claiming to have "kept us out of war.
Lies! Lies! Lies! More of us need to say it out loud while there is still time.
© Wes Vernon
---
The views expressed by RenewAmerica columnists are their own and do not necessarily reflect the position of RenewAmerica or its affiliates.
---