Bruce Deitrick Price
Official lies may be killing the country

By
Bruce Deitrick Price
September 10, 2015
First, a note about counterfeit money. It doesn't matter if the bill is 99% perfect. If a single word or squiggle is incorrect, the bill is counterfeit. It also doesn't matter if hundreds of people accept the bill as genuine and use it in everyday transactions.
The remarkable thing about many events in the last 70 years is that they seem to be flawed in obvious ways. Sure, they might be convincing to the casual observer. However, if something isn't 100% genuine, then it's 100% counterfeit.
Think back to the JFK assassination. The government prepared something called the Warren Commission Report, thousands of pages aimed at proving that a "magic bullet" went through two people and ended up unmarked on a gurney in a hospital. In 2013, CNN released a
skeptical summary
which concluded: "The right time came long ago for complete disclosure. Transparency cannot bring President Kennedy back, but at long it can help America to come to terms fully with November 22, 1963"
In 2001 we had the collapse of three skyscrapers, supposedly caused by two airplanes. Almost from the beginning people pointed out anomalies in the official story. A group calling itself
Architects and Engineers
for 9/11 Truth has published a petition demanding that the government reopen the investigation. These are some of the smartest people in our country. Clearly, they are so offended by the official story that they feel compelled to bear witness against it. They point out that you cannot bring a building down with an office fire. Even jet fuel burns at less than 800°F. You need 2000°F to melt structural steel. Architects and Engineers for 9/11 Truth now claims almost 2500 members. Visit the site, view some of their videos, and decide for yourself.
If you visit this site you will have to grapple with how dishonest our society may have become. On the other hand, a greater percentage of people are paying close attention to everything that happens. When the massacre occurred at the Aurora Theatre in Colorado in 2011, people started making videos almost immediately pointing out that there were eyewitnesses talking about
two shooters
There was a long trail of blood on the sidewalk behind the theater – but whose blood? There was a gas mask 75 yards from the getaway car where James Holmes (not wounded) waited passively to be arrested.
Then in December, 2012 we had the
Sandy Hook event.
The biggest flaw, the one that most people can quickly appreciate, is that this was a very large school covering almost a football field. There were supposedly almost 500 people inside that school. But there is not one frame of video or photographic evidence that any human left the school through a door or window. Also consider that the event would create an influx of scores of new people: cops, nurses, doctors, forensic people, crime scene photographers, experts and administrators of all kinds. But in all the shots of the front of the school, you never see a door open. A half-dozen cops loiter idly as if waiting for something later in the day.
A year after that we moved on to the Boston Marathon massacre. Again, there are many anomalies but one in particular stands out. A young man was photographed and filmed many times with both
his legs blown off
But he was not suffering, not bleeding. If legs are blown off, blood typically spurts out like crazy, and the victim passes out in a minute and probably dies. Instead, this guy is sitting upright (!) in a wheelchair, as people push him down the street toward a far-off ambulance. Typically, a person with such injuries lies flat on the ground, his legs in the air, as people apply tourniquets and try desperately to stop the bleeding. You can imagine how frightened such a person would be. But not in this case.
In 2015 we had a massacre at a church in South Carolina. For a week, there was little controversy. Then the videos poured out. Obama had been ready with his anti-gun speech; newspapers across America seemed ready with long articles about cemeteries and monuments that should be shut down. Grieving relatives
didn't shed any tears
(For no legal reason, Department of Justice threw $25 million at those relatives. Cynics started using the phrase "hush money.") This shooter was supposedly an arch-racist but half of his friends, as judged by his Facebook page, were black people. He was supposedly a high school dropout but somehow he could author a 2000-word manifesto. Perhaps weirdest of all,
one video
showed that a dead state senator seemed to look suspiciously waxy and that one ear was higher than the other.
Then, in August, two reporters were gunned down near Roanoke, Virginia. The official version was
attacked more quickly
and aggressively than any of the previous events. Maybe the public is becoming more sophisticated.
Everyone knows we are in an era where the president is routinely accused of lying almost every time he opens his mouth. The problem is that the scandals, coverups, and lies pile up. Incumbents have extraordinary motivation to try to stay in office forever or to control their replacements. This is a terrible threat to the country's democracy.
Facing the truth at this point is going to be very painful in some cases. But I think it's better than the alternative. This must be our mantra: "The right time came long ago for complete disclosure."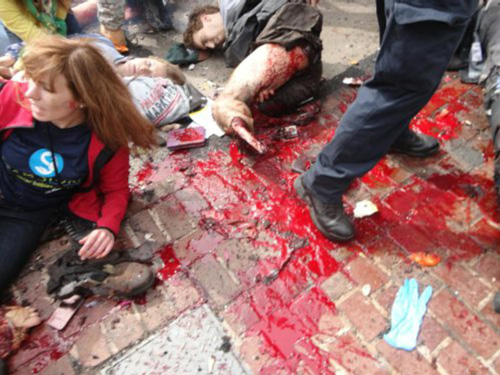 © Bruce Deitrick Price
---
The views expressed by RenewAmerica columnists are their own and do not necessarily reflect the position of RenewAmerica or its affiliates.
---