Michael Bresciani
'Taking Chance' -- high honors for USMC, Kevin Bacon, and HBO

By
Michael Bresciani
May 16, 2009
Just in time for Memorial Day 2009 the HBO movie 'Taking Chance' has been released to home video stores and outlets. This remarkable film is a triumph for HBO and its leading actor Kevin Bacon who plays the role of Lt. Colonel Michael Strobl of the United States Marine Corp.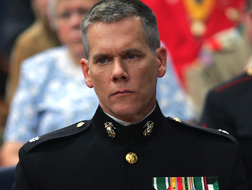 Taking Chance is a must see movie anytime but its timely release to coincide with Memorial Day 2009 is serendipitous. It is a true story. In all the fanfare about stimulus packages, repeal of 'don't ask don't tell' and the general feeling of sliding down the liberal path to our own demise this marvelous film is a powerful reminder of America's proud military heritage.
It is a huge tribute to any branch of the military but especially to the USMC and their bravest front line heroes who have paid the ultimate price. It includes a peculiar twist that runs throughout the film. It is that twist that caused Lt. Strobl to write the details of his experiences in his first-person account of the event in his own personal journals.
Strobl found the name of young Marine Lance Corporal Chance Phelps who had been killed in action while serving in Iraq's Al Anbar Province. Strobl was driven by an overwhelming desire to take time away from his otherwise boring desk job and escort the remains of 19 year old Chance Phelps to his parents' home in a small town in Montana. His superior officers told him it was highly unusual but they saw his deep conviction and granted the request.
What ensued was an experience so moving, so unusual that it would change Lt. Strobl's life forever. According to Strobl the movie depicts the events so accurately that as he watched the production get underway it was like a déjà-vu.
Oscar nominated director Ross Katz handled the deep message of the production masterfully and with respect for the young Lance Corporal and his parents, John Phelps and Gretchen Mack. He didn't miss the peculiar thematic overlay to the story that emerged as a surprise to Lt.Col.Strobl and to anyone who decides to see this film.
The synopsis of the movie is simply the events and more importantly the reactions of those Lt. Col. Strobl encounters as he escorts the body of Corporal Phelps on his long journey home. At each point of transfer the casket encounters new people and new reactions each is a story in itself.
Well noted is the films attention to the details afforded to the remains by the military escort service. Each leg of the trip is meticulously carried out in the utmost respect for the fallen soldier and every detail is carefully checked and re-checked so nothing can be left out or get out of hand.
You will find yourself swelling with pride for the young soldier who although accompanied by a much higher ranking officer seems like the greater man by virtue of his sacrifice. It is a case of deed out shining rank and Kevin Bacon plays into that theme with complete cognizance of that aspect of the story.
Along with the honor that is carefully afforded to the remains of Chance Phelps by the Military escort is the remarkable sense of deep respect and gratefulness that complete strangers show the corporal along the way. Many of them are not even told what is going on specifically but they sense that a hero is nearby and their responses are so unusual that to describe any of them might spoil the film for the viewer.
Suffice it to say that Kevin Bacon provides a stellar performance and HBO was highly sensitive to the depth of the story more than anyone might expect. The military's care of the remains is something few people know anything about and after watching this film no one will ever doubt that they handle these details with a reverence and honor that is nothing short of incredible.
The unusual by-product of this flick is how everyday Americans respond to their heroes. It will inspire anyone with only an ounce of patriotism and it will assure many Americans that lots of people in the US are still deeply patriotic.
Speaking for myself I felt proud throughout the film but at times I was overwhelmed by shame. The shame came from thoughts of recent events in America that seem to be turning the tide toward socialism and wholesale prurient interests. I had the feeling that we, all 300 million of us must not let this single soldiers death be in vain.
I felt that all America ever was all that it started out to be and all it might ever be was embodied in this young dead soldier who had given his all. I suspect that anyone who loves this country will feel exactly the same as I did. I call this a must see film not because I was entertained but strictly because my life will forever be made better for watching it.
© Michael Bresciani
---
The views expressed by RenewAmerica columnists are their own and do not necessarily reflect the position of RenewAmerica or its affiliates.
---