Eric Giunta
Constitution Party VP Jim Clymer makes his case at Ron Paul fest

By
Eric Giunta
August 26, 2012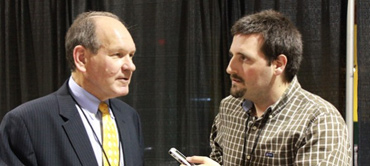 "The Constitution does not need to be scrapped; it needs to be abided by," thundered Jim Clymer,
Constitution Party
vice presidential candidate and former party chairman, to a smattering of an audience at the 2012 Ron Paul Festival, as hundreds more people frequented the vendors in the neighboring Expo Hall.
Clymer, an attorney from Pa., appeared at the Florida State Fairgrounds on behalf of running mate
Virgil Goode
, former U.S. congressman and Virginia senator and Constitution Party presidential nominee, who was unable to attend Paul Fest due to prior commitments.
Goode and Clymer are running on a hybrid platform between traditionalist conservatism and libertarianism. His speech, a summary of his party's political platform,
drew mixed reaction from the crowd of Paul supporters
.
Sunshine State News caught up to Clymer shortly after he delivered his remarks.
Asked why he and Goode were campaigning against the nation's major center-right political coalition, the Republican Party, Clymer makes some unconventional observations.
Catch the rest of the exclusive interview at
Sunshine State News
.
© Eric Giunta
---
The views expressed by RenewAmerica columnists are their own and do not necessarily reflect the position of RenewAmerica or its affiliates.
---