Eric Giunta
Meet Bernie DeCastro: his Sheriff's race could result in biggest third-party win in Florida history

By
Eric Giunta
October 27, 2012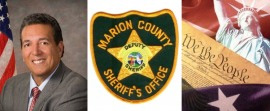 Bernie DeCastro is an ex-convict running for sheriff of Marion County on an obscure third-party ticket; and he might win.
That's because the redeemed jailbird-turned-social worker, whom Jeb Bush once referred to as "one of my heroes," is the only man in the race whose name appears on the ballot.
The race wasn't supposed to end up this way. Republicans command a solid plurality of Marion County's registered voters, the Democratic Party did not bother to field a candidate, and the GOP nominee was expected to cruise to an easy November victory, facing none but token opposition from a write-in candidate or two.
The current sheriff of 14 years, Ed Dean, announced in February that he would not seek a fifth term of office. Dean, a Democrat, endorsed his second-in-command, Republican under-sheriff Dan Kuhn, to succeed him, and Kuhn won his party's primary against Chris Blair, who before his retirement in 2010 served in law enforcement for some 35 years, most recently as major/bureau chief of detectives.
Enter Bernie DeCastro, a sexagenarian with one of the most colorful pasts of any candidate running for office in the Sunshine State. He spent 18 years in state prison, after a string of offenses that included drug possession, drug dealing, burglary, and a string of armed robberies. It was the last of these that earned him a life sentence, though he was paroled in 1984, three years after he experienced a profound conversion to Christianity and resolved to turn his life around.
And by all accounts, DeCastro's made good on that resolution. Since his release, his life has been devoted entirely to ministering to and rehabilitating prisoners and ex-convicts, and he's received numerous public accolades for his service.
Ten years after his release, an impressed Gov. Lawton Chiles and his Cabinet gave DeCastro a full and unconditional pardon for his crimes, restoring all of his civil rights; that same year he was ordained a minister. Popular former Gov. Jeb Bush once publicly declared that DeCastro was "one of my heroes."
In 2001, U.S. Congressman Cliff Stearns nominated DeCastro to represent Florida's 6th District at the National Faith Based Summit in Washington, D.C., and in subsequent years he was nominated by Bush to serve on three different statewide task forces devoted to rehabilitating drug users and other criminals. He currently operates a 132-bed private work release facility known as the Re-Entry Center of Ocala, which he runs through a 10-year contract awarded him by the Florida Department of Corrections.
And that list of accomplishments is far from exhaustive.
What's he doing running for sheriff? . . .
Catch the rest of the story at
Sunshine State News
.
© Eric Giunta
---
The views expressed by RenewAmerica columnists are their own and do not necessarily reflect the position of RenewAmerica or its affiliates.
---