Eric Giunta
Will Florida Supreme Court make DUI breathalyzers inadmissible?

By
Eric Giunta
February 7, 2013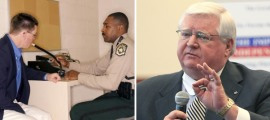 The Florida Supreme Court heard oral arguments Tuesday in a case that could have ramifications for the tens of thousands of drivers who are subjected to breathalyzer exams every year in the Sunshine State
Three criminal defendants, charged with drunk driving in Seminole County, are trying to obtain documentation relating to the software employed by CMI Inc., whose breath alcohol testing devices are the only ones whose results are admissible in Florida courts.
At issue is the proper legal procedure for obtaining these documents, which are held by CMI in its Kentucky headquarters. Attorneys for the defendants argue courts only need to subpoena the documents from CMI's registered state agent, while the company insists the documents need to be obtained following the procedures established by Florida's "Uniform Law to Secure the Attendance of Witnesses from Within or Without a State in Criminal Proceedings" ("Unform Law").
CMI is headquartered in Owensboro, Ky. Under the Uniform Law, which Kentucky has also adopted, a witness living in Kentucky can only be compelled to appear in a Florida court if the appropriate Kentucky court certifies and approves the Florida subpoena.
Lawyers for the DUI defendants argue that, according to the statute's plain language, the Uniform Law only applies to the subpoena of persons, not of documents. . . .
Catch the rest of the story, only at Sunshine State News!
© Eric Giunta
---
The views expressed by RenewAmerica columnists are their own and do not necessarily reflect the position of RenewAmerica or its affiliates.
---