Fred Hutchison
Farewell to greatness

A reflection on the passing of Father Richard John Neuhaus, Editor of First Things

By
Fred Hutchison
January 10, 2009
We live in an age in which the great man has become a rarity. We little understand how impoverished we will be when we can no long bask in the light of great men.
"The Lord God of hosts is going to remove...the mighty man and the warrior, the judge and the prophet, the diviner and the elder, the captain of fifty and the honorable man, the counselor and the expert artisan, and the skillful enchanter, and I will make lads their princes and capricious children will rule over them." (Isaiah 3:2-4)
The grief we experience at the funerals of great men is different from the kind of grief at other funerals. We grieve for ourselves when a great man dies partly because a great man is irreplaceable, partly because what we are losing cannot be recovered, and partly because a great man inhabits an age and when he passes, to some extent he takes that age with him — and leaves us diminished.
God allows us to have some realization of our grievous loss when a great man dies so that we do not forget him and so that we cherish the gifts he gave to us.
I do not believe in the great man theory of history — that the great man creates the age. I also reject the idea that the great age creates the great man. I believe that God creates the times, places and the redeeming spirit of those times and places. Simultaneously, he produces the man and his office and gathers his colleagues around him. Without his office, his colleagues and the special opportunities and crisis of the times, the great man could not deploy his special gifts and the full force of his character.
What God gathers around the great man is He often scatters after his death. For this reason, when the great man nears his end he sometimes has a sense of the threads of his world unraveling all around him. As God calls the man to himself he packs away the paraphernalia of his life and his age like garments to be stored in the attic.
In Tennyson's
Idylls of the King
, the dying King Arthur realizes that the glories of Camelot where he was a great man are finished.
"Now I see the true old times are dead, when every morning brought a noble chance, and every chance brought out a noble knight. Such times have not been since the light that led the holy elders with the gift of myrrh. But now the whole Round Table is dissolved, which was an image of a mighty world."
Arthur realized that the familiar faces that had been gathered around him are gone and were replaced by new unfamiliar faces.
"As the days darken round me, and the years, among new men, strange faces, other minds."
Yet Arthur, realizes a redemptive blessing which can come from his passing.
"The old order changeth, yielding place to new, and God fulfills himself in many ways, lest one good custom should corrupt the world."
"I have lived my life, and that which I have done may He within himself make me pure! But thou, if I should not see thy face again, pray for my soul. More things are wrought by prayer than this world dreams of. But now farewell. I am going a long way...where I will be healed of my grievous wound."
Sir Bedevere watched as the barge holding the body of Arthur drifted out to sea and was amazed by the stillness and deadness of a world without Arthur.
---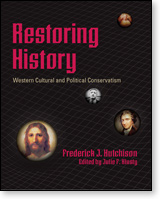 A message from Stephen Stone, President, RenewAmerica
I first became acquainted with
Fred Hutchison
in December 2003, when he contacted me about an article he was interested in writing for RenewAmerica about Alan Keyes. From that auspicious moment until God took him a little more than six years later, we published over 200 of Fred's incomparable essays — usually on some vital aspect of the modern "culture war," written with wit and disarming logic from Fred's brilliant perspective of history, philosophy, science, and scripture.
It was obvious to me from the beginning that Fred was in a class by himself among American conservative writers, and I was honored to feature his insights at RA.
I greatly miss Fred, who died of a brain tumor on August 10, 2010. What a gentle — yet profoundly powerful — voice of reason and godly truth! I'm delighted to see his remarkable essays on the history of conservatism brought together in a masterfully-edited volume by Julie Klusty.
Restoring History
is a wonderful tribute to a truly great man.
The book is available at
Amazon.com
.
© Fred Hutchison
---
The views expressed by RenewAmerica columnists are their own and do not necessarily reflect the position of RenewAmerica or its affiliates.
---