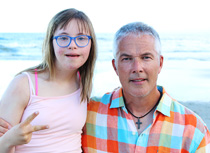 Kurt Kondrich
First they came for the disabled

By
Kurt Kondrich
August 5, 2010
Many people do not realize that the first people targeted for extermination in Germany in the 1930's were the disabled. Under the secret T-4 program, individuals with disabilities were labeled "life unworthy of life" and "useless eaters." The Nazi medical community would identify, target, and then terminate the "unfit" members of society, which included those with mental and physical disabilities.
Gas chambers and lethal injections were two of the methods employed to rid society of these imperfect members, and the remains were cremated. Smoke could be seen rising over towns that used these facilities, and students in one German town referred to the gray trains that transported targeted individuals as "killing crates."
Today, there is a silent eugenic movement that has resulted in 90%+ of children identified prenatally with Down syndrome to be targeted and then terminated. Although there are no railroad cars or smoke stacks in the distance, the results are the same as the "Killing Crates" of the 1930's. Advances in genetic testing, society's obsession with perfection, and the removal of God from misguided nations have fueled this "smokeless and trackless" targeted termination of individuals this lost world desperately needs.
It is said that "History repeats itself," and my hope and prayer is that this spiritually blind nation and world opens its eyes before it is too late. First they came for the disabled, and "What did you say or do?"
© Kurt Kondrich
---
The views expressed by RenewAmerica columnists are their own and do not necessarily reflect the position of RenewAmerica or its affiliates.
---