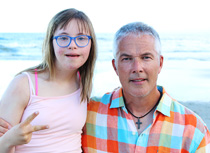 Kurt Kondrich
Rescue tube to the light of the world

By
Kurt Kondrich
October 14, 2010
This week the world watched and cheered as 33 miners in Chile made it through a small rescue tube after being trapped in darkness for 69 days.
http://www.foxnews.com/world/2010/10/12/rescued-chilean-miner-returns-surface/
It was great to observe such a celebration of life and outpouring of prayers for these miners and their families. Chile is one of the few countries in the world that has completely outlawed abortion, and it was clear how the people treasure the gift of life in this nation.
As I watched these events, I couldn't help but think of the approximately 115,000 unborn children who each day in this world are terminated and denied entry into the small tube that leads to the light of the outside world. During the 69 days the miners were trapped in the darkness, approximately 8 million children worldwide were also trapped in darkness from leaving the womb and aborted. There was no chance of rescue for them once their fate was decided, and there was absolutely no escaping the darkness for these most precious and vulnerable citizens. This tragic story occurs daily across the globe, and there is a very disturbing silence to this prenatal genocide.
Advances in science and genetics are allowing our culture to almost universally deny entry to all unborn members who are predicted to be flawed, and 90%+ of all children diagnosed prenatally with Down syndrome are terminated with no hope of rescue. I will keep my prayers lifted that our lost, fallen world will soon wake up and begin celebrating the rescue and emergence of ALL life from the small tube that leads to the Light of the world.
© Kurt Kondrich
---
The views expressed by RenewAmerica columnists are their own and do not necessarily reflect the position of RenewAmerica or its affiliates.
---