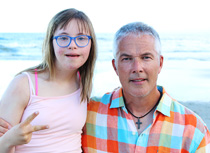 Kurt Kondrich
A Down syndrome Christmas carol

By
Kurt Kondrich
December 2, 2010
My favorite story this time of year is "A Christmas Carol." I was reflecting on how the message from this Charles Dickens classic connects to children with Down syndrome over the last 50 years.
In my modern day story, The Ghost of Christmas Past would show a world not long ago where individuals with Down syndrome were excluded and separated from families, schools, communities and placed in institutions that stir up images of haunted grounds (These abandoned buildings are now focal points for modern-day ghost hunters).
The Ghost of Christmas Present would visit and reveal a world that has made great progress in accepting and including individuals with Down syndrome into everyday life, but there would be a dark, chilling message attached. The ghost would expose faces of the 90%+ children who today are targeted and terminated once they are diagnosed prenatally with Down syndrome. This scene would be very difficult to watch because it is happening now!
The final Ghost of Christmas Future would show a cold, dark society where 2 older people are discussing the good old days when people with Down syndrome were not extinct and brought immeasurable light, happiness and love to this world.
As we prepare for Christmas and the celebration of the greatest birth in human history let us pray that our culture wakes up and stops this silent eugenic movement before individuals with Down syndrome are just a distant memory.
We cannot afford to lose these precious Angels!
© Kurt Kondrich
---
The views expressed by RenewAmerica columnists are their own and do not necessarily reflect the position of RenewAmerica or its affiliates.
---