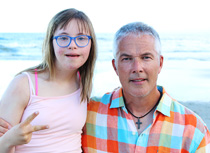 Kurt Kondrich
Save the Pandas AND Down syndrome

By
Kurt Kondrich
November 11, 2013
One of the casualties during the recent Government shutdown was the Washington DC Zoo Panda Cam: "The National Zoo announced that all its live zoo cams, including the one trained on the zoo's 5-week-old panda cub, will go dark."
http://www.washingtontimes.com/news/2013/sep/30/panda-cam-t-rex-will-be-among-the-shutdown-casualt/?page=all
The Panda Cam allows viewers to watch the activities of Giant Pandas Mei Xiang and Tian Tian and their recently born panda cub. Pandas are listed as endangered species
http://nationalzoo.si.edu/Animals/GiantPandas/default.cfm
, and thus they receive special protection to ensure they do not go extinct. The Endangered Species Act of 1973 aims to provide a structure to conserve and protect endangered and threatened species and their habitats.
I think pandas are amazing creatures, and it would be a real tragedy if these mammals were to become extinct. My amazing 10 year old daughter Chloe who has Down syndrome is also an endangered mammal species with a 90%+ termination rate once identified prenatally in the womb habitat. Mammals that have Down syndrome have a unique genetic code, and they bring incalculable amounts of joy, love and purity into our culture. They are also, like the panda, a species we cannot allow to become extinct. Rapid advances in genetic testing may make it possible one day to identify and eliminate any human mammals our society views as "defective" or "imperfect," and this could usher in the extinction of many priceless people. If a "defective" label can be given prenatally then why not allow it postnatal?
What would the response be from our culture if 90% of Panda pregnancies were terminated because the culture did not approve of their color, vegetarian diet, and the fact that they are peaceful mammals? This slaughter would be front page news, and there would be very loud public outcry and protests. An ultrasound cam clearly shows a human mammal in the womb habitat, and should we not as human beings be working to conserve and protect the endangered Down syndrome species and their habitats? Maybe we need bumper stickers and billboards that read "Save the Pandas AND Down syndrome" before these beautiful, priceless mammals move from endangered species to the extinct species list.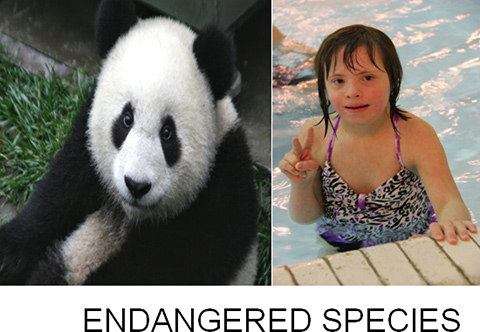 © Kurt Kondrich
---
The views expressed by RenewAmerica columnists are their own and do not necessarily reflect the position of RenewAmerica or its affiliates.
---