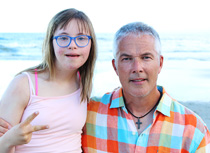 Kurt Kondrich
Prenatal Eagle Protection and Down syndrome

By
Kurt Kondrich
June 16, 2014
For over a year the Pittsburgh region where I live has been captivated by a pair of bald eagles and their 3 eagle chicks nesting along the Monongahela River. There are updates in the local media and even a live video feed broadcasting the activities occurring in the nest:
http://www.post-gazette.com/baldeagles
. There was much excitement as 3 eggs were spotted in the nest, and there was a high level of fear and concern when a raccoon attempted to steal the eggs before all 3 prenatal eagles hatched. I think eagles are amazing and beautiful creatures, and it is always incredible to catch a glimpse of this rare species in the wild.
Bald Eagles are no longer listed under the Endangered Species Act, but they still receive strong protection under 3 Federal laws. Also covered by these 3 statutes are unborn eagles and penalties for harming an eagle egg can be severe. I am glad our culture views unborn eagles as valuable and vulnerable, but it is tragic how this same protection does not apply to unborn children with Down syndrome. There is a 90%+ termination rate for an unborn child diagnosed prenatally with Down syndrome, and if these kids were vanishing cats, threatened insects, or imperiled reptiles they would be classified as "endangered species" and receive full legal protection. If a prenatal screening of an eagle egg determined that the unborn eagle had a defective wing would the recommendation be to terminate this eagle because it does not meet animal kingdom mandates for perfection?
My beautiful daughter Chloe was born with Down syndrome, and her unconditional pure love has given many people a glimpse of how God intended us to treat each other. Chloe is a priceless person, and the world desperately needs her bright light in a society that daily plunges deeper into darkness. I hope one day our culture will give unborn children like Chloe the same level of protection that an eagle egg receives.
Psalm 51:6 "Yet you desired faithfulness even in the womb; you taught me wisdom in that secret place."
Which unborn baby is protected by 3 federal laws?
© Kurt Kondrich
---
The views expressed by RenewAmerica columnists are their own and do not necessarily reflect the position of RenewAmerica or its affiliates.
---