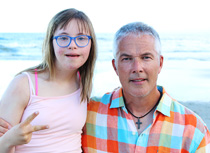 Kurt Kondrich
Rooted in the world or in the WORD

By
Kurt Kondrich
January 18, 2016
Truth and facts are rapidly becoming nonexistent in our culture of death, depravity and deception. Not long ago lying and dishonesty were seen as wrong and sinful, but now they are becoming the new norm in a lost world that is rapidly disregarding the definitive guide for Truth and veracity – God's Word.
As we approach the 43rd Anniversary of the Roe vs Wade court decision which legalized the termination of our most vulnerable citizens, isn't it time we contrast the difference between the world and God's WORD on the issue of our most precious gift – Human Life. There is only one letter "L" separating the world and the WORD, and I have concluded that the "L" in world means LOST. We live in a world where abortion is accepted, promoted and funded, and since 1973 our nation has terminated over 58 million prenatal lives – more than all US Wars and Homicides combined. Ultrasounds and science have clearly shown that a child in the womb is a living human being, and thanks to medical advances children born weighing less than 2 pounds are growing and thriving. Despite the evidence and facts our lost world continues to ignore the miracle of life, and this country eliminates unborn children at a rate of 3500+ each day. Rapid advances in genetic screening has allowed abortion to become the ultimate form of prenatal prejudice and deadly profiling as 90%+ of children who are identified prenatally with Down syndrome are targeted and eliminated due to misguided cultural mandates for perfection. My beautiful daughter Chloe was born with Down syndrome 30 years after abortion was legalized, and she currently could qualify for the endangered species list and children like her may one day join the list of extinction. Chloe has brought nothing but Light, Purity, Joy and Unconditional Love to a broken world.
Now let's examine where God's WORD stands on the issue of Life. The WORD unmistakably embraces and defends the sanctity of all Human Life, and this can be seen in numerous passages including Psalm 139:13 "For you created my inmost being; you knit me together in my mother's womb" and Jeremiah 1:5 "Before I formed you in the womb I knew you, before you were born I set you apart." The Creator of the Universe is undeniably clear and focused on defending, protecting and embracing LIFE from the moment of conception in the womb.
If this nation is ever going to recover from its plunge into darkness and deception it must restore the sanctity of our most priceless national resource – LIFE, and we must once again become "One Nation Under God" instead of one nation that has thrown God under. My prayer and hope is that one day the "L" in world will represent LIFE when our world has become strongly rooted in the WORD. ALL LIVES (Including Down syndrome Lives) MATTER, and the time has come for us to "Embrace and not Erase" this irreplaceable Treasure.
Proverbs 14:25 "A truthful witness saves lives, but a false witness is deceitful."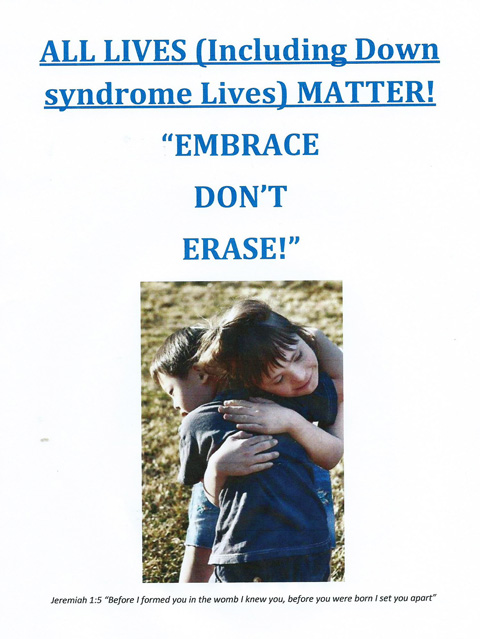 © Kurt Kondrich
---
The views expressed by RenewAmerica columnists are their own and do not necessarily reflect the position of RenewAmerica or its affiliates.
---