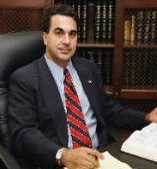 Monte Kuligowski
Paul Krugman's 'climate of hate'

By
Monte Kuligowski
January 11, 2011
A Democrat Congresswoman, Gabrielle Giffords, is shot, along with 18 others by a deranged 22-year old white male at a time when the national political climate is hot with conflict. The Pima County sheriff happens to be a far-left Democrat who, without any evidence, immediately blames the rhetoric of the right for the rampage. And a leftist media runs with the baseless conclusion that Tea Party types are effectively responsible for the shootings.
For Democrat opportunists the ingredients were perfect for not allowing "a crisis go to waste." Without any sense of shame, the far left descended lower into the cesspool of political calculating than previously thought possible. Meanwhile, Tea Party people and other normal Americans turned to prayers and sympathies in the hours following the national tragedy.
Speaking of the cesspool, in his
piece
"Climate of Hate," Paul Krugman announces that he had been expecting, with an accompanying "sick feeling," that such an incident would play out. Why would he feel that way? Krugman could tell "just by watching the crowds at McCain-Palin rallies," that it was ready to happen.
To support his secret knowledge, Krugman cites the since-retracted Obama administration Homeland Security report. That Orwellian document placed patriotic Americans (Obama's opposition) in the category of domestic terrorists and warned of their "growing potential for violence."
Too bad not a shred of evidence exists to connect the demented Jared Loughner to any "rightwing extremist" group much less any conservative movement such as the dreaded Tea Party. And if Krugman had only waited he would have soon discovered that Loughner's political prose is inconsistent and incoherent; he is registered as an Independent and did not even vote in the 2010 midterms.
From there, Krugman admits that Loughner "appears to be mentally troubled," but that doesn't mean his rampage should be viewed as an "isolated event, having nothing to do with the national climate." Huh?
So, conservatives are responsible for the
national climate
? And even though it turns out that according to former
classmate
, Caitie Parker, Loughner was a "left-wing pothead," the Tea Party movement is somehow responsible for his actions?
Next, Krugman cites the above-referenced Sheriff Clarence Dupnik who states in code that the causative "vitriolic rhetoric" is coming from Rush Limbaugh and FOX News. Here's Krugman's own idea of the "toxic rhetoric" which somehow causes leftwing psychos to kill:
"Let's not make a false pretense of balance: it's coming, overwhelmingly, from the right. It's hard to imagine a Democratic member of Congress urging constituents to be "armed and dangerous" without being ostracized; but Representative Michele Bachmann, who did just that, is a rising star in the G.O.P."
Wow. That's a blatantly misleading rant against a potential presidential candidate (who causes leftie knees to knock in fear). Here's the rest of what Congresswoman Bachmann actually
said
: "I want people in Minnesota armed and dangerous on this issue of the energy tax because we need to fight back."
The setting was an interview with WWTC 1280-AM and the context was Obama's disastrous energy plan known as cap and trade; which Obama admits will cause electricity rates to "skyrocket." It turns out that Ms. Bachmann wanted people to be armed with the knowledge of the energy tax issue, not with guns. Being armed with the facts does tend to make one dangerous to the leftists and their agenda.
Let's contrast that "toxic rhetoric" with something Mr. Obama
said
on the campaign trail; which, of course, helped to create a climate of love, peace and warm fuzzies. "If they bring a knife to the fight, we bring a gun." And, Mr. Unifier also
instructed
his supporters to "get in their face." Obama is the only politician I know of to have actually mentioned a "gun" in context of a dreamed up knife fight while campaigning.
If we were to engage in partisan speculation, it would seem a bit more plausible that Obama's toxic rhetoric caused a demented Loughner to bring a gun to his fight with Giffords. It's been
reported
that Loughner had met the Blue Dog Democrat, Ms. Giffords, had issues with her and stalked her since 2007. Maybe his weak mind perceived that she brought a "knife" to the imaginary fight.
At the end of his deplorable article, Krugman defends the hate rhetoric of Rachel Maddow and Keith Olbermann. And he turns to Glenn Beck and Bill O'Reilly with the accusation that you will "hear jokes [from them] about shooting government officials or beheading a journalist at The Washington Post."
I'd love to get the context of that gem
.
That must be sort of like Wanda Sykes
suggesting
that Rush Limbaugh be tortured and wishing him dead to the laughter of Mr. Obama.
Considering the violent history of the left, from the Weather Underground to the
threats
to kill President Bush complete with a how-to book when he was a sitting president, Krugman's piece almost seems as a sick joke. But Krugman is not joking.
No, Krugman and the other leftwing operatives are very serious about using an inexplicable tragedy to convince the public that top conservatives are somehow dangerous and now all Democrats are potential victims. The
mainspin
media have gotten away with too much for too long.
The implications of his shameful narrative were just too enticing for Krugman to use journalistic integrity and common decency even during a time of national grieving.
© Monte Kuligowski
---
The views expressed by RenewAmerica columnists are their own and do not necessarily reflect the position of RenewAmerica or its affiliates.
---