R.T. Neary
THANKSGIVING -- For beautiful nemories of the past

By
R.T. Neary
November 24, 2019
Uncle Tom and Aunt Mamie were two very influential people in my life. They helped mold patterns which still affect my thinking today. It's impossible to think about one of them without the other because their lives were complementary. They were really two parts of a single unit. Uncle Tom and Aunt Mamie were my Godparents.
As we live now in the third millennium A.D., one rarely even hears the term godparents mentioned. If it is, it's probably cloaked in monetary terms – the extent to which they endowed wealth to a person at some point in his or her life. To me it is the values I assimilated because of my relationship with my Godparents.
Irish immigrants, they were in their early 20s when they married, back in the days when commitment was made of steel not plastic, and selflessness was the rule, not just a fairy tale concept. What amazed me most about these two people was the extension of that commitment to others – not just their own biological children. The three children they had was a relatively small brood those days, and they almost seemed to feel they had to do more for others because of it. They took the Godparent role so seriously that, as I look back on it, I had at least equal status in their home. On occasion, my siblings seemed to be a tad jealous of this status, and I was loath to ever relinquish it.
It sounds as though my own parents were non-existent or lacking in love. This was not at all the case – just that Uncle Tom and Aunt Mamie Callahan interpreted their role as being an extension of parental love. As I reflect on it, I had a dual set of role models which served to reinforce my concepts of marriage, parenting and giving of one's self. It seems so profound as I look back.
They were each cast in different molds, however, if you are classifying personality types. I remember often Aunt Mamie chiding Uncle Tom for taking a harder stand on a decision or an issue of the day that she thought was unwarranted. He would usually dismiss her stance as being unrealistic – in the real world. When I was visiting with them, I was able to voice my opinion, and chances are in my child-like lack of worldliness, it fell somewhere in between each of their positions.
Years later I would realize that Uncle Tom, coming from a laboring family of road-builders in the old country and now feeling the daily pressures that accompanied his responsibilities as a streetcar conductor, had more immersion in the rough-and-tumble affairs of everyday life. Aunt Mamie, whose working years consisted of being a domestic servant for wealthy families, was an eternal optimist in the essential goodness of the human spirit – some would say to the point of being a Pollyanna. I'm not sure Uncle Tom ever mellowed, even as he moved into his 90s.
Had they been identical in their temperaments, however, I would never have been able to draw as much from them and learn how to analyze, weigh, and formulate in dealing with the issues and challenges that I would face in life.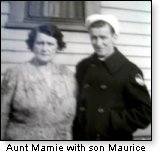 Bad things do happen to good people though, and I will never forget the gold star that they eventually hung in their front window to signify the loss of their son Maurice in World War II. Aunt Mamie was my mother's sister, so he was my first cousin and I inherited his hand-me-downs. When I first heard the news, I recall going to a place in front of our 2nd story porch to spill tears until I couldn't cry anymore. My two older brothers also went off to war, and it was not far different from losing one of them.
In line with the Faith they always professed, Uncle Tom and Aunt Mamie took it stoicly, always trusting in the Providence of God. Their acceptance of life's inequities was a lesson to all of us in our extended family – and especially to me.
As I now reflect that I was an average child, but I still visualize my Godparents' presence in whatever ventures did mark my youth and young adulthood decisions. I always felt I could pay them back for that in some way as they grew older. I still have a vivid memory of how much Aunt Mamie appreciated a Japanese doll I bought on the Ginza in Tokyo and brought back from overseas for her. Six weeks later they would be the main source of strength for my father, brothers and sisters when Mom died suddenly from a heart attack. They were the main cushion for the terrible shock we all felt
Aunt Mamie herself had diabetes and high blood pressure – and it eventually took its toll. She suffered a stroke and lost a leg to amputation, a sad impairment for one so dedicated to assisting others with their needs – to the exclusion of her own. Her physical incapacitation seemed to remove the essence of her persona, and the frustration was obviously the most difficult thing she could be asked to cope with.
It is difficult for me to understand the "Why?" of this suffering, and I do not believe there is an answer that is satisfying in the worldly sense. What is far beyond any question, however, is the fact that she had a profound effect on forming my concept of womanhood. She was a nurturing soul, possessed of that unfettered Catholic love brought from Ireland, and her death brought relief from suffering and a much-deserved peace.
Uncle Tom lived into his 90s, and I tried to visit him at least every couple of weeks, when he eventually moved to a nursing home. His rigid posture gave way to a slight stoop. But his clarity of thought stayed, and I could always discuss contemporary issues with him although a negative approach became evident.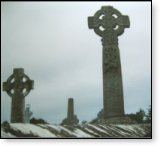 He talked often of his beloved wife and asked for the Lord to reunite him with her. Aunt Mamie had doted upon him, and his regal stature faded after she departed this earth. He had also lost his second son, his namesake, and this added enormously to the burden of his aging.
Old age eventually claimed Uncle Tom, and he received his request to be once again with his spouse of so many decades. They left a legacy to me – beautiful, formative experiences that still provide guideposts in my own latter years.
© R.T. Neary
---
The views expressed by RenewAmerica columnists are their own and do not necessarily reflect the position of RenewAmerica or its affiliates.
---