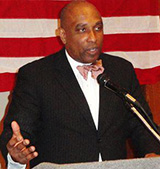 Ellis Washington
Salt and Light Global targeted for defending woman expelled from Planet Fitness

By
Ellis Washington
March 25, 2015
Pick the target, freeze it, personalize it and polarize it.
~ Saul Alinsky,
Rules for Radicals
(Rule 12)

Do Christians have religious rights?
Last Tuesday a DailyKos blogger whose penname is "Eclectablog" wrote an incendiary rant titled,
Anti-trans* woman uses Michigan civil rights act to sue Planet Fitness for cancelling her membership
. In this anti-Christian diatribe Eclectablog cites to the original story:
Earlier this month I wrote about a woman in Midland who had her Planet Fitness membership cancelled because she spent her days in their gym warning anyone who would listen that Planet Fitness had a "No Judgment Zone" policy that permitted a transgender woman to enter the women's locker room. Keep in mind that their locker rooms have private changing stalls and their toilet stalls have doors on them. But the presence of a "man" in the locker room was simply too much for Yvette Cormier who then returned every day the following week to "warn" women about Planet Fitness's horrible policy of tolerance, inclusion, and acceptance. Planet Fitness... revoked her membership.

Apparently this radical Progressive blogger is outraged that this woman wouldn't just ignore her First Amendment rights (freedom of religion, freedom of speech, freedom of association), shut her mouth and disappear and allow the LGBT community to hijack a public company like Planet Fitness as their own private, personal club. However, what really got Eclectablog incensed was Ms. Cormier's appeal to morality, Christianity and public decency in her law suit against Planet Fitness for religious discrimination and civil rights violations. Eclectablog writes: "I bring up 'religious beliefs' because the Kallman Legal Group is tied to a religious group that is about as extreme as it gets. They have sued to prevent Jackson Public Schools from allowing a Gay Straight Alliance club at the high school and they recently opposed a non-discrimination ordinance for housing, employment and public accommodations in Delta Township. At the center of the [Delta Township] controversy are attorneys David Kallman and William Wagner. Kenneth Fletcher, supervisor of the Delta Township Board of Trustees, called the Kallman/Wagner legal memo concerns 'baseless' in an email to
Between the Lines
."
DailyKos trying to slander Salt and Light Global
In the interest of full disclosure,
I am the Director of Salt and Light Global (SLG) and personally know David Kallman and William Wagner
. Although I've known Wagner much longer, I consider both David and William colleagues and friends whose professional and Christian character is unimpeachable. Therefore, Eclectablog's hateful diatribe posted today on his blog only reveals his evil intent to launch a spear campaign against Ms. Cormier's religious beliefs and civil rights violations and Mr. Kallman's constitutional obligation as her attorney to protect her First Amendment rights to the fullest extent of the law. Eclectablog quotes Kenneth Fletcher, "It became very evident that Mr. Kallman was
a far right activist
with a
radical and hateful
political agenda." Fletcher further writes, "It's sad that Mr. Kallman would purposely mislead well intentioned residents with his
hateful fear mongering campaign
against our non-discrimination ordinance."
Eclectablog did a good job informing his readership about SLG, its Christian foundations to bring the rule of law back in line with the First Principles of the constitutional Framers, and identifying who Kallman and Wagner are: "Kallman runs a small family practice based in Delta Township – a community west of Lansing – while Wagner is a professor at the Thomas Cooley Law School in downtown Lansing. Cooley is a private law school and Wagner teaches Constitutional law there." However, as a point of correction to Eclectablog' s reporting, William Wagner no longer teaches at Thomas Cooley Law School in downtown Lansing, but as of January 2015 is Professor Constitutional Law at Trinity Law School in California.
I won't bore you any further with the rather lengthy rantings by Eclectablog against plaintiff, Yvette Cormier simply for daring to exercise her First Amendment rights of freedom of religion and freedom of association by not having her moral sensibilities assaulted by going to the dressing room at Planet Fitness and finding a man in there dressed up as a woman. If you would like to amuse yourself by reading the DailyKos blog, please see the link in the first paragraph.
Don't think that the medical/scientific consensus is unanimous regarding the LGBT efforts to get laws passed in America by deviously equating their plight with that of real minorities and racial discrimination like that suffered by my people for hundreds of years. As a Black man who was born and grew up in the ghettos of Detroit, I like many Black people in America are affronted by such comparisons of racial discrimination suffered by Blacks and other minority groups with that of the LGBT agenda as phony comparison indeed. Although mainstream civil rights groups like the NAACP, Urban League and Al Sharpton's National Action Network have long been bought off by the Democrat Party to remain silent and equate the LGBT agenda as equal to discrimination based on skin color or race, common sense, history and morality proves that is not the truth.
Is transgender a psychosis?
Although this issue was not addressed in Eclectablog's original article, does the LGBT agenda deserve
special
constitutional rights above those enjoyed by other citizens? What does science say about the LGBT agenda? For example, in an article titled,
Psychiatry expert: 'scientifically there is no such thing as transgender'
, contains this interesting passage: "Dr. Joseph Berger has issued a statement saying that from a medical and scientific perspective there is no such thing as a 'transgendered' person, and that terms such as 'gender expression' and 'gender identity' used in the bill are at the very least ambiguous, and are more an emotional appeal than a statement of scientific fact."
In addition to being a consulting psychiatrist in Toronto, the article attests to Dr. Berger's brilliant credentials which establishes him as an expert in the field of mental illness. Berger argued that people who identify themselves as "transgendered" are mentally ill or simply unhappy, and pointed out that hormone therapy and surgery are not appropriate treatments for psychosis or unhappiness... "Sometimes, some of these people have claimed that they are 'a woman trapped in a man's body' or alternatively 'a man trapped in a woman's body'."
"The medical treatment of delusions, psychosis or emotional happiness is not surgery,"
Dr. Berger stated.
In a related
article by Dr. Paul R. McHugh
, the former psychiatrist-in-chief for
Johns Hopkins Hospital
and its current Distinguished Service Professor of Psychiatry, said that transgenderism is a "mental disorder" that requires medical treatment, that sex change is "biologically impossible," and that people who encourage sexual reassignment surgery are collaborating with and promoting a mental disorder. Dr. McHugh also spoke about a new study demonstrating that the suicide rate among transgendered people who had reassignment surgery is 20 times higher than the suicide rate among non-transgender people. Dr. McHugh further noted studies from Vanderbilt University and London's Portman Clinic of children who had expressed transgender feelings but for whom, over time, 70%-80% "spontaneously lost those feelings."
Dr. McHugh is ethically and professionally against the collusion between the Obama administration (politics), Hollywood (entertainment), and major media such as
Time
magazine who encourage transgenderism as normal and said, these "policy makers and the media are doing no favors either to the public or the transgendered by treating their confusions as a right in need of defending rather than as a mental disorder that deserves understanding, treatment and prevention."
Conclusion: DailyKos stop the anti-Christian hatred
In conclusion, don't allow DailyKos and Eclectablog's anti-Christian hate speech to distort what is really going on with the conflation of the LGBT agenda with bona fide racial discrimination and racism suffered by Blacks and other racial minorities – It's not about our legal and religious rights organization, Salt and Light Global. It's not about what Eclectablog calls "right-wing Christian zealots try[ing] to inflict their worldview on others." It's not about Yvette Cormier trying to make the LGBT community pariahs when they work out at Planet Fitness. It's about the sanctity of the U.S. Constitution and the legal history that the First Amendment and the entire Bill of Rights are based on – absolute principles of right and wrong and First Principles which presume an integration of legality and morality. When those transcendent, biblical moral principles are violated as in Planet Fitness's "no judgment zone" policies, then despite the good intentions of the CEO and other high officials at Planet Fitness, this store "policy" amounts to a constitutional violation and invidious religious discrimination of "sincerely-held religious beliefs" by citizens who are opposed to the LGBT agenda. Therefore, these store policies must be struck down as patent civil rights violations in addition to being abuses of our First Amendment right of freedom of religion and freedom of association.
Saul Alinsky, "the father of community organizing" and a hero of the political Left is also the author of the iconic 1971 book
, Rules for Radicals
, and wrote in Rule 12:
Pick the target, freeze it, personalize it and polarize it.
This is a tried and true tactic of socialists and progressives they have used to destroy or deconstruct religious liberty in America. Adopting Alinsky's Rule 12 is exactly what Planet Fitness, Kenneth Fletcher, and Eclectablog unjustly did against Yvette Cormier, prompting her to file a civil rights and religious liberty discrimination law suit with the assistance of her most capable attorney, David Kallman.
Finally, We the People who love liberty and religious freedom must fight against reactionary groups like DailyKos and Eclectablog from slandering President/Founder William Wagner and our upstanding religious legal rights organization,
Salt and Light Global LLC
, because once we lose religious liberty all other liberties and freedoms we currently enjoy in America will quickly fade away. I believe that's why hundreds of years ago when America's founding was in its infancy, the
Anti-Federalists like Samuel Adams, Jefferson, Madison, Patrick Henry and many others insisted not only on a Bill of Rights
, but insisted that religious freedom and a right of association be put right inside the First Amendment as a bulwark against future tyrannical encroachment for the Ages. These natural rights explicitly founded in natural law are "unalienable" which means they are given to each human by God, and can therefore never be taken away by man or the State.
DailyKos, Stop the anti-Christian hatred now!
---
Book Notice
Please purchase my latest opus dedicated to that Conservative Colossus, Supreme Court Justice Clarence Thomas. Here are the latest two new volumes from my ongoing historical series –
THE PROGRESSIVE REVOLUTION: History of Liberal Fascism through the Ages
(University Press of America, 2015):
Please circulate
this flyer
to all your email contacts & Facebook/Twitter followers who may be interested in purchasing this opus which will serve as a ready apologetic against the rampant Marxist-Progressive propaganda taught in America's public schools, colleges, universities, graduate schools, and law schools. Thanks in advance to all my friends, associates and colleagues for your invaluable support! Law and History Blog:
www.EllisWashingtonReport.com
---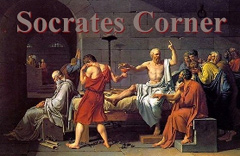 Invitation for manuscripts
I am starting a new a program on
my blog
dedicated to giving young conservatives (ages 14-35) a regular place to display and publish their ideas called
Socrates Corner.
If you know of any young person who wants to publish their ideas on any subject, have them send their essay manuscripts to my email at ewashington@wnd.com.
© Ellis Washington
---
The views expressed by RenewAmerica columnists are their own and do not necessarily reflect the position of RenewAmerica or its affiliates.
---