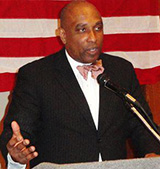 Ellis Washington
Baltimore burning: The collapse of Democrat Socialism slavery in America

By
Ellis Washington
April 29, 2015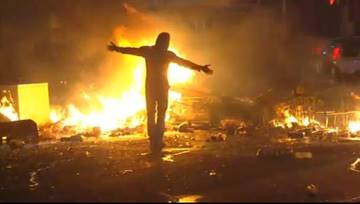 "It's a very delicate balancing act, because while we tried to make sure that they were protected from the cars and the other things that were going on, we also gave those who wished to destroy space to do that as well."
"Let them loot, it's only property."
~ Baltimore Mayor Stephanie Rawlings-Blake (D)
There is another class of coloured people who make a business of keeping the troubles, the wrongs, and the hardships of the Negro race before the public. ... These people do not want the Negro to lose his grievances, because they do not want to lose their jobs.
~ Booker T. Washington (1911)
Prologue: The D'Alessandro-Pelosi Machine
Earlier this week on my Facebook page I commented on the riots in Baltimore, Maryland and launched my critique within the historical context of the utter failure of the liberal welfare state writing, "Tragically the Mayor of Baltimore (a trained lawyer) thinks that 'free speech' gives the violent mob of wild protesters demonstrating over Freddie Gray's death by the police the freedom to be as wild and savage as they want to be and to abuse the police and dare them to retaliate." Baltimore Mayor Stephanie Rawlings-Blake admitted in a press conference on Sunday asked the Baltimore Police Department to
"give those who wished to destroy space to do that."
I further wrote that "40 years ago the citizens of Baltimore (or any other educated city in America) would have demanded her immediate resignation for making such a stupid and ignorant statement fueling animalistic activities which are destroying her own city."
On this point, in 1968 another Democrat Socialist mayor mishandled another Baltimore riot that year. The riots ended the political career of Baltimore mayor Tommy D'Alessandro (mayor 1967-71), the brother of current House Minority Leader Nancy Pelosi. "That was the end of my career," D'Alessandro later recalled, noting he had planned to run for governor in 1970 but now Spiro Agnew would be replaced by the Democratic leader of the state senate, Marvin Mandel. "If I was going to run now, instead of running against a Republican incumbent, I would have to run against a Democratic incumbent." The resignation of the Baltimore mayor then was a total disaster to the D'Alessandro Machine in Baltimore so much so that a young Nancy Pelosi (
neé
D'Alessandro) would be forced to leave Baltimore in disgrace and reestablish political roots, first in New York and later in San Francisco in 1969 where her husband Paul Frank Pelosi's brother, Ronald Pelosi, was a member of the City and County of San Francisco's Board of Supervisors. He and others would help launch her political career – a storied career where she has been in Congress since 1976 and Speaker of the House (2007-11), and since 2012 has been the House Minority Leader.
Protesters and vandals are angry because of the incident regarding Freddie Gray's death shortly after his videotaped arrest on Sunday, April 12, following a foot chase with police. Either before the arrest or while en route to the police station inside the police van, Gray underwent a massive spinal injury which allegedly severed 80 percent of his spine and he died a few hours later at the hospital. Baltimore's police commissioner admitted Friday police failed to provide Gray with medical care in a timely manner, but to this point have stubbornly refused to publicize the names of the 6 police officers involved in Gray's arrest and transport. And now there is the unfortunate news that
the police will not make their report public on Friday, May 1st as promised
regarding the death of Freddie Gray but will give their report to the District Attorney.
Baltimore mayor Stephanie Rawlings-Blake made this outrageous and stupid admission Saturday in the aftermath of violent protests over the recent death of Freddie Gray, saying she wanted to give space to those "who wished to destroy." That wink and a nod by Mayor Rawlings-Blake gave Baltimore Black gangs who were sworn enemies (e.g., Crips, Bloods, Gangster Disciples, Black Gorilla Family, Young Gorilla Family)
to become instant allies in the burning and pillaging of the city of Baltimore
.
Herein is the issue of ultimate concern here: America and the world is not merely witnessing the savage rioting and looting of a major city by disenfranchised young Black men who are unemployed in the city of Baltimore at over 50 percent. No, that is the Marxist Media, Inc. poverty critique all of the TV, cable and newspapers have been trolling for several days since the funeral of Freddie Gray. We had those battles or 'War on Poverty' in the 1930s under FDR and in the 1960s under LBJ. America spent over $15 trillion to eradicate poverty and all we've done over the last 80 years is increase poverty exponentially while destroying the Black family – something that 250 years of chattel slavery in America was unable to achieve!
How Socialism Slavery helped Destroy Black America
The recent rioting in Baltimore evokes the planned and controlled chaos that rampaged that city and 125 others in April 1968, after the assassination of Martin Luther King. The Black uprising in Baltimore continued four days where six people were killed, 700 injured, and the destruction of over 1,000 businesses. It took over 10,000 National Guard and federal troops to bring order out of the violence. Like my birth city of Detroit's 1967 riots, the city has still not recovered from the Baltimore's riots of 1968 almost 50 years later. Remember the Democrat mantra
circa
1960s –
The issue is never the issue. The issue is always the Revolution
. This means that the Democrat Socialist Party will always employ their communist strategies and Alinsky tactics to kill the hopes and dreams of Blacks and other minorities in America.
A 2008 documentary on the Baltimore riots by radio station WYPR noted: Spiro Agnew (R-MD) regarding the 1968 Baltimore Riot was correct about Baltimore's Black leaders being conflicted about the looting and burning of their once beautiful city. Black leaders and the Black community tried in vain to stop it, yet tragically followed the Socialism slavery philosophy Booker T. Washington and
Malcolm X warned Black America about for decades
. For over 100 years Black preachers and Black activists always seemed to sympathize with the anger and irrational despair of the Black mob. Obama and his apparatchiks are no better. For example, Morgan State College professor Homer Favor remembers a call afterward from his friend Jim Rouse, the developer of Columbia. "If I showed you a picture of one of your cohorts torching a building, would you believe it? Would you do anything about it?" I didn't know what to say. I respected him. I loved him. So, finally it occurred to me. I said: "Jim, I'm sorry you asked me that. Because I feel unclean that I didn't burn down a building." These people were protesting the brutal treatment that we got and I did not participate in it.
The WYPR documentary said that some Black leaders also thought that the Baltimore riots "helped trigger the law-and-order backlash of the 70's and 80's and a national criminal justice policy that helped put thousands of black men behind bars." Some scholars thought the enormous investments of over $15 trillion in welfare and sophistic anti-poverty programs ("guilt money") that streamed into Black ghettos all over America after the riots assisted in destroying the Black family structure and produced increased violence by subsequent generations of millions of fatherless, angry Black young men leading to the ubiquitous drug culture of the mid-1980s to today and the exponential incarceration rate of young Black men over the past 50 years.
Following the Democrat legacy that led to the 1968 Baltimore Riots, Democrat mayor of Baltimore Stephanie Rawlings-Blake refused Republican Governor Larry Hogan's offer of the national guard to keep vandalism at a minimum under the Obama-Holder suppositions that police are White, racist Gestapo agents and that the Black rioters are the innocent, disenfranchised freedom fighters longing for social justice. The mayor tried in vain to clean up her unbelievably stupid words about
"giving those who wished to destroy space."
Space to do what? To burn Baltimore to the ground?
The Baltimore Riots have many historical precedence for the Socialist Left following the aphorism –
Never allow a crisis to go to waste
. Therefore, following the Marx-Alinsky agitate civil unrest model, Michelle Obama, Barack Obama, Valerie Jarrett and especially Attorney General Eric Holder, a truly reprehensible and lawless individual, have been constantly stirring up racial strife since seizing power in early 2009 and before. For example, in a
May 2014 speech made at Morgan State University commencement
, Herr Holder said, "Codified segregation of public schools has been barred since
Brown
. But in too many of our school districts, significant divisions persist and segregation has reoccurred – including zero-tolerance school discipline practices that, while well-intentioned and aimed at promoting school safety,
affect black males at a rate three times higher than their white peers
. This quote is also cited in chapter 1 of Michael Savage's outstanding and timely book,
Stop the Coming Civil War (2014)
. Forget the fact that Blacks commit well over three times more disruptive acts than their White counterpoints in the public schools which
according to a major study by the Kinwan Institute
, "Over 70% of the students involved in school-related arrests or referred to law enforcement were Hispanic or Black."
Like clockwork the current riots in Baltimore are purposely caused by the twin demons of the Democrat Socialist Party and their willingly accomplices in the Marxist Media, Inc. which both predict will precipitate a "long, hot summer" of urban rioting and vandalism. This is the Machiavellian pretext why Obama before his first election as president boldly and openly declared that
he wanted his own personal army
(like Hitler's Brownshirts, Gestapo, but most importantly, his dreaded SS Stormtroopers [
Schutzstaffel
]). For years Obama and Holder are secretly trying federalize every city police force it can in order to use violence and controlled chaos to further the eternal power of the Democrat Socialist Party, while concurrently deconstructing the Republican Party which seems content to be the perpetual irrelevant party.
The fascist Left only follows Machiavelli's "the end justifies the means" philosophy, therefore the Democrats will continue to foment unrest and racial hatred among Blacks to provoke them to violence and societal destruction right up to Election Day November, 2016. Furthermore, the liberal fascists will continue to openly violate every state and federal immigration laws we have on the books to promote illegal immigration and President Obama's treasonous executive amnesty by the tens of millions in order to bring Hispanics onto the Progressive Plantation while deconstructing the Republican Party through attrition.
Epilogue to Socialism Slavery
Before the Baltimore Riots when Mayor Stephanie Rawlings-Blake told a senior law enforcement official to tell the police to "stand down" and for the police to take off some of their riot gear so as not to provoke the rioters. When the mayor was told that this will lead to the police needlessly getting injured and millions of dollars in property damage, the mayor channeling Marie Antoinette retorted: "
Let them loot, it's only property!
" America, we've got to stop being mentally obtuse and historically naïve – the Democrat Socialist Party's fingerprints are all over the Baltimore riots (Ferguson, MO was just the beginning). It really has little to nothing to do with the unfortunate death of Freddie Gray, which is always the Progressive pretext using Saul Alinsky tactics, and everything to do with a two-term Black president Barack Obama being the overseer of a 80+ year failed social experiment called the Liberal Welfare State. The Democrat Socialist Party is now applying the same Marxist-Alinsky tactics to secure the Hispanic vote called "executive Amnesty" and open immigration.
42 years ago in 1963 Malcolm X in a famous speech Message to the Grassroots
collectively called Black Americans political "chumps" for being "dumb enough" to blindly vote for the Democrat Party at 80 percent. Under this invidious Socialism slavery Democrats cravenly pander to give Black people "things" (i.e., welfare, food stamps, unemployment insurance, healthcare, projects in the ghetto, etc.) for their vote every 2 or 4 years, and together with the Black elected officials work hand-in-glove with their Democrat Socialist Party masters to keep the natives in line, to fanatically keep Blacks inside the Democrat Party Plantation called the ghetto or 'the hood.'
In 1911, the great Republican intellectual and founder of Tuskegee University, Booker T. Washington (1856-1915)
who died 100 years ago
, wrote: "There is another class of coloured people who make a business of keeping the troubles, the wrongs, and the hardships of the Negro race before the public. Having learned that they are able to make a living out of their troubles, they have grown into the settled habit of advertising their wrongs – partly because they want sympathy and partly because it pays.
Some of these people do not want the Negro to lose his grievances, because they do not want to lose their jobs
." You see America, Black poverty pimps like Al Sharpton, Jesse Jackson, most Black preachers, the Black Caucasian Caucus and most other Black activist, political and social organizations have been in the words of Malcolm X "a traitor to your race" by blindly and ignorantly supporting Democrat policies which have only destroyed the Black family.
For over 400 years Black America has had this historical choice, yet like an insane asylum patient (who I could sympathize with), Black America must make the ultimate choice either –
Get off the damn Democrat Party Plantation
or Baltimore Burning?
---
Book Notice
Please purchase my latest opus dedicated to that Conservative Colossus, Supreme Court Justice Clarence Thomas. Here are the latest two new volumes from my ongoing historical series –
THE PROGRESSIVE REVOLUTION: History of Liberal Fascism through the Ages
(University Press of America, 2015):
Please circulate
this flyer
to all your email contacts & Facebook/Twitter followers who may be interested in purchasing this opus which will serve as a ready apologetic against the rampant Marxist-Progressive propaganda taught in America's public schools, colleges, universities, graduate schools, and law schools. Thanks in advance to all my friends, associates and colleagues for your invaluable support! Law and History Blog:
www.EllisWashingtonReport.com
---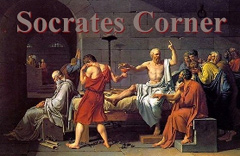 Invitation for manuscripts
I am starting a new a program on
my blog
dedicated to giving young conservatives (ages 14-35) a regular place to display and publish their ideas called
Socrates Corner.
If you know of any young person who wants to publish their ideas on any subject, have them send their essay manuscripts to my email at ewashington@wnd.com.
© Ellis Washington
---
The views expressed by RenewAmerica columnists are their own and do not necessarily reflect the position of RenewAmerica or its affiliates.
---