Arlen Williams
Obama -- born in the USA?

By
Arlen Williams
December 14, 2008
What could be more mainstream than this?
From Globe:
President-elect Barack Obama is being rocked by a series of shocking new lawsuits charging his election was illegal! GLOBE's special report reveals why some national leaders believe his Hawaiian birth certificate was forged — and that America's next commander-in-chief was born in Kenya, which could doom his presidency. It's must reading.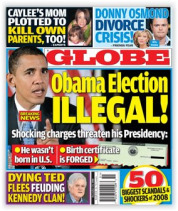 From the point of view of the dominant Marxstream Media, this is the venue to handle Obama's ineligibility to be U.S. President.
Take yours home today!
Then a different issue comes out a week later and that's it. Let the "respected" media go and stay dark.
Who needs to get involved with futile attempts at refuting his
disqualification, due to his father
? I mean, how can a guy claim he hadn't inherited a foreign citizenship and allegiance by his foreign father, when it's a well-known biographical fact? But, that's just the ticket! Best to put the
hide in plain sight
strategy to work, instead.
So, Obama confesses to his U.K. birthright —
right on his own Web site
— just puts it out there in that cool, matter-of-fact,
Obama way.
The meta-message is, "If the idea that this would disqualify me weren't ridiculous, why would I have run for president in the first place? Of course I'm qualified. I mean, Constitution? I have a Harvard J.D. in this stuff." He sure can gain people's confidence — and that
is
the sign of a great leader, right?
And then, we get some of the media players to discredit, besmirch, and otherwise ridicule the "birther-truthers," the few and the odd, and he has it made! It's in the book — you know, the Alinsky book (
rule 5, if you're keeping track
). And Granduncle Trotsky's playbook too, as long as
the end justifies the means,
of course. And the masterstroke is for this to work so well that even some conservative pundits run up and hop on the ridicule train. Chuggin' that hot air from the useful-idiots-dot-com. LOL!
Constitutional,
natural born Citizenship crisis
? Who needs to know?
Just make it all about a perpetually withheld birth certificate, while... with a mix of impatience and pity... anyone bestirred by any allegations is comforted back into slumber by the "validity" of the (
meaningless
) certificate already released by Obama online. Let the story hang there — on a huge, lurid headline, FRONTPAGE:
GLOBE
.
That'll put the unwashed masses in their place, while we elites continue preparing our "rule." After all, "We are the ones we've have been waiting for." Man, it's cool that line got the big ovations — confirmed the whole thing.
And if we disintegrate the U.S. Constitution in the process, so much the better! As Barack said in the
Public Radio interview
, that archaic document gets in the way of our redistribution model.
Best to get that Constitution out of the Obama way.
© Arlen Williams
---
The views expressed by RenewAmerica columnists are their own and do not necessarily reflect the position of RenewAmerica or its affiliates.
---