Tom DeWeese
We are winning victories!

By
Tom DeWeese
October 23, 2020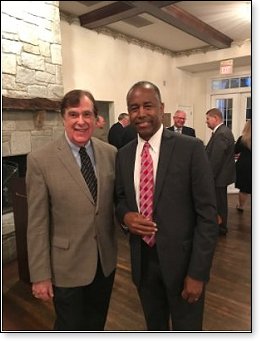 I want to share with you a very special moment I just had with HUD Secretary Dr. Ben Carson. Here's a picture of us meeting.
As I approached Dr. Carson I said, "I am fighting many of the same Leftist NGOs that continue to attack you." I explained my mission to fight for the protection of American property rights. He then shook my hand.
As we chatted I presented him a copy of my book "Sustainable." I explained that the book exposes who these NGO's are, their purpose, policies and tactics.
I was really surprised when he said, "I've heard of this book!" And then he accepted my gift.
I then thanked him for taking action to end the Obama-created Affirmatively Affirming Fair Housing (AFFH) anti- private property scheme. I said, "That is perhaps the most important action taken in your term at HUD." He smiled.
The American Policy Center (APC) led the fight to expose AFFH and demanded that it be stopped. It was a major tool for the enforcement of Agenda 21/Green New Deal policies that destroy property rights and single-family neighborhoods. And it was all being driven through HUD grants that were forced on your local government by these NGO forces. AFFH was set up as a first step to eliminate private property.
You helped me make AFFH a major national issue and together we applied strong pressure on President Trump and Dr. Carson to get rid of it. During that fight I was very much aware of the pressure Dr. Carson was under from the powerful environmental groups and their allies across the nation. They were relentless in their drive to use the power of the federal government to enforce their anti-property agenda. HUD had always been their most powerful tool.
But the fact is both President Trump and Dr. Carson heard US and they stood up to these forces of destruction and finally took the action necessary to end AFFH. It was a huge victory for our battle to protect private property. It wasn't easy for them.
That's why, for me, it was such an honor to finally be able to shake Dr. Carson's hand and thank him. And now he has a copy of my book Sustainable to get all the facts on those who continue to pressure and attack him!
APC is winning battles. It's only possible with your strong financial support. We take no federal grants – and foundations and corporations won't support us because we are too controversial. That's why your personal support is all I have to keep this fight going.
But we are winning victories! How many other groups can tell you that?
APC is growing. Our influence is being felt. Dr. Carson heard us and he acted!
We can win. We can stop the threat of Agenda 21 and the Green New Deal. I just need you to stick with me so we can keep this fight going until we reach more and more elected officials and expose these "progressive" forces for the tyrants they truly are.
As you take a minute to look at this picture of me with Dr. Carson, enjoy the moment as I did!
Hang in there with me. If you do, then we can and we WILL WIN!
Tom DeWeese
President
American Policy Center
Please help the American Policy Center continue the fight to protect private property rights!
© Tom DeWeese
---
The views expressed by RenewAmerica columnists are their own and do not necessarily reflect the position of RenewAmerica or its affiliates.
---