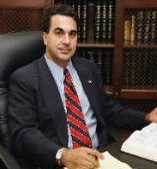 Monte Kuligowski
Obama reveals his character by withholding birth records

By
Monte Kuligowski
March 30, 2011
Constitutional scholar and Notre Dame Law School professor emeritus, Charles Rice, takes no position on the venue of Barack Obama's birthplace in his recent
piece
on the eligibility question. Rice simply notes that Obama has presented inconclusive evidence and suggests that Congress should investigate using its subpoena power. "It is fair to say," writes Rice, "that the Obama controversy involves significant issues of fact and law that deserve some sort of official resolution."
Professor Rice also relays what many understand but are afraid to say:
"If it turns out that Obama knew he was ineligible when he campaigned and when he took the oath as President, it could be the biggest political fraud in the history of the world. As long as Obama refuses to disclose the records, speculation will grow and grow without any necessary relation to the truth. The first step toward resolving the issue is full discovery and disclosure of the facts."
For those who don't know, Hawaii had lax birth registration laws in 1961. Bare-bones certifications, similar to what the Daily Kos and the Obama campaign posted online in 2008 were issued by the Department of Health on application for a number of reasons, including claims of at-home births.
Over the years two Honolulu hospitals have been named as the nativity site for President Obama. At this point, the in vogue position is that Kapi'olani is the birth hospital. Yet to date, Obama has released no records showing his hospital of birth and attending physician. It is a fact that detailed birth certificates were generated for babies born in Honolulu hospitals in 1961. And with Mr. Obama's consent the details would be known immediately.
The so-called birthers and a host of other people would simply like to see Obama's birth records. Army officer Lt. Col. Terrence Lakin is currently serving a six month prison sentence because he requested the release of Obama's detailed birth certificate before obeying presidential orders which would endanger life and limb.
Col. Lakin mistakenly
believed
that a U.S. birth alone meets the requirements of the Constitution's "natural born Citizen" clause. Missing from Lakin's viewpoint was the fact that many scholars assert that the natural born clause requires U.S. citizen parents at the time of a presidential candidate's birth — in order to ensure an unbroken chain of undivided natural allegiance to the United States. Nevertheless, Col. Lakin would have been satisfied with mere observation of Obama's detailed birth records.
But apparently that was too much to ask.
A
report
by ABC News frames Obama's secrecy issue in a way that suggests releasing basic records is sort of beneath Obama:
"The administration has been reluctant to be seen as bowing to politically motivated extremists whose views are not substantiated. As a citizen, Obama is also entitled to privacy rights under the law."
Releasing basic records is "bowing?" Obama doesn't want to bow to "extremists?" Considering that Obama is a public servant who promised "unprecedented transparency," the entitlement to privacy defense couldn't be more misplaced — especially when the so-called private information is a part of proving constitutional eligibility. Incidentally, the media should know that the burden is not on the public to "substantiate" anything.
Since we know that there is
something
in the vital records to be released, thanks to Hawaii governor
Neil Abercrombie
, Mr. Obama appears to be engaging in a game of
chicken
with the American people.
Even if Obama for some reason feels that he's above releasing his basic records (odd position to take for an elected federal worker who answers to the people), there comes a point when a reasonable person lets it go.
Like maybe when a decorated U.S. Army officer is about to be jailed for simply wanting to see detailed birth records to ensure the authority of the one giving military orders. At that point common decency would tend to cause one to relent and say: "here it is; I have nothing to hide."
Professor Rice notes that "the citizens whom the media and political pundits dismiss as 'birthers' have raised legitimate questions. That legitimacy is fueled by Obama's curious, even bizarre, refusal to consent to the release of the relevant records."
Mr. Obama's willingness to allow Col. Lakin to suffer the pain of imprisonment for asking for reasonable proof is more than "curious" or "bizarre," it is inexcusable — and heartless.
According to polling
numbers
, most voters supposedly "personally like" Obama while disapproving his "job performance." That tells me a fair number of people haven't thought through what Obama's refusal to release basic records says about Obama's character.
Note to future poll respondents: Mr. Obama's unprecedented secrecy, unrelenting arrogance and aloofness to the suffering of anyone who requests details are not "personally" likable traits. And those traits apply if we give Obama the benefit of the doubt on the claimed birthplace. God help us all if he turns out to be a complete fraud.
An earlier version of this article was first published at WorldNetDaily.com.
© Monte Kuligowski
---
The views expressed by RenewAmerica columnists are their own and do not necessarily reflect the position of RenewAmerica or its affiliates.
---