Matt C. Abbott
Swine flu, abortion photos at Notre Dame

By
Matt C. Abbott
April 29, 2009
Is the swine flu "at" the University of Notre Dame?
Apparently so
.
There is also a
spiritual
sickness among many (though not all, of course) at the university, and its president, Father John Jenkins, is at least partly responsible for the spreading of that sickness. How so? By his obstinate support and rationalization for inviting — and honoring — a modern-day King Herod, also known as President Obama (who, with a straight face,
claims he isn't pro-abortion
), whom a number of terribly misguided Catholics helped vote into office.
Bravo to Mary Ann Glendon for refusing the university's Laetare Medal. The text of her letter to Father Jenkins is as follows:
'Dear Father Jenkins,

'When you informed me in December 2008 that I had been selected to receive Notre Dame's Laetare Medal, I was profoundly moved. I treasure the memory of receiving an honorary degree from Notre Dame in 1996, and I have always felt honored that the commencement speech I gave that year was included in the anthology of Notre Dame's most memorable commencement speeches. So I immediately began working on an acceptance speech that I hoped would be worthy of the occasion, of the honor of the medal, and of your students and faculty.

'Last month, when you called to tell me that the commencement speech was to be given by President Obama, I mentioned to you that I would have to rewrite my speech. Over the ensuing weeks, the task that once seemed so delightful has been complicated by a number of factors.

'First, as a longtime consultant to the U.S. Conference of Catholic Bishops, I could not help but be dismayed by the news that Notre Dame also planned to award the president an honorary degree. This, as you must know, was in disregard of the U.S. bishops' express request of 2004 that Catholic institutions 'should not honor those who act in defiance of our fundamental moral principles' and that such persons 'should not be given awards, honors or platforms which would suggest support for their actions.' That request, which in no way seeks to control or interfere with an institution's freedom to invite and engage in serious debate with whomever it wishes, seems to me so reasonable that I am at a loss to understand why a Catholic university should disrespect it.

'Then I learned that 'talking points' issued by Notre Dame in response to widespread criticism of its decision included two statements implying that my acceptance speech would somehow balance the event:

'- 'President Obama won't be doing all the talking. Mary Ann Glendon, the former U.S. ambassador to the Vatican, will be speaking as the recipient of the Laetare Medal.'

'- 'We think having the president come to Notre Dame, see our graduates, meet our leaders, and hear a talk from Mary Ann Glendon is a good thing for the president and for the causes we care about.'

'A commencement, however, is supposed to be a joyous day for the graduates and their families. It is not the right place, nor is a brief acceptance speech the right vehicle, for engagement with the very serious problems raised by Notre Dame's decision — in disregard of the settled position of the U.S. bishops — to honor a prominent and uncompromising opponent of the Church's position on issues involving fundamental principles of justice.

'Finally, with recent news reports that other Catholic schools are similarly choosing to disregard the bishops' guidelines, I am concerned that Notre Dame's example could have an unfortunate ripple effect.

'It is with great sadness, therefore, that I have concluded that I cannot accept the Laetare Medal or participate in the May 17 graduation ceremony.

'In order to avoid the inevitable speculation about the reasons for my decision, I will release this letter to the press, but I do not plan to make any further comment on the matter at this time.

'Yours Very Truly,
'Mary Ann Glendon'


I also commend Gregg Cunningham, director of the Center for Bio-Ethical Reform, for, according to
this news release
, "displaying large abortion photos on the sides and backs of a fleet of billboard trucks which will operate in the South Bend area between now and the conclusion of graduation ceremonies.
"Because the pro-life community at Notre Dame has relentlessly covered-up the horror of abortion, CBR has decided to fly enormous aerial billboards over the campus. If the Secret Service and the Federal Aviation Administration impose Temporary Flight Restrictions (TFRs) for a longer period than is typical for a presidential appearance, or which restrict more airspace than is typical for a presidential appearance, CBR will also fly its aircraft at Notre Dame during the fall semester, 2009, during an aerial campaign which will last far longer than is typical for a presidential appearance."
And, of course, I commend Eric Scheidler (
click here
) and Monica Migliorino Miller (
click here
) for organizing protests of the upcoming event.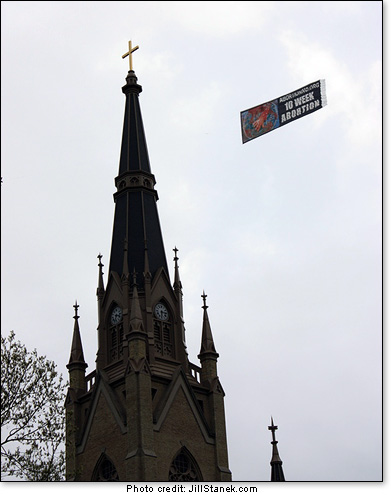 ---
On the subject of homosexual "marriage," the following letter to the editor, penned by my friend George Kocan, was recently published in the
Daily Herald
:
'Letter writer Bryan Thompson argues that homosexuals want equality with heterosexuals in regard to subjects like marriage. He cannot understand why anyone would oppose such a goal.

'Many commentaries have answered similar questions, and yet people such as Thompson keep asking them again and again. Perhaps, that in itself offers a clue to the answer: the homosexual's resistance to reality.

'The purpose of marriage is to protect children. A legalized coupling between homosexuals protects nothing. The state has no interest in protecting behavior which produces nothing of value to society like children. On the other hand, the state has a great interest in suppressing behaviors which threaten important social institutions like marriage.

'Marriage preceded the state. The state did not create the institution. In a sense, the institution created the state. That is to say, the family created the model for living in an ordered and productive community. The state has no right to redefine marriage, as it has no right to redefine a dog as an elephant or a male as a female. In other words, the state has no right to redefine reality. Deliberately calling a man a woman or a dog an elephant constitutes an abuse of language, which ordinary people call a 'lie.' And therein lays the problem. Not only is homosexuality an abuse of sex in the same sense that a lie is an abuse of language, but homosexuals demand that the rest of society participate in this lie with them.'


Good job, George!
© Matt C. Abbott
---
The views expressed by RenewAmerica columnists are their own and do not necessarily reflect the position of RenewAmerica or its affiliates.
---