Eric Giunta
Just how activist are Florida justices Pariente, Lewis, and Quince? A look at vouchers

By
Eric Giunta
October 18, 2012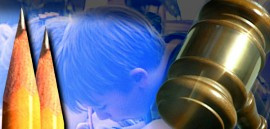 With just over three weeks until the Nov. 6 elections, one set of races attracting much state and even national attention is the merit-retention contests of three sitting Florida Supreme Court justices: Barbara Pariente, R. Fred Lewis, and Peggy Quince.
The three are accused by the Republican Party of Florida, and the nonprofits Restore Justice 2012 and Americans for Prosperity, of being left-wing "activists." The justices and their supporters (the Florida legal establishment and police and fire unions) insist these accusations are baseless, and are rooted in partisan resentment at the fact that these justices have frequently issued rulings that have thwarted the realization of conservative causes.
To better assist readers in making up their own minds, Sunshine State News is today launching an exclusive series, examining these justices' most controversial rulings. The News is not in the business of endorsing candidates or ballot measures, so readers can decide for themselves if Pariente, Lewis, and Quince are worth retaining.
(For the last several weeks Sunshine State News has reached out to the three justices [who are traveling around the state to sit down with newspaper editorial boards] to interview for this series. In September, we were notified by a representative of their joint campaign that they are specifically refusing to interview with the News, which is Florida's only center-right news source.) . . .
Catch the rest of the story at
Sunshine State News
.
© Eric Giunta
---
The views expressed by RenewAmerica columnists are their own and do not necessarily reflect the position of RenewAmerica or its affiliates.
---