Eric Giunta
Review: "Mary in Early Christian Faith and Devotion," by Stephen J. Shoemaker

By
Eric Giunta
September 20, 2019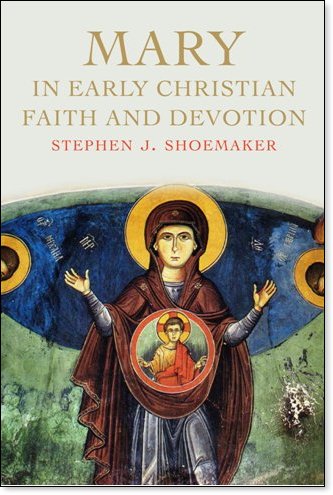 If you're unfamiliar with the pioneering scholarship of Stephen J. Shoemaker, everything you know about the origins of Christian devotion to Mary, Mother of Jesus, is likely incorrect.
It has long been a commonplace in popular and non-specialist scholarly discussions of Marian devotion to assert that it is a relatively late development in Christianity, more or less kicked-off by the Council of Ephesus's dogmatization of her title "Theotokos" (God-bearer, or Mother of God) in A.D. 431, and owing much more to Mediterranean traditions of goddess worship than to anything distinctly Christian.
Despite some limitations discussed herein, Shoemaker's monograph
Mary in Early Christian Faith and Devotion
(Yale University Press) blows this narrative to smithereens. It appears to be the most comprehensive historical review of the development of the cult of the Blessed Virgin Mary from the first to the fifth centuries, and one to which all future work will necessarily refer (whether in agreement or dissent).
This study is something of a synthesis of all of Shoemaker's previous scholarly contributions, and a follow-up to his magisterial study of the earliest surviving narrative accounts of Mary's miraculous death and bodily assumption into Heaven,
Ancient Traditions of the Virgin Mary's Dormition and Assumption
, published by Oxford University Press in 2006. Therein, Shoemaker argued that our earliest such account is a quasi-Gnostic text of the third century, the
Book of Mary's Repose
, the underlying traditions of which probably go back even earlier, at least to the second century. Shoemaker summarizes this book's thesis in chapters two and three of the present work.
To be clear,
Mary in Early Christian Faith and Devotion
is not a history of the development of Mariology, but of one aspect of it: the cult of Mary, or prayerful devotion to her person. Shoemaker's book should put to rest, once and for all, the popular mythology referred to above and exposes it for what is is: a myth informed by traditional Protestant presuppositions that devotion to the Virgin represents a heterodox Christianization of Greco-Roman paganism and is foreign to the Biblical worldview. . . .
Catch the rest of the story over at Eric Giunta's blog,
Laboravi Sustinens
!
© Eric Giunta
---
The views expressed by RenewAmerica columnists are their own and do not necessarily reflect the position of RenewAmerica or its affiliates.
---