Cynthia A. Janak
The truth about the HPV vaccines or what they do not want you to know (Part 5)

By
Cynthia A. Janak
June 21, 2010
The continuing saga of the HPV vaccines approved by the FDA never ends. Today I am going to be answering the question
"After reporting my daughter's reactions to VAERS (Vaccine Adverse Event Reporting System) I became curious to see how many other girls are like my daughter. There are so many I am now afraid my daughter will not get better."
We have heard the fear of the parents of these young women time and time again. They do not know what to do and after repeated attempts with doctors and various medical establishments they are afraid that their daughter's and now son's will be disabled for the rest of their lives. These parents are devastated emotionally and financially.
I have heard from a few parents that when they finally reported their daughter's reaction to the VAERS data base that they felt that their daughter is now only going to be one more statistic and that the FDA, CDC, Merck and GSK are just not interested in helping them. They do find solace when they find that there are many people out their fighting for them. We are part of a growing group of advocates and we have been waging this battle for over three years now. Did I say battle? No, this is a war that has been waged against the youth of the World. This bio-toxin war has been going on since the 1880's.
The best examples of this bio-toxin war are Autism and Gulf War Syndrome. In the 1980's the rate of Autism was that you would have 1 child out of every 10,000. Now, 30 years later you have the striking increase of 1 child out of 100 will be autistic. Then you have our courageous veterans who are now diagnosed with Gulf War Syndrome. How do you think they acquired that? Could it have been from the anthrax vaccine that was composed of a squalene adjuvant? As the title of the syndrome states this started during the Gulf War.
Here you have two great examples, in my opinion, of the approved bio-toxin war that is being waged today against humanity. This war is non-discriminate and affects both young and old.
There was a book written by Charles M. Higgins that was published in 1920 called the "Horrors of Vaccination Exposed and Illustrated" subtitled "Petition to the President to abolish compulsory vaccination in the Army and Navy." In his book he proves that vaccination was the cause of many of the major epidemics of his time and more. This is a must read for anyone that has an interest in the history of vaccination.
When analyzing the VAERS reports you see all the reports that have been coming in over the years. You also see that the rates of reports have been on the increase every year since the data base was implemented. The worst thing is that only 1% — 10 % of the reactions are reported.
First, I want to tell you about a non-profit organization that has been doing their best to help the families of vaccine injured children and adults. This organization is called the National Vaccine Information Center (NVIC).
The next few paragraphs have been taken directly from their website.
http://www.nvic.org/default.aspx
About NVIC

The National Vaccine Information Center (NVIC) is a national, non-profit educational organization founded in 1982. The oldest and largest consumer organization advocating the institution of vaccine safety and informed consent protections in the mass vaccination system, NVIC is responsible for launching the vaccine safety and informed consent movement in America in the early 1980's.

Our Mission

The National Vaccine Information Center (NVIC) is dedicated to the prevention of vaccine injuries and deaths through public education and to defending the informed consent ethic. As an independent clearinghouse for information on diseases and vaccines, NVIC does not promote the use of vaccines and does not advise against the use of vaccines. We support the availability of all preventive health care options, including vaccination, and the right of consumers to make educated, voluntary health care choices.

Our Work

NVIC provides assistance to those who have suffered vaccine reactions; promotes research to evaluate vaccine safety and effectiveness, as well as to identify factors which place individuals at high risk for suffering vaccine reactions; and monitors vaccine research, development, regulation, policy-making and legislation. NVIC works to protect the right of citizens to exercise the human right to informed consent to medical interventions which carry a risk of injury or death for themselves or their children, including vaccination.

History of NVIC

The non-profit National Vaccine Information Center (NVIC) was founded in 1982 by parents whose children were injured or died following DPT vaccine reactions. Located in Vienna, Virginia, this charitable organization is totally publicly supported by donations from citizens and receives no corporate, federal or state grants. NVIC is funded by annual memberships, grants from philanthropic foundations and donations made by individuals for information that NVIC researches, produces and makes available to the public.

NVIC works to raise government standards for vaccine licensure and policymaking. In 1996, NVIC realized a major goal when, after 14 years of public advocacy, the FDA finally licensed a purified pertussis vaccine (DTaP vaccine) for American babies. In 1999, the live virus polio vaccine (OPV) was replaced by the inactivated polio vaccine and vaccine strain paralytic polio cases were eliminated in America. Co-founders and members of NVIC have represented consumers on the Advisory Commission on Childhood Vaccines, the National Vaccine Advisory Committee, the Institute of Medicine's Vaccine Safety Forum, the FDA Vaccines and Related Biological Products Advisory Committee, the Vaccine Policy Analysis Collaborative and the Consumers United for Evidence-Based Healthcare, Cochrane Collaboration — U.S.

Since 1982, NVIC has advocated that well-designed, independent, on-going scientific studies must be conducted to: (1) define the various biological mechanisms of vaccine injury and death: (2) identify genetic and other biological high risk factors and (3) evaluate the chronic, long-term effects of multiple vaccination on individuals and the public health.
Now, if you want to search the VAERS database and see the reports of injury and death go here.
http://www.medalerts.org
This is an eye opening experience.
On to our findings from the VAERS database that were presented to the FDA March 12th of 2010. Much of the analysis that was performed was due to the long hours spent by Rosemary Mathis from the United States and Janny Stokvis from the Netherlands.
We did an analysis of the VAERS database from 6/1/2006–10/26/2009 and compared 100% of all reports filed for all 80 vaccines listed including UNKNOWN with 100% of all identifiable HPV reports filed during the same time period shows disturbing differences. Gardasil statistics in VAERS do not appear to be comparable to other vaccine adverse events.
As demonstrated in the next tables, the report classification was used to compare the total reports to VAERS to only the HPV reports after June 1, 2006. These percentages are disturbingly high in comparison and show an increased trend of injury related to the HPV Vaccine.
In the 3 and ½ years the Gardasil vaccine has been on the market the total number of reports to VAERS makes up 21.7% of ALL reports submitted on or after June of 2006 to present.
The first graph is titled "Life Threatening" events. If the HPV reports are subtracted from all the vaccines, a yearly trend indicates that there would be 27 reports for all vaccines (excluding the HPV vaccines) compared to an annual trend of 90 reports of "Life Threatening" events for HPV only.
This suggests that there will be an approximate 329% increase in life threatening reports of adverse reactions solely due to the HPV vaccines.
The second graph, "ER Visits," shows an annual trend of 1321 or 86% more reports due to the HPV vaccines.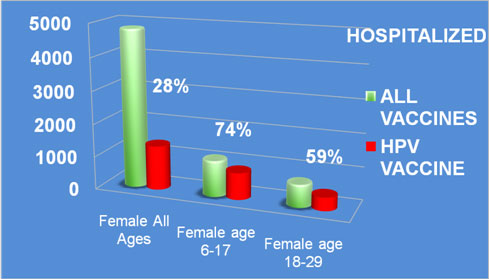 In this graph, Hospitalized, you have an annual trend of 229 reports for all vaccines without the HPV and a yearly trend of 504 reports for only HPV. This is an increase of 220% yearly trend of Hospitalized reports because of the HPV vaccines.
With this graph, Extended hospital stay, you have an annual trend of 38 more reports due to the HPV vaccines. This is an increase of 265% due to the HPV vaccines.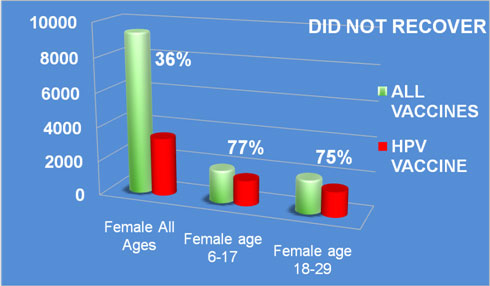 The graph, "Did Not Recover" shows an annual trend of 428 or an increase reports for all vaccines (HPV excluded) and an annual trend of 869 reports or an increase of 203% for only the HPV vaccine
The graph "Disabled" shows an annual trend of 128 more reports or a 372% increase due to the HPV vaccines.
It is very noticeable that in three years the HPV vaccine Gardasil has been on the market we have annual trends from 27% to 44% of the whole VAERS database that was implemented in 1990. It is my opinion that with the trends that we are seeing with this one vaccine that in 5 years the HPV vaccines will be responsible for over 50% of adverse reactions being reported. Now, I want to remind you that only 1% — 10% is being reported.
This destruction cannot be overlooked forever on to the last slide.
The last graph, "Vaccines Deaths" there is an annual trend of 6 reports for all vaccines (excluding HPV) and an annual trend of 12 reports or 184% for only HPV.
I want to make a note here and that is the majority of deaths have not occurred within weeks of the vaccination. Many deaths that we are hearing about are happening months to a year after the vaccination. Many of the girls are showing slow deterioration that leads up to their demise. The autopsy reports are stating that those deaths, for the most part, are of unknown origin or unknown etiology. These parents will never have the answer as to why their precious daughter died.
One mother was told that "it was her time to die." What kind of answer is that to a grieving mother? A 20 year old just does not die because it is her time. This just makes me so angry that I cannot explain accurately how I feel.
As suggested in these graphs, since June of 2006, the HPV vaccine injuries and deaths have exceeded the total amount of all other vaccines. With the approval of Cervarix and the vaccination of adolescent males in 2009 the trend of adverse events is expected to increase exponentially.
The purpose of these next graphs is to show the dominance of Gardasil (HPV4) in VAERS compared to other vaccines. This graph contains the number of VAERS reports of injuries from a single vaccination. Gardasil (HPV4) has a clear lead for the number of reported adverse events for the same time period.
This next graph contains the number of VAERS reports of injuries from multiple vaccinations.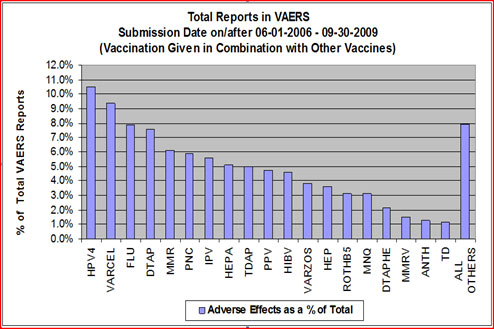 Do you see the trend here? The Gardasil vaccine is the most reported vaccine to the VAERS database. Wouldn't you hope that the governing bodies that be would take note? I personally do not think so. I base this on the fact of the report by the CDC and ACIP called
Morbidity and Mortality Weekly Report (MMWR) dated May 28, 2010 / 59(20);626-629.
They state
"At its October 21, 2009, meeting, ACIP approved updated recommendations for use of HPV vaccines in females."

Vaccine Recommendations for HPV2 and HPV4

ACIP recommends routine vaccination of females aged 11 or 12 years with 3 doses of either HPV2 or HPV4. The vaccination series can be started beginning at age 9 years.

Vaccination is recommended for females aged 13 through 26 years who have not been vaccinated previously or who have not completed the 3-dose series. If a female reaches age 26 years before the vaccination series is complete, remaining doses can be administered after age 26 years. Ideally, vaccine should be administered before potential exposure to HPV through sexual contact.

ACIP recommends vaccination with HPV2 or HPV4 for prevention of cervical cancers and precancers. Both vaccines might provide protection against some other HPV-related cancers in addition to cervical cancer, although there are currently only data sufficient to recommend HPV4 for protection against vulvar and vaginal cancers and precancers. HPV4 is recommended also for prevention of genital warts.
We are almost done. These last two tables further prove that Gardasil caused a severe increase in the reports to VAERS. You cannot dispute their own statistics.
This table compares the rates of adverse events reported pre and post Gardasil. The numbers highlighted in dark blue signify more males reporting than females. The red box signifies the target population for the HPV vaccines.
Prior to the introduction of Gardasil 05 / 31/ 06 adverse events reported by 11 to 13 year old females was only 3.8% greater than males.
After 06 /01 /06 the adverse event reporting by females increased to 44.7% more than males.
It is understood that this could be the result of more efficient reporting but it is not logical for it to be the sole reason. The dramatic increase in adverse reactions between females and males can only be attributed to the inclusion of the HPV vaccine Gardasil. A similar increase in adverse event reporting is apparent in all age groups receiving the HPV vaccination.
*Note: In these last two tables the numbers for 06/01/06 reflect reporting through October of 2009.
Numbers highlighted in blue reflect more males reporting than females.
This analysis of the VAERS numbers per annum suggests that with the advent of Gardasil the rates of reporting drastically increase.
Example: in the 11–13 year old group there are
23.9% more males reporting in 2005
than females. With the introduction of Gardasil into the market mid 2006, the rate in adverse reactions in males decreased 11.4%.
In
2007 one full year of vaccinations there is a drastic increase of 41.5% more females reporting
adverse events than males. This increase is also evident in 2008 and it is projected that in 2009 the reports will be between 36% and 40%.
It is evident that since Gardasil was approved the same dramatic increase is seen throughout the analysis.
The concern is that Merck has applied for approval to expand the vaccination age group for females to 27 to 36 year olds.
We already see that from 2006 through 2009 there are over 55% more females reporting adverse events than males
. There is a real possibility of a significant projected 50% increase in reporting as evidenced in the present target population of females.
This new target population of females which is the 27 to 36 year olds more than likely will be mothers with small children and/or who provide a second income for the family. Adverse reactions in this group would be devastating to their families if they become part of the
73.3%
that acquired a "new medical condition."
Approval for this age group should be delayed until further studies by an independent party are performed.
With this comprehensive analysis being part of the presentation to the FDA it makes one wonder how they could ignore the trends and the data presented here and still recommend the vaccination series. It also bothers me that they are remaining silent as to the facts.
What do you think? I would love to hear from you and to help those who daughters and sons are now affected by the HPV vaccines with "New Medical Conditions."
In the next article to this series we will be answering this question. "I am 18 and my friends and I received the Gardasil series. Why do I have an autoimmune disorder and they do not?"
It is my hope that you are finding this information as interesting as we did when we put it all together for the FDA presentation.
If after reading this you want to do your own research into the HPV vaccines here are some places to start.
http://www.renewamerica.com/columns/janak
http://truthaboutgardasil.org
http://www.cynthiajanak.com/Gardasil.html
http://holyhormones.com
© Cynthia A. Janak
---
The views expressed by RenewAmerica columnists are their own and do not necessarily reflect the position of RenewAmerica or its affiliates.
---