Kurt Kondrich
Recognizing victims of global disability genocide

By
Kurt Kondrich
December 6, 2020
Each year during the month of December the United Nations observes International Day of Commemoration and Dignity of the Victims of the Crime of Genocide and of the Prevention of this Crime on 12/09 https://www.un.org/en/observances/genocide-prevention-day and International Day of Persons with Disabilities on 12/03 https://www.un.org/en/observances/day-of-persons-with-disabilities These are both critical issues that need to be recognized worldwide, and the United Nations needs to explore combining these 2 days to observe, address and prevent the Global Prenatal Genocide of people with disabilities diagnosed with Down syndrome.
My beautiful daughter Chloe was born in 2003 with a postnatal diagnosis of Down syndrome, and her birth placed me on an incredible journey to defend and protect these amazing people. Shortly after Chloe's birth I learned that 90%+ of children diagnosed prenatally with Down syndrome globally (100% in Iceland) were identified, targeted and terminated because they didn't meet the misguided cultural mandate for unattainable perfection in a lost world. I left my career as a Police Officer to speak out against this silent eugenic movement, and Chloe and I have spoken twice to international audiences at the United Nations in NYC about this ultimate extreme form of discrimination, prejudice, profiling, bias, exclusion and hate. Chloe even stood between the UN Representatives from Russia and Saudi Arabia and flashed the "Peace sign"!
Our society is currently filled with death, deception, and depravity and everywhere you look there is darkness and destruction. People with Down syndrome fill the world with light, joy, unconditional love, genuine purity, and unfiltered kindness, and these are priceless gifts our human race desperately needs now more than ever.
The Bible teaches that all of humanity descended from Adam and Eve in the Garden of Eden, and they had no evil or malice until the devil corrupted them to the sins of the world. People with Down syndrome have an extra chromosome which allows the prenatal diagnosis and subsequent genocide, and I have often stated in my presentations and even written a national article that Adam and Eve had Down syndrome until the devil stole the extra chromosome https://all.org/did-adam-and-eve-have-down-syndrome/
My prayer and hope is that the United Nations and world community will join our advocacy and mission to end the Global Eugenic movement against Down syndrome, and as prenatal testing advances the citizens of all nations should be asking "Who is next?" to be victims of the Worldwide Crime of Genocide.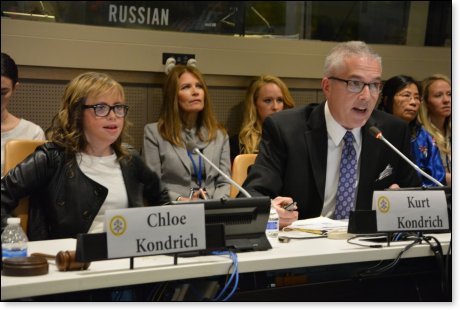 © Kurt Kondrich
---
The views expressed by RenewAmerica columnists are their own and do not necessarily reflect the position of RenewAmerica or its affiliates.
---