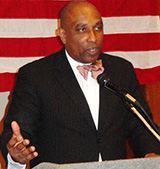 Ellis Washington
On Plato's Theory of Forms

By
Ellis Washington
April 19, 2014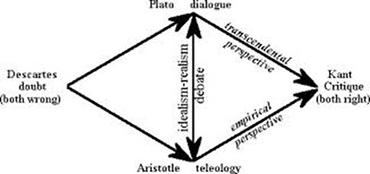 *N.B.: This essay is based in part on excerpts from
Great Books of the Western World
(1952), Vol. 2, chp. 28 – Form and Vol. 7 – Plato
Strange times are these in which we live when old and young are taught falsehoods in school. And the person that dares to tell the truth is called at once a lunatic and fool.

We can easily forgive a child who is afraid of the dark; the real tragedy of life is when men are afraid of the light.
~ Plato (427-347 B.C.)
Prologue to Plato's Theory of Forms
In April, 2011
I wrote an essay
on Plato's famous
Allegory of the Cave
. Plato's cave symbolizes the restrictions on our ability to understand (perception vs. reality). In his
Allegory
, humanity lives deep inside the cave, and interprets life by watching shadows reflected on the wall by fire. Here objects that are seen are not real, according to Plato, but literally mimic the real Forms. It is a comprehensive and systematic effort by Plato to explain how limited our perceptions really are. In the first century A.D. St. Paul would write of this phenomena in 1 Corinthians 13:12: "For now we see through a glass, darkly; but then face to face: now I know in part; but then shall I know even as also I am known." In Plato's
Allegory
, the writings of St. Paul in the bible, and in many other writings by classical writers of antiquity we repeatedly find Plato's Theory of Forms evident and are as important 2,500 years ago as they are today in distinguishing and revealing our limited notions of truth – shadow vs. light, form vs. matter, lie vs. truth, idealism (perception) vs. realism, dialogue vs. teleology, transcendental vs. empirical, natural law vs. positive law, etc.
"Form" or "Idea" represents that which is distinct from the characteristics of physical things and from the ideas in our mind. "Idea" – as Plato defines it – indicates the object of knowledge, i.e., that which is known as opposed to "idea" which means a concept in the human mind, by which it knows.
Kant and Descartes opposing views
Plato's Theory of Forms throughout history has caused great philosophical debate regarding form and matter which to date have yet to be established. However, the positions in which these problems were stated, from their genesis in antiquity to the 17th or 18th centuries, have gone extinct or at minimum do not have universal value in contemporary discourse. Immanuel Kant (1724-1804) is possibly the last great philosopher to embrace these terms in his general worldview. The origins of matter and form, he writes, "lie at the foundation of all other reflection, so inseparable are they connected with every mode of exercising the understanding. The former denotes the determinable in general, the second its determination." Kant, therefore finds validity and plausibility in Plato's theory of Forms (idealism) and in Aristotle's critique of Plato (realism).
On the opposite end of the continuum we come to Descartes (1596-1650) who rejects the division of physical substance into matter and form; second, he rejects any appeal to ultimate ends – divine or natural – in explaining natural occurrences. In his theology, he maintains the total freedom of God's act of creation. Many of the earlier accounts of the connection between mind and body had been uni-directional. Descartes disagreed with both Plato's idealism and Aristotle's realism view of Forms. Here, Descartes rejected the authority of previous philosophers and also went as far as to reject the certainty of his own senses absent scientific empirical evidence (materialism).
Dissenting views: Bacon, Hobbes, and Locke
There is a predisposition among the historians and philosophers to use the names of Plato and Aristotle to represent a general conflict in philosophical viewpoints and techniques, or even in what William James calls "intellectual temperaments." Later writers are called "Platonists" or "Aristotelians" proposed principles or theories which were categorized as either Platonic or Aristotelian. Generally, it is supposed at times that these two Titans of philosophy are the Alpha and Omega on the subject of Forms – that a comprehensive theory of Forms, whether they be minds or theories, of necessity will contain of some kind of synthesis or misunderstanding of the two schools of thought.
Among the classical philosophers who totally reject the term
form
or its counterparts as being devoid of significance for the problems of motion, existence, or knowledge, include Bacon, Hobbes and Locke. Francis Bacon (1561-1626) maintains the term, but fundamentally changes its meaning. "None should suppose from the great part assigned by us to forms," Bacon writes, "that we mean such forms as the meditations and thoughts of men have hitherto been accustomed to." Bacon doesn't refer either "the concrete forms" or "any abstract forms of ideas," but rather "the laws and regulations of simple action. ... The form of heat or the law of light." However, Thomas Hobbes (1588-1679) and John Locke (1632-1704) tended to reject Plato's Theory of Forms out of hand – particularly when discussing the concept of substantial form – as meaningless or false.
Because form and matter are supposed to be comparative, the rejection of a form of meaning or reality inevitably devolves into atheistic materialism, as in the case of Hobbes – the assertion of matter alone as a source or causation of all things on this earth. In the expansive and diverse history of philosophy, materialists of one kind or another, are the enemies of both Plato and Aristotle specifically, and of Platonists and Aristotelians in general. Thus, atheistic materialism has, in my view, stolen a measure of the sacred in all of us; that divine spark of divinity our souls desperately cleave to in our ceaseless quest for the divine we call Life.
Christianity and Plato's Forms (Augustine and Aquinas)
I mentioned earlier how Platonic thought played a major role in the development of Christian theology, particularly in that branch of the Platonic philosophy which interprets Ideas as the eternal representations or patterns of the ideal. But, as Aquinas writes, the separately existing Forms are substituted by what Augustine calls "the exemplars existing in the divine mind."
Aquinas analysis on Plato's theory of forms affirms that "whenever Augustine, who was imbued with the doctrines of the Platonists, found in their teaching anything consistent with faith, he adopted it; and those things which he found contrary to faith he amended." He continues his arguments that Augustine could not accept all of Plato's ideas, but had to amend the instruction of the Platonists that "the forms of things subsist of themselves apart from matter." He achieved this synthesis not by denying the ideas, "according to which all things are formed," but by refuting that they could be existent outside the divine mind. The divine ideas are the eternal exemplars and the perpetual types –
types
, Aquinas describes, insofar as they are the images of things and so the values of God's knowledge;
exemplars
insofar as they are "the principles of the making of things" in God's act of creation.
Perhaps the simplicity and reductionism of
C. S. Lewis
was right in establishing a hierarchy whereby Plato's Forms are viewed as inferior to the Christian ideal, "
A man who is eating or lying with his wife or preparing to go to sleep in humility, thankfulness and temperance, is, by Christian standards, in an infinitely higher state than one who is listening to Bach or reading Plato in a state of pride.
"
Epilogue: Plato's Theory of Forms in modern politics
NY Times writers,
Mark Lander and Amy Chozick
in a
recent article about the so-called "turbulent world" of Hillary Clinton
laments that her legacy may be irredeemably tarnished by history as she prepares to officially announce her 2016 presidential candidacy, writing: "From Russia's aggression in Ukraine and the grinding civil war in Syria to the latest impasse in the Middle East peace process,
the turbulent world
has frustrated Mr. Obama, and is now defying Mrs. Clinton's attempts to articulate a tangible diplomatic legacy." Apart from the perverted political history these two Columbia School of Journalism cogs demonstrate, they unwittingly reference Plato's theory of forms without mentioning Plato by name, but how?
Obama, Hillary and the Democratic Socialist Party wants the American people, particularly the voter to sympathize with how unfair realism has been to the first Black president and now to the potential first woman president, during her tenure as Secretary of State (that's one Form). The remedy is for America to get collective dementia, ignore her disastrous
reset button strategy with Russia
which served up Crimea to Russia's President Vladimir Putin on a silver platter and now eastern and southern Ukraine are in a clear and present danger of being the next "forms" or models of fascist hegemony. Here's Hillary's paradox: How can she escape from realism into idealism (or even escape to the realm of fantasy, propaganda or disinformation)?
Should we ignore the inconvenient historic realism of communist resurgence and hegemony to reestablish Stalin's Soviet satellite states of the Cold War Era (1945-90) including the Baltic states who are now part of NATO – e.g., Estonia, Latvia and Lithuania, for the idealism of drawing yet another redline, ushering yet another weak threat, or lobbying our allies for yet another worthless U.N. resolution which in the end Russia, as a permanent member of the U.N. Security Council, will immediately veto?
Remember on the eve of World War when a feckless British Prime Minister named Neville Chamberlain demonstrated utter cowardice and ignorance to believe that Hitler would abide by their Munich Agreement of Sept. 30, 1938, which was a settlement permitting Nazi Germany's annexation of portions of Czechoslovakia along the country's borders largely populated by German speakers, for which a new provincial description "Sudetenland" was coined. The logic followed this line of reasoning: Let's give Hitler Czechoslovakia and stand mute when he annexes Austria,
then
Hitler and the Nazis will stop their crazy ideas of world domination... WRONG! This appeasement treaty gave Hitler that critical year he would need to complete the building of his Nazi army including his infamous Luftwaffe (air force) which in essence became the death sentence to tens of millions of people who perished during WW II including six million Jews in the Holocaust. Exactly 11 months later Hitler unleashed his Nazi blitzkrieg across Europe beginning with the invasion of Poland on Sept. 1, 1939, thus starting World War II.
Why does it always eventually appears in geopolitics, or in any aspect of history, that realism always vanquishes idealism leading inexorably to totalitarianism? Because appeasement always invites aggression, hegemony and tyranny absent a credible threat of punishment as FDR, Truman and Reagan did as presidents and Obama seems hopelessly unable and unwilling to do as the world stands at the brink of neo-Stalinism and Putin's tanks stand poised at the southern and eastern borders ready to invade Ukraine.
Who will stop Russia rising – America, NATO, the E.U, the U.N.? or maybe some might put their faith in Congress, the Supreme Court, Hollywood, Think Tanks, the Academy, or government programs?
Perhaps the forms and shadows of Plato's idealism is all we have or can hope for in this geopolitical world of existential angst, misery and servile appeasement in the twenty-first century. Indeed, perhaps the Republic is a greater imitation of Justice than many people are prepared to believe as recognized by Plato when he writes:
Our aim in founding the state was not the disproportional happiness of any one class, but the greatest happiness of the whole; we thought that in a state ordered with a view to the good of the whole we should be most likely to find justice.

---
Book Notice
Please purchase my latest opus dedicated to that Conservative Colossus, Supreme Court Justice Clarence Thomas. Here are the latest two new volumes from my ongoing historical series –
THE PROGRESSIVE REVOLUTION: History of Liberal Fascism through the Ages
(University Press of America, 2015):
Please circulate
this flyer
to all your email contacts & Facebook/Twitter followers who may be interested in purchasing this opus which will serve as a ready apologetic against the rampant Marxist-Progressive propaganda taught in America's public schools, colleges, universities, graduate schools, and law schools. Thanks in advance to all my friends, associates and colleagues for your invaluable support! Law and History Blog:
www.EllisWashingtonReport.com
---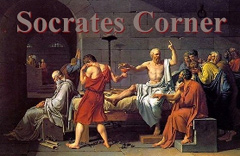 Invitation for manuscripts
I am starting a new a program on
my blog
dedicated to giving young conservatives (ages 14-35) a regular place to display and publish their ideas called
Socrates Corner.
If you know of any young person who wants to publish their ideas on any subject, have them send their essay manuscripts to my email at ewashington@wnd.com.
© Ellis Washington
---
The views expressed by RenewAmerica columnists are their own and do not necessarily reflect the position of RenewAmerica or its affiliates.
---