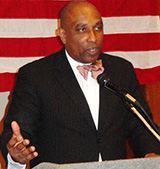 Ellis Washington
Does France reward terrorists?

By
Ellis Washington
January 10, 2015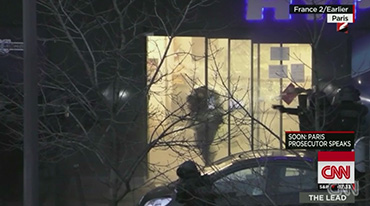 Terrorist, Amedy Coulibaly killed at kosher grocery store in Paris, France
"It is my responsibility to make sure that the fear is overcome. This attack must instead free our speech about Islamic fundamentalism.

We must not be silenced."
~ Marine Le Pen, Leader of the Front National
"France reaped what they sowed in the Paris attack," read an interview headline on NewsMax. These incendiary words allegedly uttered by Harvard law professor, Alan Dershowitz caused MSNBC host, Lawrence O'Donnell to go ballistic in a fiery interview on the Thursday broadcast of "The Last Word with Lawrence O'Donnell." Here's the
video link
and written transcript below:
DERSHOWITZ: That's not what I said.

O'DONNELL: Let me give you a quotation and I hope you will tell me you didn't say this. They have you quoted as saying about France, "They reward every terrorist."

DERSHOWITZ: That is true.

O'DONNELL: That is absolutely not true.

DERSHOWITZ: They have the worst record of any country in Europe on terrorism.

O'DONNELL: You want to stand by, they reward every terrorist. Tell me how –

DERSHOWITZ: Let me give you the context in which I said it.

O'DONNELL: It's a crazy thing to say. France does not reward every terrorist.

DERSHOWITZ: I'm sorry, it's right. They have the worst –

O'DONNELL: They do not reward every terrorist do you want to say they've rewarded a few terrorists? Are you really going to sit here and say they rewarded every terrorist?

DERSHOWITZ: Virtually every terrorist who has been convicted and sent to prison in Paris has either gotten out – the point I was making was a general one and that is that they voted for Palestinian statehood for a country that was built on terrorism. They have done everything to avoid joining the fight on terrorism. I feel terrible for these people. I feel terrible for –

O'DONNELL: Virtually every country in the world has voted for that statehood, you know that.

DERSHOWITZ: The United States hasn't.

O'DONNELL: Virtually every known tri – in the world.

DERSHOWITZ: Good countries don't vote for it.

O'DONNELL: So most countries in the world are Alan Dershowitz bad countries?

DERSHOWITZ: I've written a book called Why Terrorism Works and what I do is I prove in that book that terrorism is rewarded and particularly all through Europe. Terrorism is rewarded. Europe is part of the problem. France is part of the problem. I feel terribly sorry for the victims, but France is part of the problem. Maybe this will give them a wake-up call and have them join the war against terrorism rather than becoming part of the problem of facilitating and rewarding terrorism. I stand by that statement.

O'DONNELL: I will advise you, just for the credibility of your own judgment on anything else you ever say publicly, don't ever say that France rewards every terrorist.

DERSHOWITZ: Sir, I don't need your advice on this issue. And please don't generalize from this to other issues.

Is Professor Dershowitz right: does France and by historical implication, Europe, America and the entire Western world invite terrorists, terrorist sympathizers and Muslim-inspired terrorism by their
70-year Muslim immigration policy dating back to the end of World War II (1945)
? Since that time progressive and socialist notions of 'multiculturalism' and 'diversity' allowed virtually unrestricted immigration of Muslims into Western countries whose devout (not radical) religion, Islam, exhibits great intolerance of all other religions. History has repeatedly demonstrated that Islam is as compatible to our Judeo-Christian values as oil is to water.
To demonstrate the duplicity of European socialist governments fascist understanding of power, in only a day after the Charlie Hebdo shooting left 12 dead and politicians mugging the news cameras to show the people of France they wanted the country to unite, however an argument ensured between politicians exploded when it was learned that the conservative National Front (who took the largest percentage [25%] of the recent elections in France) would not be allowed to take part in France's national unity rally in Paris this Sunday organized by French President François Hollande and opposition leader Nicolas Sarkozy. Leaders of France's conservative (Front National [FN]) and the Anti-capitalist parties, have both accused the main party leaders of using the tragedy for political means. Marine Le Pen, leader of France's Front National, expressed her "regret" over not being invited to the 'Republican march,' despite wanting to attend, and casting doubt over the genuine motives behind the event. "The Socialist Party have screwed up this opportunity to show respect to the victims and also a regard for the freedom of expression and the freedom of opinion by excluding a political movement which came out on top in the last election," Le Pen said.
In conclusion, did France, America and Western Europe invite terrorism into their countries by their egalitarian, unrestricted immigration policy based on their naïve utopian ideals of multiculturalism and diversity? History since 1945, tens of thousands of innocent lives lost to Muslim jihad and perpetual wars in the Middle East including wars in Syria and Iraq would say that the policy of multiculturalism and diversity were genocidal failures and should be repealed and those Muslims who refuse to adopt to our Judeo-Christian traditions be deported back to their host countries. History repeatedly demonstrates that desperate times require desperate measures. I ask, what Koran did those three Muslim murders read compelling them to kill innocent French civilians including four Jews at a kosher grocery store who were guilty of nothing but trying to earn a honest living? They read the same Koran that so called "Westernized" or "moderate" Muslims read that says in Sura 2, verse 120: "And kill them (the unbelievers) wherever you find them."
Professor Dershowitz was right when referring to the recent tragic massacres in France by Muslim fanatics when he said, "Terrorism is rewarded. Europe is part of the problem. France is part of the problem. I feel terribly sorry for the victims, but France is part of the problem. Maybe this will give them a wake-up call and have them join the war against terrorism rather than becoming part of the problem of facilitating and rewarding terrorism. I stand by that statement." Will the Muslim sympathizer President Obama stand by America, the defense of America and the U.S. Constitution or for jihad against the infidels? In his 2006 memoir,
The Audacity of Hope
, Obama used for his successful 2008 first presidential election, he writes: "I will stand with the Muslims should the political winds shift in an ugly direction." This quote comes from page 261 of the paperback edition of
The Audacity of Hope
.
The tragic massacres in France of satire magazine
Charlie Hebdo
and concurrently at a
Paris kosher grocery store
in the Jewish quarter, demonstrate to any rational-minded person that to invite millions of Muslims to immigrate into Europe and America over the past 70 years is to invite existential genocide upon once great Judeo-Christian nations. 2,500 years ago the great Chinese military general, strategist and philosopher, Sun Tzu said,
"Know thine enemy"
... We don't!
---
Book Notice
Please purchase my latest opus dedicated to that Conservative Colossus, Supreme Court Justice Clarence Thomas. Here are the latest two new volumes from my ongoing historical series –
THE PROGRESSIVE REVOLUTION: History of Liberal Fascism through the Ages
(University Press of America, 2015):
Please circulate
this flyer
to all your email contacts & Facebook/Twitter followers who may be interested in purchasing this opus which will serve as a ready apologetic against the rampant Marxist-Progressive propaganda taught in America's public schools, colleges, universities, graduate schools, and law schools. Thanks in advance to all my friends, associates and colleagues for your invaluable support! Law and History Blog:
www.EllisWashingtonReport.com
---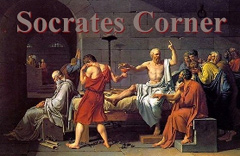 Invitation for manuscripts
I am starting a new a program on
my blog
dedicated to giving young conservatives (ages 14-35) a regular place to display and publish their ideas called
Socrates Corner.
If you know of any young person who wants to publish their ideas on any subject, have them send their essay manuscripts to my email at ewashington@wnd.com.
© Ellis Washington
---
The views expressed by RenewAmerica columnists are their own and do not necessarily reflect the position of RenewAmerica or its affiliates.
---