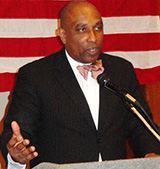 Ellis Washington
Requiem for Charleston, SC

By
Ellis Washington
June 24, 2015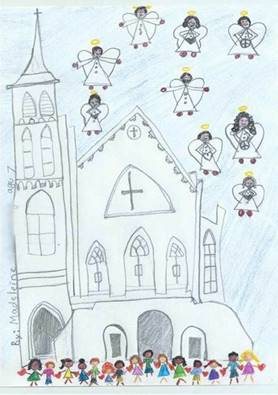 Requiem aeternam dona eis, Domine,
et lux perpetua luceat eis.

Grant them eternal rest, Lord,
and let perpetual light shine on them.
~ Requiem Mass, Introit
Prologue to Goethe's Journey
In thinking about the horrible tragedy in Charleston, SC last week and what music would be appropriate to post for my grieving Facebook friends. I first thought about
Mozart's Requiem (Introit & Kyrie)
, however, I repeatedly had in my heart, in my mind the incessant and magisterial melodies of Brahms' immortal
Alto Rhapsody
, which is not a Requiem Mass, nevertheless it is a transcendent setting of verses from Johann Wolfgang von Goethe's
Harzreise im Winter
(The Harz Journey). The hauntingly beautiful voice of
Marian Anderson sings the Part I here
.
The
Alto Rhapsody
, Op. 53, was written in 1869. It is a work for contralto, male chorus, and orchestra by Johannes Brahms (1833-93). The
Alto Rhapsody
is a setting of the Harz, a range of wooded hills in central Germany, between the Rivers Wesser and Elbe. In German literary traditions going back to ancient times, the Harz has been a source of many legends, often containing deep and profound narratives on human nature, lost love, betrayal, metaphysical mysteries and other interesting lessons of life.
Harzreise im Winter
, was written in three stanzas. Below is the original German text by Goethe followed by the English translation. Brahms' musical setting of Goethe's poem is in two parts:
Part I – 1st & 2nd stanzas
(contralto solo w/orchestra);
Part II – 3rd stanza
(contralto solo, orchestra and male chorus):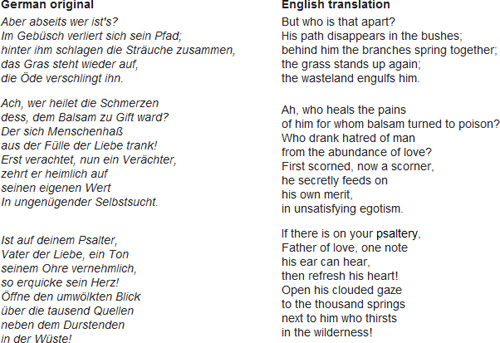 Human Nature: The Diabolical Dualism
The
Alto Rhapsody
, although originally written as a wedding gift for Brahms' best friends, Robert and Clara Schumann's daughter, Julie, a young woman who Brahms scholars believed that the composer may have had romantic feelings for and perhaps even incorporated into the text and music of the
Alto Rhapsody.
Nevertheless, Goethe's genius here is so transcendent, so compelling through the Ages that the text, with its profound German Romanticism based on the then popular literary movement
Sturm und Drang
(Storm and Stress), provides a perfect depiction of a misanthropic soul who is lost, yet obsessed, compelled to find divine redemption and thus through the love of God and the power of his own will, ultimately discards the shackles of his depression and despair. Music historians have long found philosophical parallels with Goethe's text here and Brahms' own life, character and psychology.
Yet Goethe's literary genius is also prophetic here and especially revealing in the lines of the second stanza. It was like this great German literary master reached down through the Ages and saw the devil, Dylann Roof, the murder of the Charleston Nine
..."Who drank hatred of man... First scorned, now a scorner, he secretly feeds on his own merit, in unsatisfying egotism."
Interpreting Goethe in this critical passage, in the context of the Charleston tragedy we come to this grim conclusion: gone are the longings of unrequited love, gone are the pathos pleas of a broken heart. In the context of the Charleston tragedy Goethe's Romanticism takes a turn into the dark, diabolical world of surrealism where inside the mind of this irrelevant little racist coward there is only evil continually... whose mind is perverted from years of illicit drugs, countered with even more dangerous anti-psychotic prescriptions given to him by his family doctor. This Judas who betrayed Christ and these 9 children of Christ, now looks to blame others for his failed, miserable, nothing life that was utterly wasted these 21 years.
Interlude: the Madness of Evil
But who... who will I blame for my utterly useless life of these 21 years? Who will take the blame? Who will remove my shame? I cannot accepts the Facts, therefore I will blame the Blacks. Yes, indeed, I will kill the Blacks and start a (race) War ... I will be celebrated forever as a Hero, my Hero John Wilkes Booth who killed the tyrant Abraham Lincoln and thus Saved the South for the White Man! ... Didn't he? Who cares, pass the gin because somebody's just got to pay for my Sins... yet Again.
Step 1. Drive 120 miles from Columbia, SC to Charleston, SC.; Step 2. Worship with the Blacks at their Bible Study at the historic Mother Emanuel AME Church and use my duplicitous nature to gain their trust; Step 3. Fulfill my irresistible impulse to burn in Hell forever by killing the very Christian people, ages 11-87, who welcomed me for an entire hour with open arms, smiles, prayers ... and a front row seat that I asked for right next to the Reverend Clementa Pinckney, a man of God and the people, who every Wednesday night faithfully taught this Bible study. A statement from the Georgia branch of the NAACP rightly proclaimed, "There is no greater coward than a criminal who enters a house of God and slaughters innocent people engaged in the study of scripture."
Philosopher Hannah Arendt wrote passionately and prophetically about the "banality of evil" in her 1963 book
Banality of Evil
. She used the metaphor the "banality of evil" to describe the incomprehensible, evil phenomenon of Adolph Eichmann, the Nazi mastermind and architect of the Holocaust and the death camps that killed millions of Jews and other "undesirables" leading up to and during World War II. Arendt raised the question of whether evil is radical or simply a function of thoughtlessness.
In modern times, it appears that these evil and horrific events like the Charleston massacre have become so commonplace that people would rather focus on
banning flags
than confronting evil and eradicating it in all of its diabolical guises including intellectual, ideological and institutional discrimination and racism which in the lives of the majority of Black Americans remains for them present day invisible slave chains of racism... Hypocrisy 2015 writ large!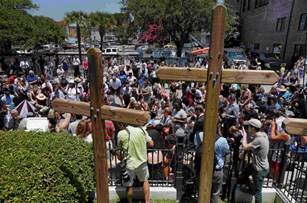 Epilogue to a Requiem
The entire text of the Requiem Mass is quite ancient and profound, but the text is also long and complex filled with religious images that range from the sublime and comforting to the ghastly and apocalyptic. When set to music, historically composers had to fit their music to the text in an actual religious service which has rather strict time limitations, therefore, composers throughout history inevitably had to shorten the Requiem text. The longest text of the Requiem Mass is the
Sequence
or
Dies Irae (Day of Wrath)
. This is the part of the Requiem Mass where God reigns down fire and brimstone upon the wicked for eternity because in life they rejected God's eternal Love, Jesus Christ, who was sacrificed for the sins of humanity. From an aesthetic and musical aspect, this is where the composer, if he is sufficiently skilled, can literally unleash the musical forces of Heaven and Hell and thus serve as a perfect musical counterpoint to this most passionate, popular and enduring apocalyptic text in the history of classical music.
Regarding the murder of innocent Christians worshipping God in Charleston, SC, the excerpt of the text below would be more appropriately directed toward this wicked coward (whose name I refuse to mention here again) and to all who secretly or hypocritically embrace the perverted, hatred he tried in vain to spew upon society and cause society to spiral into anarchy and race riots. Thank God he failed and love has prevailed. Now let these words from the Requiem Mass (
Dies Irae
) be this murderous coward's reward:

As political hacks and political pols rush in front of every TV camera they can find to prim, to preen, to pervert... to conflate these tragic mass murders in Charleston, SC for their own selfish, political ends – as President Barack Obama, the day after the murder of the Charleston Nine, rather than honor their sacrifice with Christian love, chose rather to politicize a tragic event;
to slander America and to rant and rave about destroying the Second Amendment
which protects We the People from tyrants like King George III, protects us from Cultural Marxists like President Barack Obama, protects us from traitors like the Democrat Socialist Party. "We don't have all the facts, but we do know that, once again, innocent people were killed in part because someone who wanted to inflict harm had no trouble getting their hands on a gun," Obama said, adding: "At some point, we as a country will have to reckon with the fact that this type of mass violence does not happen in other advanced countries."
In conclusion, I chose to close my ears to the madness of
Mass Delusion
and Cultural Marxism and focus my attention on that wonderful drawing by 7-year-old "Madeleine" whose precious, childlike innocence shines ever so brightly through her portrait of Unity of all peoples of the world holding hands in front of Mother Emanuel AME Church... with the nine Angels of the Charleston Nine fluttering with their wings and halos above the people seemingly saying to the world... We are in a better place now. We are in the center of God's Eternal Love.
Requiem aeternam dona eis, Domine,
et lux perpetua luceat eis.

Grant them eternal rest, Lord,
and let perpetual light shine on them.
---
Book Notice
Please purchase my latest opus dedicated to that Conservative Colossus, Supreme Court Justice Clarence Thomas. Here are the latest two new volumes from my ongoing historical series –
THE PROGRESSIVE REVOLUTION: History of Liberal Fascism through the Ages
(University Press of America, 2015):
Please circulate
this flyer
to all your email contacts & Facebook/Twitter followers who may be interested in purchasing this opus which will serve as a ready apologetic against the rampant Marxist-Progressive propaganda taught in America's public schools, colleges, universities, graduate schools, and law schools. Thanks in advance to all my friends, associates and colleagues for your invaluable support! Law and History Blog:
www.EllisWashingtonReport.com
---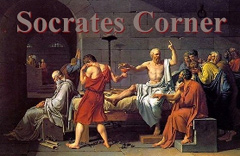 Invitation for manuscripts
I am starting a new a program on
my blog
dedicated to giving young conservatives (ages 14-35) a regular place to display and publish their ideas called
Socrates Corner.
If you know of any young person who wants to publish their ideas on any subject, have them send their essay manuscripts to my email at ewashington@wnd.com.
© Ellis Washington
---
The views expressed by RenewAmerica columnists are their own and do not necessarily reflect the position of RenewAmerica or its affiliates.
---