Chavez predicts the end of America at Moscow University

By
Toby Westerman
September 17, 2009
Venezuela's Marxist president-dictator Hugo Chavez addressed an influential university in Moscow stating that America's influence in the world is "dying," and will be replaced in "the next decades" by a "multi-polar" world in which Russia plays a leading role.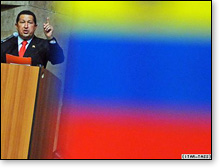 Chavez wants to "accelerate" the process, a sentiment which receives support from the Moscow elite.
During his Sept. 9-10 2009 visit, Chavez received an enthusiastic reception from about 1,000 students at Moscow's Patrice Lumumba Peoples Friendship University, an institution founded in 1960 as a KGB training ground for communist revolutionaries and pro-Soviet activists. The university's namesake was a prime minister of the Republic of the Congo (now the Democratic Republic of the Congo) who attempted to bring his nation into an alliance with the Soviet Union. Lumumba was executed by anti-communist forces.

Today's students at Lumumba U. appeared to continue the school's Marxist traditions as they gave their approval to Chavez's two-plus hour denunciation of the United States as a center of terrorism, while praising Bolshevik revolutionary leader and mass murderer, Vladimir Lenin, and Fidel Castro, the founder of the Cuban gulag.
Chavez's university speech was in stark contrast to his previous visits which tended to be low-key in tone and reduced the public exposure of the Venezuelan dictator's fiery rhetoric.
The growing authoritarianism in Russia and Moscow's increasing militarism receives Chavez support. The burgeoning power of Russia will be an important element in the new world which Chavez believes is being born, as the power and influence of the United States ends.
In a statement directed to Russian President Vladimir Putin, Chavez said that at their initial meeting in 2001, "we were in the old world" — when the U.S. was strong, in contrast to the present situation, in which "another world has arose" as the U.S. declines. Chavez demonstrated his commitment to world revolution as he declared to Putin, " we need to accelerate this step."
Both Russian Prime Minister Vladimir Putin and President Dmitry Medvedev received praise from Chavez for "getting Russia off its knees," and establishing Russia as a "superpower" again.
Chavez is putting his revolutionary words into practice.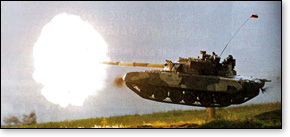 Among the agreements reached between the Chavez regime and Russia was military-technology pact. The specific provisions are not known, but advanced tanks, missiles, possibly submarines, are reported to included. Russia is providing two plus billion dollars in credits to assist Chavez in his arms acquisition.
In addition to conventional weapons, Russia has expressed its willingness to assist Chavez in his nuclear ambitions. Chavez is in contact with the Islamic Republic of Iran seeking nuclear technology, which has its origins in Russia, and build what he calls a "nuclear city."
The kind of world Chavez and the Russian elite are planning for humanity is seen in the revolutionary tradition mentioned in the address to Lumumba U. Putin embodies that tradition.
Putin is an "ex"-KGB spymaster who sees himself as a "Chekist," part of the tradition of spies and secrete police personnel which extends back to Lenin's protégée in murder, Felix Dzerzhinsky, who started the Bolshevik internal spy service, originally known as the "Cheka."
The term comes from the Russian abbreviation for the Bolshevik secret police organization, the "All-Russia Extraordinary Commission to Combat Counter-revolution and Sabotage."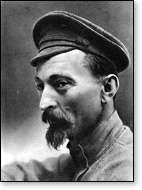 At Lenin's direction, the director of the Cheka, Felix Dzerzhinsky, set a bloody precedent for communist oppression by killing millions and imprisoning millions more. Stalin would merely accelerate the mayhem.
The midnight visit by the secret police, censorship, fraudulent "elections," and the control of all possible sources of opposition are all necessary elements in any Marxist revolutionary society — from Lenin to Chavez.
This is the governmental system which Chavez wants to see dominant, and this is the system that Moscow and Chavez are fostering in Latin America.
Our leaders must understand that we are the targets of a neo-communist offensive. Chavez and company are not hiding what they are doing, we are merely ignoring this threat — to our peril and that of our children, and their children.
THE CENTRALIZED MEDIA IS NOT REPORTING WHAT YOU NEED TO KNOW — READ:
Lies, Terror, and the Rise of the Neo-Communist Empire: Origins and Direction
. Or, go to your favorite online book seller.
© Toby Westerman
---
The views expressed by RenewAmerica columnists are their own and do not necessarily reflect the position of RenewAmerica or its affiliates.
---