Blind eyes: The agony of Venezuela

The toll of "21st Century Socialism"

By
Toby Westerman
May 22, 2019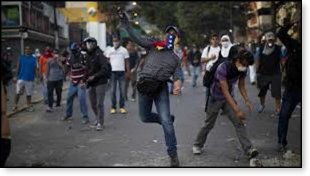 Revolutionary violence has joined starvation, death, and the presence of foreign troops as part of everyday life for the people of oil-rich Venezuela. "21st Century Socialism" has brought Venezuela, once the most prosperous nation in Latin America, to this despicable plight. The dominant American news media, and even "conservative" news outlets, rarely cover Venezuela, but the events there warn of a similar disaster in the United States should Socialism ever triumph here. They also demonstrate that the "Communism is dead" mantra is a lie. Both the Peoples Republic of China and the Russian Federation have important financial interests in Venezuela, but much more is at stake for Beijing and Moscow than investments or geopolitical strategy.
Hugo Chavez (d. 2013), former Venezuelan president and virtual dictator, instituted what he referred to as "21st Century Socialism" and sought to extend his Marxist-oriented "Bolivarian Revolution" across the Western Hemisphere. Elected in 1998, violence and intimidation insured subsequent reelections. Fidel Castro's Communist Cuba was an early supporter of the "Bolivarian Republic" (as Venezuela became known), and Jorge Carrasco
argues
in an article first noted in the
Babalu Blog
that Communist Cuba was working hard to undermine Venezuela even before the rise of Chavez. Soon after Chavez became president Cuban military advisers and intelligence officers became seemingly omnipresent.
As "21st Century Socialism" took hold, Venezuela's economic situation became increasingly difficult and became a full- blown disaster under Chavez' designated successor, Nicolas Maduro.
To prop up Maduro, the Peoples Republic of China has assisted in developing and implementing an Orwellian system of population control which uses computerized identification cards and enables the Maduro government to keep track of an individual's activities from the use of food ration cards to political affiliations.
Moscow had close ties with Chavez and was a major source of both capital investment and military hardware. Visiting long-range Russian bombers have been welcomed in the Bolivarian Republic as well as Russian naval ships. During one visit to Moscow, Chavez clearly demonstrated his political sympathies and yearnings by publicly calling for the Russian leadership to revive the Soviet Union. His public statements during the remainder of that visit were truncated, but the Moscow leadership did not condemn Chavez for his pro-Soviet message.
Russian military personnel are now active in Venezuela, as are Russian "volunteers," members of the so-called "Wagner Group," which has been active in Syria and on the continent of Africa. Moscow's commitment to Venezuela is such that, according to reports, Russian president Vladimir Putin had to personally intervene to stop a panicking Maduro from fleeing. Among Putin's concerns was the possibility that Venezuelan oil would no longer flow to Communist Cuba, causing an economic headache for the Russian Federation and the Peoples Republic of China, both of which prop up the Havana regime.
Venezuela is in reality a Communist state, complete with secret police, political prisoners, and an all-powerful central government which has brought the nation to a state of chaos. This is Chavez' Marxist legacy which is what Maduro is attempting to keep alive.
Twenty years ago, under Chavez, many in Latin America looked to Venezuela and "21st Century Socialism" as a re-birth of Communist ideals and renewed Marxist solidarity. Chavez made the Venezuelan capital, Caracas, the center for numerous Socialist/Communist rallies, including a World Social Forum in 2006 during which he proclaimed "Socialism or death." In a 2009 address to an international group of Leftist political activists, Chavez called for a "Fifth International," a coordinated global attack on capitalism in the spirit of previous Communist "Internationals."
Chavez' influence spread across Latin America. Along with Fidel Castro of Cuba, Chavez founded ALBA, the Bolivarian Alliance for the Peoples of Our America, a trade group which also served as a revolutionary propaganda vehicle. Regional leaders including Evo Morales of Bolivia, Daniel Ortega of Nicaragua, and Rafael Correa (now former) president of Ecuador were enthusiastic supporters of 21st Century Socialism. There was talk among pundits in the United States of a "pink tide" in Latin America.
It should be noted that Ecuador has left the ALBA trade group after the election of the nation's new president, whose name is ironically
Lenin
Moreno. Ecuador also broke ties with the Venezuelan-based, Chavez-inspired Telesur television network.
As is usual with the Utopian visions of Socialists/Communists, the promised better life for all quickly devolved into one of universal horror. Experiments in worker-run industries proved ruinous. The only aspect in Venezuelan life which saw an expansion was the level of oppression. Hundreds and then thousands of Cuban troops and intelligence advisors increasingly transformed Venezuela into a Soviet-style state. Lessons learned by the Cubans from the East German Stasi secret police during the Cold War were imposed on the people of Venezuela.
As can be attested around the world, political oppression does not lead to economic well-being. The domestic disaster which is Venezuela has become international in scope. Many thousands are fleeing the now impoverished state of Venezuela and are triggering a humanitarian crisis in neighboring Colombia. Many are seeking refuge in the United States. Maduro's declaration of re-election has been denounced as fraudulent by much of Latin America, Europe and the U.S. As the Maduro regime grows more desperate, beatings, killings, even ISIS-style beheadings are taking place.
Under Maduro, many of the top Venezuelan military leaders have been corrupted into a clique of drug cartel operators. Lower level officers and soldiers have the unenviable choice to either cooperate with the government, risk execution by Cuban-led secret police, or join the exodus from the country.
Supporting the Marxist firebrand Chavez in the early days appeared to be without serious repercussions to the Communist leadership in Beijing, Havana, and the
de facto
Communist rulers in Moscow. With Soviet Venezuela threatening to unravel, however, things are very different. There is a risk that a liberated Republic of Venezuela would give contemporary evidence of Socialism/Communism's inherent viciousness, and possibly also demonstrate through internal political documents that present-day Russia is in reality a Soviet state run by its intelligence services (spies, internal and external).
These kinds of revelations about the Communist world would be bad for business. The military buildup in the Peoples Republic of China and the Russian Federation need additional funding from trade with the United States and Western Europe. The armed forces of the Peoples Republic and Russia have not yet sufficiently surpassed that of the United States. A premature return to the Cold War is not in the best economic and, therefore, military interests of Beijing and Moscow. Havana, on the other hand, is always at war with the United States and has limited interest in cordial ties with the U.S. The Cuban leadership knows it can count on pressure from U.S. business groups for some trade with Cuba to obtain needed cash resources, and it has no qualms about being an economic drag on Russia and the PRC.
A liberated Venezuela will be hard to attain. The determination to keep Maduro in power is great, and the pressure from his enemies is limited. One of the most significant problems is the American news media. The lack of interest in the collapse of a failed Socialist state among the Leftist U.S. news media is almost palpable, and Maduro does have his friends in the U.S Congress, just as does the Cuban regime. Pressure, nevertheless, must be maintained against Maduro, and the fate of Venezuela should be an important issue in relations with the Peoples Republic of China and the Russian Federation. U.S. political and military leaders would be well advised to consider how important Venezuela could be if Russia and the Peoples Republic choose to militarily challenge the United States, an option for which Moscow and Beijing have been preparing for years.
© Toby Westerman
---
The views expressed by RenewAmerica columnists are their own and do not necessarily reflect the position of RenewAmerica or its affiliates.
---