Don Cobb
Why Obama is spending like there's no tomorrow

By
Don Cobb
February 23, 2013
Many people get tangled up in "What" is going on, rather than what is far more important,, and usually explains the "what," and that is "Why" it's going on. For example, Obama is spending like a drunk wife with a new Macy's card. It's not that he's irresponsible, like so many are saying. He's not irresponsible. The New World Order billionaires don't appoint you President of the United States if you're irresponsible. So it's not that.
And it doesn't take a rocket scientist to put two and two together, does it? So let's look at the evidence so far: New World Order bigwigs have taken over the U.S. government. The fact that the last four US presidents support Agenda 21 and the UN's One World Government strongly suggest that is true. The UN is preparing to put the One World Government into place. The USA is the only holdout. The NWO folks know that We, the People are going to be fighting mad when we're told that America's sovereign nation status is history and that the USA doesn't exist any longer. Oh, btw, welcome to the North American Union, right? So what the hay? The spending?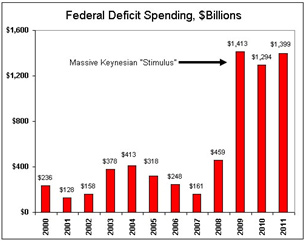 Have you figured it out yourself yet? Try this on, hypothetically: There will
be
no tomorrow for the USA once the UN puts their One World Government plan into action, so there will be no debt. It will all be forgiven by the World Bankers (the Federal Reserve Bank) who are behind the UN's One World Government. Once America's sovereign nation status is given up, America will cease to exist and will become part of a proposed "North American Union. When a company declares bankruptcy, for example, its debts are commonly forgiven. When a corporation dissolves, there is no one left to sue. When America is gone, then... I mean, it makes sense, doesn't it? Was that so hard to figure out?
Well, we know why they're trying to take our guns away. They'd rather deal with rock throwers than armed militias all across the country when the OWG is kicked into gear. That's what that's about. But the spending... hmmm, that spending. Out of control, spending like there's no tomorrow.
But the media can't put it together, right? Or is it that the media has been instructed
not to tell us
what's going on? That's more likely to be true. The media isn't a bunch of bumbling idiots like Washington DC bureaucrats appear to be, and D.C. really isn't full of alcoholic dunderheads like it appears to most of us. They're sharp in Washington. The media is too. They feign ignorance but they all know what's coming down the pike for America. The late, great USA will be nothing but a memory soon,
if -
and that's a big "if" – the New World Order folks who have taken control of the USA have their way.
Does that make sense? Obama is spending like a crack-whore with a credit card because he knows that as soon as the trigger is pulled on the UN One World Government plan, all of America's debt will be forgiven. At least, that would make sense, anyway. I admit that it's the one thing I don't have any hard evidence for, but it's been bothering me lately, this spendaholicism Obama's been on since he took office. I
suspect
that's why.
I'm sure that much will be made in the mainstream media of the World Bankers' 'amazing generosity' when they offer to forgive the national debt. After all, the trillions of dollars they play with every day is OUR MONEY anyway! But it won't be about generosity that motivates them to forgive our debt. It will simply be their way of trying to protect themselves, to try to soften the blow after America's independent nation status goes bye-bye, and for their own safety,
The NWO folks want to take away our guns before they tell us that America has been thrown on the dung heap called the One World Government. They know we're going to be mad as hell about America being destroyed – that is, that America will cease to exist as an independent nation. I don't blame them for wanting to take our guns, because they're right – we will be angry as hell!
The fact that the New World Order folks have taken control of our government? Facts back that up. That the UN is planning on implementing a One World Government just as soon as America can be conned into giving up our sovereign nation status? Hard facts support that OWG plan, as well. All one needs to do is bone up on Agenda 21 and that is made crystal clear. Every nation is on board now except for the USA, and the USA has given it's blessing ala George H. Bush, Bill Clinton, George W. Bush and now Barack Obama. The plan is in place, make no mistake about that and it all hinges on Agenda 21 and the "global warming" fraud.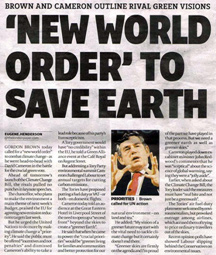 Can you believe that this fraudulent effort to steal the world's money via their self-invented "carbon credits," this "global warming" that we all know is fraudulent is behind this Agenda 21/One World Government effort? That's the excuse, anyway. And that's why these people are so dangerous. They've decided there are too many people on the planet and that by 2050 the planet won't be able to survive. They've declared that 5.5 billion people (that's "billion" with a "b") must be
eliminated
in order for planet Earth to sustain itself ("Sustainable Development) or that we must return to the industrial age of around the year 1765, to abandon technology completely. Those are their two options, in their crazed evaluation. And you think my suppositions today are crazy? LOL My comments are nothing compared to their plan to take over and rule the world, and then kill so many people and that is their plan. Read Agenda 21 carefully if you don't believe me. It's all there.
Since I began writing about Agenda 21, my inbox has been flooded with support, with information which others have compiled, all factual, which proves this entire Agenda 21 fiasco is going to be the end of the United States of America as we know it. It's the Socialists and the uber-rich elite who have attached themselves to the "global warming" fraud and now plan on finding a way to eliminate 5.5 billion people in the very near future. So they've decided they need to take charge of the world ala One World Government, an unelected, self-appointed group of maniacs that will then begin culling the world's population.
Gosh, I know it sounds bizarre, but the facts are already out there and available for anyone who is really interested. It's not some Hollywood science fiction and it's not some "conspiracy theory." This is a macabre conspiracy, and We, the People have been selected to stop it.
Are you ready?
I admit that my theory about why Obama's spending is off-the-hook is just a theory. But when I look at the facts on Agenda 21, the New World Order and the United Nation's One World Government plan, then it all seems to make sense regarding why he's spending like a madman. He's not mad. He just knows the debt is going to be forgiven. What do you think?
© Don Cobb
---
The views expressed by RenewAmerica columnists are their own and do not necessarily reflect the position of RenewAmerica or its affiliates.
---