Don Cobb
Obama's autobiography is full of lies

By
Don Cobb
July 14, 2013
I considered adding a question mark to the title of this article, but sadly, there is no question. It's a fact which Barack Obama has already personally confirmed publicly. His autobiography isn't true.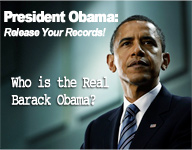 I also considered calling this column "THE LYING PRESIDENT & THE LYING LIARS WHO PROTECT HIM" or "OBAMA LIED, THE MEDIA WINKED & WE THE PEOPLE ELECTED SOMEONE WE REALLY KNOW NOTHING ABOUT." I decided against those titles because this issue is far too important to commit it to emotional vomit. And I am so disappointed in my president today, when I discovered that he had fabricated much of his supposed "autobiography" and the purported story of his life wasn't even the story of his life.
The President of the United States published what he called his "autobiography," knowing full well that it
wasn't
his autobiography, but was fictional, and contrived. From
Brent Bozell's new book 'Collusion
':
"Maraniss told Vanity Fair that Obama's memoir had value despite its pack of lies: "I say that his memoir is a remarkably insightful exploration of his internal struggle, but should not be read as rigorous factual history. It is not, and the president knew that when he wrote it and knows it now."
Obama had made up many of the stories, invented many of the characters and in fact, far too much of his book was not even true.
What is worse, if not equally as bad, is that once this fasification was discovered, the mainstream media, the Democrat Party and the Republican Party all kept Obama's secret. No wonder Brent Bozell called his latest book "
Collusion
." He's talking about
this
travesty, this contrived pack of lies that Barack Obama and his handlers have used to deceive the entire nation and this cover-up by the mainstream media and the Democrat and Republican Parties. The truth is, We the People don't know who Barack Obama really
is
. Never before has an American president lied so much in a supposed autobiography.
His memoir was, by his own description, "a compression" of events and relationships that really never existed or took place. From "Collusion
" "...during an interview at the White House on November 10, 2011, Obama acknowledged his description of his New York girlfriend was actually a "compression" of events "that occurred at separate times with several different girlfriends."
Oh, really. Then, does "compression" really mean "fictional creation"?
So his 'girlfriend' was fictional and many of the events he wrote about didn't even happen! According to David Maraniss, who writes for the Washington Post and recently wrote "Barack Obama – The Story" :
"Obama also told a story about taking a girlfriend to a "very angry play" by a black playwright and she came out "talking about why black people were angry all the time. I said it was a matter of remembering – nobody asks why Jews remember the Holocaust, I think I said – and she said that's different, and I said it wasn't, and she said that anger was just a dead end. And we had a big fight, right in front of the theater."
Maraniss reported,
"None of this happened with Genevieve."
Cook said they attended the theater just once together, to see the British actress Billie Whitelaw performing from the work of the Irish playwright Samuel Beckett. The one time they were in the midst of a black audience was a trip to the movies in Brooklyn to see Eddie Murphy in
Beverly Hills Cop
. Cook told Maraniss,
"I was the only white person in the audience,"
and
"It was such a wonderful, uplifting, mind-blowing experience."
There was no fight. There was no crying in the car (neither person had a car). There was no scene where Obama's girlfriend asked about angry black people.
Maraniss asked Obama about this at the White House. Obama acknowledged the scene did not happen with Cook.
"That was not her,"
he said.
"That was an example of compression. I thought that was a useful theme to make about sort of the interactions I had in the relationship. And so that occupies, what, two paragraphs in the book? My attitude was it would be dishonest for me not to touch on that at all."
Stop. Rewind. He's saying
"it would be dishonest of me"
not to make up a story about a black-white lovers' quarrel? To Obama, real life was merely raw material for manufacturing the
"larger truth"
of his mythology. His story was false – period."
So Barack Obama thought
'...it would be dishonest of me..."
to be honest? Is he serious? Sadly, yes he is, and so instead of being honest and writing his life's story, he fabricated the story by including fictional, but politically correct, stories and characters. The mainstream media knows that "Dreams of My Father" was a fabrication now, but none of them will talk about it. The President of the United States published a supposed "autobiography" which was really fictional, and the media says nothing? Unacceptable.
Perhaps worse yet – if it can get any worse than our president fabricating his supposed autobiography – is the fact that neither party, no one from either the Democrat Party or the Republican Party ever told us about this book being a pack of lies, either. That makes them complicit in the lie. We call that a "sick secret" in the recovering community. When you know someone has lied but you say nothing, then you are complicit in the lie yourself. You become guilty by codepending the lie...like the Democrats & Republicans have.
They all have to go, in my opinion. The Republican Party, the Democrat Party and the Mainstream Media all have to be abandoned now. That is why I created my new voter re-registration website at
Re-RegisterToVote.com
. After serving in the local Republican Party leadership for the past 5 years, believing the GOP was still salvagable, I ultimately realized that the GOP and the Democrat Party are really probably just
one party
, with one group of people (NWO) running both parties. I immediatedly stepped down from my position as Communications Director of our county central committee and re-registered as "Independent/TeaParty."
In order to restore sanity to American politics, Step One in my opinion is to abandon both corrupt parties. If We the People are going to save our nation, we need to eliminate both of these dishonest, corrupt parties who have figured out that they can work together in order to deceive all of us, thus making themselves rich and – why, to hell with We the People! They are collapsing our economy while they're filling their own pockets. It's wrong...and it needs to stop. We the people need to put a stop to it. Neither party is going to stop on their own. They've proven that over the years, only getting more dishonest, more sneaky, more greedy every year, and now they appear to be working
together
.

I strongly encourage you to go to
Re-RegisterToVote.com
right now and re-register to vote as "Independent/TeaParty." You can re-register online and it takes about one minute. Literally, it takes just one minute. That will send the clear message that We the People have given up on those two corrupt parties and are no longer willing to support the dishonest corruption that both parties practice. It also sends the same message that our founders sent to King George, right before the first American Revolution: "We're done with you."
This will potentially establish the largest voting bloc in America as "Independent/Tea Party," with you and I and tens of millions of other American patriots at the helm. We don't need a corporate structure or high-paid leaders, attorneys with their legalese and Doublespeak. We don't need corporate offices or company paid cars or expense accounts like the D's and R's both have. We don't need those things because, collectively speaking, We the People have more wisdom at our disposal than both of those corrupt parties combined. It's time we exercise our collective wisdom and take our nation back from people who have repeatedly abused and violated our trust.
America was founded as a nation of the people, by the people and for the people. It's time that our government reflected that truth. Right now, America has been hijacked and morphed into a nation of the politician, by the politician and for the politician and their corporate cronies.
It's time to take our nation back. Let us start by
re-registering to vote
(
click here
), but not as Democrats or Republicans – as Independents, Tea Party patriots who aren't going to put up with this corrupt, dishonest crap any longer. Join me. Like our forefathers, we can do this. They established this great nation, and we need to re-establish it again.
Read more:
http://newsbusters.org/blogs/tim-graham/2013/07/13/audacity-myth-how-media-ignored-obamas-lies-about-his-own-biography-and-#ixzz2Yz2h1xre
Re-register to vote online here:
http://Re-registerToVote.com
© Don Cobb
---
The views expressed by RenewAmerica columnists are their own and do not necessarily reflect the position of RenewAmerica or its affiliates.
---