Audrey Ignatoff
Small businesses fear giants like Wawa coming into the neighborhood

By
Audrey Ignatoff
October 12, 2015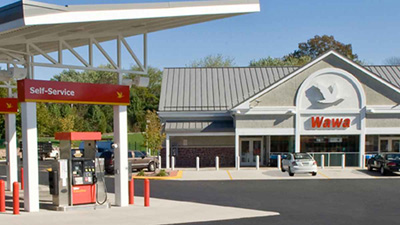 When Wawa announced that it was going to open three new Superstores in Hamilton Township, New Jersey, many local small businesses were upset. In fact, some business owners protested to the township zoning board, but lost. They also lost in court. After all, this is a free economy that allows all businesses to exist. Furthermore, large businesses bring in more tax money to the area. Super Wawa consists of a convenience store, and a gas station. This has upset gas stations and restaurant owners in the community.
Businesses like Wawa have substantial budgets for advertising and marketing, as well as their ability to keep prices low. They also offer convenience and one stop shopping for busy people who want to shop and get gas anytime of the day or night. It seems like it is hard or difficult to compete with this. However, small businesses do have some distinct advantages over seemingly hard to beat superstores!
The most critical element that a small business can provide is personalized customer service. Many people like to go where "everybody "knows their name." This factor, along with well trained staff who are schooled in proper etiquette and the law can be potent factors in attracting new customers and retaining the ones they have.
Small businesses should be careful not to break the law regarding discrimination in public accommodations in the areas of race, religion, disability, sexual orientation, etc. Of course, they must be handicapped accessible too, including providing disabled parking spaces, ramps, and accessible bathrooms. It is surprising that in this day and age, many businesses are still not ADA compliant.
In talking to a consumer, there seems to have been discrimination and insults against him by both staff and owners of local businesses regarding his religion, race, perceived sexual orientation, perceived disability, work status, appearance, and personality. There have been several anti-Semitic slurs made. For example, when this man didn't return to a restaurant for a long time after being insulted, the owner said that he thought that he didn't come because he was too cheap to spend money due to being Jewish. Another owner stated outright that "I don't like Jewish people." When people complained to an owner of a restaurant about an employee's anti-emetic comment, the owner asked them to leave, and even threatened to call the police!
The old days where "the customer was king" seems to have been forgotten by many small business owners and their employees. Customers, especially loyal ones, are the mainstay of any small business. Business people should never be rude or impolite to a customer under any circumstances, as they exist to serve the customer's needs, and should try to exceed them.
One customer states that he was admonished at a restaurant and a bar for speaking to several female and male patrons when engaging in mutual conversations. Often these were with friends, acquaintances, business contacts, and even his former employer of four years. This kind of behavior also occurred at a local barber shop while waiting for a haircut and mutually chatting with someone waiting for a customer's haircut to be finished. Not only did he interrupt the conversation to ask the woman if the man was bothering her, but he was very vocal in insulting him publically by implying that he had no gainful employment. This was certainly not the case, and even if it was, it was none of his business!
Usually, if people go to such establishments, it is a sign that they want to socialize. If they are anti-social or want to be alone, they should remain at home. To my knowledge, being friendly and receptive toward people is not a crime!
When this individual asked the owner of a business for the contact information of a man who had mentioned a possible job, the owner's wife accused him of wanting to "stalk" this individual. He asked for an apology, but received none. The owner also accused him another time of "scaring his customers," but would not say who complained. All of this was extremely humiliating, and caused him emotional stress. This represent intentional interference with future business advantage.
It should be up to each individual to control their social environment, not business owners or employees. They shouldn't play "Big Brother" as this is not a dictatorship. This is America!
This behavior constitutes stalking, harassment, invasion of privacy, false light, and defamation of character. It is discrimination in public accommodations. If this behavior was instigated by one person or a group of people and then continues to spread, it may constitute a conspiracy.
It is certain that this customer will not be returning, and neither will his cash! Certainly, if he wants a hoagie, he will go to Wawa, and if he wants to go to a restaurant or bar, he will find a more welcoming atmosphere. You can say many bad things about New Jersey, but there may be more eating and drinking establishments there than in most other states. It is difficult to starve in New Jersey!
Small business owners should make the most of their ability to offer personalized, friendly, and courteous service to its patrons. They don't have to compete with giant businesses because they are a separate and distinct breed. If they don't bother to learn or obey the laws, don't train their staff, and continue to act rude and disrespectful to their customers, don't blame Wawa and the other giants for taking over. Business owners, like everyone else, have to adjust to an ever changing economic environment. In many cases, owners are sabotaging their own businesses all by themselves!
© Audrey Ignatoff
---
The views expressed by RenewAmerica columnists are their own and do not necessarily reflect the position of RenewAmerica or its affiliates.
---