Marielena Montesino de Stuart
The Beijing affair: Part Two

By
Marielena Montesino de Stuart
May 17, 2011
COMMUNIST CHINA: Strategic and Economic '
Agent Provocateur
'

Part One of The Beijing Affair
covered Communist China's aggressive military march into space, and the establishment of Access Denial Capabilities, which inhibit U.S. military access to key areas in the Asian theater of operations.
In Part Two we will look at China's global economic influence, which supports its military strength and impacts our engagement strategy. As China grows more powerful it is less and less willing to admit, or even discuss, its violations of the most fundamental principles of a civil society — making the U.S. engagement more difficult in the areas of human rights and the rule of law.
Economic leverage and political subterfuge
On May 9-10, 2011 Secretary of the Treasury Tim Geithner and Secretary of State Hillary Clinton hosted the third meeting of the U.S.-China Strategic and Economic Dialogue (S&ED) in Washington, DC. Their respective Chinese Co-Chairs, Vice Premier Wang Qishan and State Councilor Dai Bingguo were present at these dialogues.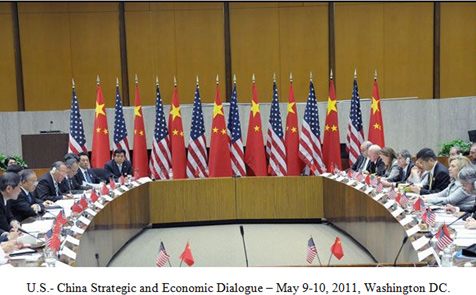 As usual, the meeting did not produce any significant economic changes. The most that Americans can aspire to gain from these dialogues is "hope" and "optimism" — which is code for "we're not making much progress."
China emerged from these talks with a slap on one hand, and a big bag of goodies on the other — such as Geithner's announcement that Chinese investment in the United States will continue to expand "very, very rapidly." Will this mean that Americans will owe the creation of new jobs, on our soil, to the Chinese Communists? No wonder the International Monetary Fund recently announced 2016 as the approximate end of the "Age of America" — at which time the U.S. economy will be left behind that of China.
During this third round of talks the Chinese simply repeated their "commitment" to a more open economy, and to fighting inflation. But it is important to note that these "commitments" rarely, if ever, are implemented — sometimes not even communicated. Case in point: Hu Jin Tao (China's Communist dictator) has made explicit economic and trade commitments in the past — which he has not honored. American companies trying to do business in China are told time and again by Chinese provincial and local officials that they have received no official implementation orders from Beijing, that would level the playing field, for Americans doing business in China.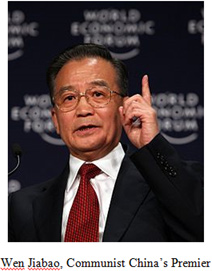 On the economic front, the best that Americans can rely on are the statements made by China's Premier, Wen Jiabao, during the Fourth Session of the Eleventh National People's Congress. Jiabao has been making promises to urgently address inflation as a threat to social stability and future economic growth. That's hilarious. The Communist thugs in Beijing are now interested in social stability — after decades of exterminating their own people. This sudden benevolence is nothing but a theatrical mask to cover Beijing's fear of political uprisings — such as the ones occurring in the Middle East — also known as the "Arab Spring." Imagine millions of Chinese on the streets protesting. Imagine the tumultuous effect of a mammoth Tiananmen Square-like protest.
A 'fool's errand'
One interesting aspect of last week's strategic talks was, what has been described as Secretary Clinton's Reaganesque attack on China. On Tuesday, May 10, 2011
The Atlantic
published an exclusive interview with Mrs. Clinton, where Chinese government officials are described as "worried." Mrs. Clinton stated that "they are trying to stop history, which is a fool's errand. They cannot do it. But they're going to hold it off as long as possible." This remark is linked to the Chinese government's escalation of its crackdown on anyone they suspect to be a dissenter — in fear of a Middle East-like uprising.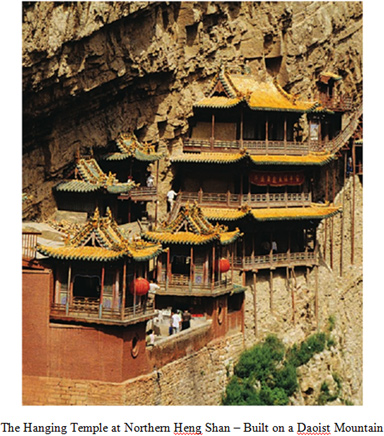 The political landscape may be changing in other parts of the world.(hopefully towards democracy). Not in China — where the government crackdown on dissenters is getting worse.
Change in China comes packaged under the label of "national economic and social development." But this is not the ancient Chinese Daoist approach to change — where water is used as an example of the ideal gentle and imperceptible change agent, as in a brook, eventually wearing away the stones. "Social development" in Communist China comes in the form of violence and murder — through mass sterilizations, forced abortions and dissenters being arrested in the streets — never to be seen or heard from again.
The most significant aspect of these talks was the military-to-military discussion, under the title of "Military, Diplomacy and Security Affairs" — which for the first time involved senior military officials on both sides. This is important, because our understanding of the Chinese long-term military agenda and intentions is quiet limited — given Beijing's lack of transparency. The United States, on the other hand, has been transparent with its military budget and doctrine, as well as with its military technology and weapons systems. This one-sided diplomatic affair is not surprising.
Sino-American military relations have always been difficult, to say the least. Beijing is known for calling off military talks when it feels uncomfortable with American manpower and weaponry, including ballistic missile superiority. Last year Beijing halted military talks with Washington, after President Barack Obama gave the go ahead to a $6.4 billion arms deal to Taiwan.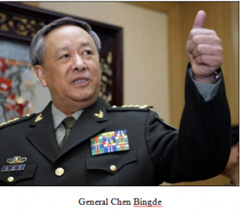 It is often said that the diplomatic road between Beijing and Washington is mostly travelled in one direction — but not this week. General Chen Bingde, the chief of the General Staff of the People's Liberation Army is here for a week-long visit. China's illegal military support of North Korea and Iran, as well as its illegal control of waterways in the Asian neighborhood (all further discussed below) will surely come up in the conversation.
Eurasia
China's position as an economic and military power needs to be examined also in the context of Eurasian politics. Sir Halford Mackinder is considered the father of modern geopolitics. Mackinder believed that he who controls Eurasia can control the world. This is not surprising when considering that Eurasia is home to 72.5% of the world's population.
In
The World Island: Eurasian Geopolitics and the Fate of the West
, the author, Alexandros Petersen, reminds us of Mackinder's theory, by explaining the evolution of strategic thinking in the 21st century — in light of the power struggles between Russia, China, Turkey, Iran, and other Eurasian nations. Petersen adds that tension will unfold more through economic leverage and political subterfuge than by open use of force.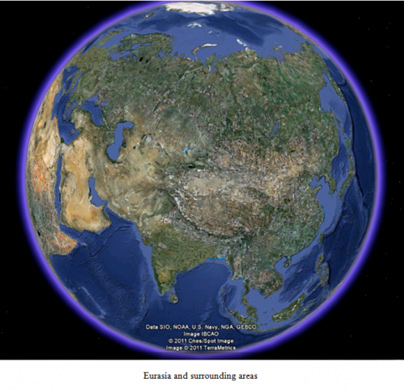 When it comes to Iran, China gives us nothing but trouble.
China sees Iran as a territory it can influence, militarily and economically — as leverage against the United States. China's willingness and persistence in aiding Iran presents a clear picture of Beijing's hostility towards our nation. The Sino-Iranian relationship also presents a growing challenge, in our effort to isolate the extremist Iranian Islamic government's program of uranium enrichment, since our ability to cultivate peace, freedom and democracy on an international level is undermined by China's global influence — making it tougher to get support from nations that are increasingly beholden to Beijing.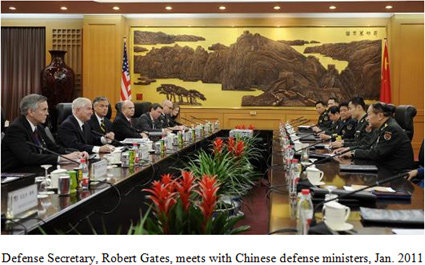 China's defiance and violation of international agreements and the rule of law again surfaced when, on May 14, 2011 Reuters obtained a confidential United Nations document which exposes how "North Korea and Iran appear to have been regularly exchanging ballistic missile technology in violation of U.N. sanctions." The Reuters news agency went on to say that these illicit technology transfers involved "trans-shipment through a neighboring third country... That country was China, several diplomats told Reuters on condition of anonymity."
China's Communist government does not care that American soldiers and other personnel have been killed in Iraq and Afghanistan with Iranian-made weapons. In spite of this harsh reality, China enjoys having the upper hand in its trade relationship with the United States, while it plays a chess game against Washington, with Iran as one of its most dangerous strategic pawns.
But China's dangerous game dictates that the U.S. remain on alert. An example of our ongoing military preparedness came in the form of a press release from General Dynamics, on November 18, 2010:
[Excerpt]: "FAIRFAX, Va. — General Dynamics Information Technology, a business unit of General Dynamics (NYSE: GD), is one of five awardees selected by the Missile Defense Agency (MDA) to provide systems engineering and testing services under the Missile Defense Agency Engineering and Support Services (MiDAESS) contract. The five-year indefinite delivery/indefinite quantity contract has a $1.6 billion ceiling value for all awardees; the contract has no initial award value... MDA was created in 2002 to develop a layered, integrated BMDS that will destroy all ranges of ballistic missiles by engaging them in all phases of flight."

China is everywhere
The Chinese Communists have had a long-standing presence in Sub-Saharan Africa. Its presence has nothing to do with peacekeeping in the African continent. China's government doesn't lift a finger without a plan as
agent provocateur.
One of the misconceptions about African civil wars is that they are often looked upon as isolated and localized social and political struggles. China actually plays a significant role — since it is a major supplier of military equipment to Africa, thus fueling and supporting the ongoing massacre (while deceptively acting as "peacekeepers"). China has been actively building large infrastructure projects in African countries that are notorious for their violation of fundamental human rights. Through its aggressive involvement in Africa, China has created an influential platform from which it can exercise economic and political control.
In the war-torn land of Sudan, the Chinese National Petroleum Company (CNPC) has developed an oil field and constructed a 900-mile pipeline to the Red Sea, so that oil can be sent to China. Several African nations have entered into strategic partnerships with China, in exchange for lines of credit. China has persisted in providing arms to Zimbabwe's Marxist dictator, Robert Mugabe — a persistent human rights violator. The list goes on.
What about China and the NATO attacks on Libya?
Libya is an important business partner for China. It is estimated that approximately 30,000 Chinese citizens were residing in Libya until the attacks began. The Chinese population in Libya has been mostly connected with large-scale Chinese construction / infrastructure projects. This explains why China abstained during the recent United Nations vote to intervene militarily in Libya.
As usual, China wants to have it both ways. It wants to continue its tyrannical communist system, while becoming an international and influential economic superpower. A dangerous combination for the world.
China's strategic position in Tibet
On October 7, 1950 the People's Liberation Army marched into Eastern Tibet and took control of the Roof of the World, as Tibet is known.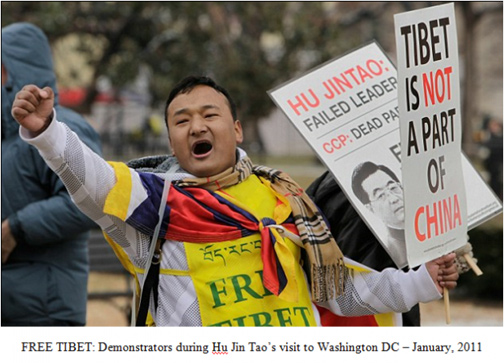 By taking control of Tibet, Mao Tse-tung, China's communist dictator at the time, showed the international community that China was the real leader in Asia. Why? For one, it demonstrated that India was not capable of defending a small defenseless country like Tibet, further exposing Nehru as the weak socialist Prime Minister of India, willing to appease the Communist giant.
The Tibetan rivers are also of strategic importance to China, and its water shortage
Communists are always coming up with "plans."
Beijing's 10th Five-Year plan included water diversion from South to North.
The diversion of water is an ancient theme, and the cause of many battles — and it will continue to be a serious issue for India and other countries affected by China's water diversion of rivers that rise from the Tibetan region.
Mao knew that the waters of Tibet are vital. Most of Asia's waters flow from the Tibetan plateau. Tibet's waters bring life to 85 percent of Asia's population, which is equivalent to approximately 50 percent of the world's population.
The Tibetan high plateau is also a vital strategic location for Intercontinental Ballistic Missiles (ICBMs) with nuclear warheads which can be pointed at India and other regions. Tibet's geographical position is a sweetheart of a deal for China's testing sites and storage of nuclear missiles.
For decades China has denied any nuclear activity in Tibet, while it continued to use it as a territory for manufacturing nuclear weapons, and for dumping of nuclear waste.
The Tibetan freedom cause has gained much support all over the world — and has even been embraced by some Hollywood actors, based on their fascination with the "Yellow Hat" branch of Tibetan Buddhism, and their concern for environmental issues.
Let's look at what environmentalists are saying, since environmental issues often tend to be a bigger priority than the suffering of human beings under a communist tyranny. Having said that, I have nothing against keeping our natural environment clean — as long as the "environmental" argument does not exclude denouncement of the "communist environment."
A Winter 2010 Penn State Environmental Law Review / Commentary titled, "China's Dumping Ground: Genocide Through Nuclear Ecocide in Tibet" offers the following description of the nuclear environment in Tibet:
Excerpts:
"Grave concerns have arisen about China's nuclear buildup and environmental degradation in Tibet, both of which have come to the forefront of international attention. Through uranium mining, nuclear research and design, and subsequent nuclear dumping, the Tibetan plateau has transformed from ecologically balanced and independent to an area so environmentally degraded that the water that flows through Tibet has affected surrounding countries.""China's use of Tibet for its nuclear production and dumping effectively constitutes genocide of the Tibetan people. The United Nation's Convention on the Prevention and Punishment of the Crime of Genocide defines genocide as: Any of the following acts committed with intent to destroy, in whole or in part, a national, ethical, racial or religion group, as such: (a) killing of members in the group; (b) causing serious bodily injury or mental harm to members of the group; (c) deliberately inflicting upon the group conditions of life calculated to bring about its physical destruction in whole or in part; (d) imposing measures intended to prevent births within the group; (e) forcibly transferring children of the group to another group.""By intentionally exposing Tibetans to an environment degraded by nuclear waste, the ecocide of Tibet results in the eradication of ethnic Tibetans."This Comment will discuss the genocide of the Tibetan population through nuclear environmental degradation. The history of China's ethnic cleansing of Tibetans through ecocide..."
Decisions, decisions: Reincarnation or Elections?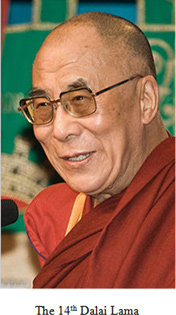 President Nicolas Sarkozy of France undoubtedly must have waited anxiously to speak to Hu Jin Tao, during his visit to London in 2009, as described in
Part One of
The Beijing Affair
. Indeed, just before the G-20 meeting Sarkozy met with Hu in an apparent effort to neutralize the bad blood between them since the year before, when China went ballistic over Sarkozy's meeting with the Dalai Lama — the spiritual leader of the Tibetans, and until recently, their
de facto
political leader in exile.
But why was the communist dictator so upset at Sarkozy?
It appears that Sarkozy met with the Dalai Lama in an attempt to make amends after avoiding the Tibetan spiritual leader during an earlier visit to France — at which time Sarkozy was trying to avoid offending the Chinese government.
Sarkozy, who must have been also feeling the pressure from those who support the freedom of Tibet, finally met briefly with the Dalai Lama in December, 2008, while the latter was in Poland, at a meeting of Nobel Peace Prize winners. Sarkozy was in Poland attending a meeting about "climate change" with nine eastern member states of the European Union.
The meeting between Sarkozy and the Dalai Lama was seen by China as a recognition of Tibet's right to freedom from China. In protest, Beijing cancelled an EU-China summit which France had been scheduled to host.
China's foreign minister, Qing Gang had this to say: "We resolutely oppose the Dalai's separatist's activities in any countries in whatever capacity, and contact with foreign leaders and him in whatever form."
France has been expanding its business with China, so Sarkozy was only willing to take the Dalai Lama issue so far.
But now Tibet has a new political leader.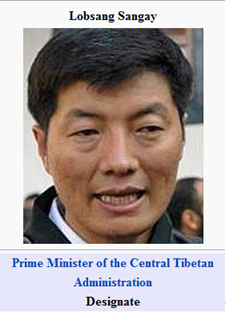 The 52nd anniversary of the Tibetan National Uprising took place on March 10, 2011, and it was announced that the Dalai Lama would hand over Tibetan leadership to an elected representative. The Dalai Lama arrived at his position as spiritual leader through reincarnation, according to Tibetan Buddhism. The new leader, a Harvard legal scholar by the name of Lobsang Sangay, is now the new Kalon Tripa (Prime Minister). Unlike the Dalai Lama, Sangay arrived at his position through a democratic election process, which will allow him to represent the Tibetan government-in-exile.
Essentially, the Tibetans have carried out their own form of 'separation of church and state,' in exile, in order to throw Beijing off balance, thus disrupting the Chinese government's manipulation of the political environment in Tibet, which is focused on its spiritual identity.
This was a smart move aimed to fortify the Tibetan political forces — by moving the focus away from the "reincarnation of the Dalai Lama" — a religious belief which scares the daylights out of the atheist Chinese Communist government — and one which they reject as legitimate political representation.
The new Kalon Tripa will be battling the Beijing forces — but the Dalai Lama will remain the spiritual leader — which is essential to Tibetan unity. So, while Beijing may control the rivers that flow from Tibet, it cannot control the fact that a new "reincarnated" Tibetan spiritual leader will keep showing up.
Unfortunately, the new Kalon Tripa — much like the Dalai Lama, is falling short of asking for complete freedom of Tibet. Sangay — who many hoped would 'seize the moment of freedom' has instead revealed that he is content in asking Beijing for "genuine autonomy" within the framework of the Chinese constitution. Nonetheless, the new Kalon Tripa will negatively impact Beijing's policy on Tibet — probably leaving the Chinese government wondering: "What is worse — reincarnation or elections?
France wants to please Beijing... but so does the U.S.
In spite of Tibet's reality under Chinese Communist occupation, during the 2009 London
soirée
a statement was released both by France and China, where both countries agreed to establish a new strategic dialogue, and France reaffirmed its 'One China' policy, as follows:
"...
France fully recognizes the importance and sensitivity of the Tibet issue and reaffirms its adherence to the one-China policy and the position that Tibet is an integral part of the Chinese territory, in accordance with the decision made by General Charles de Gaulle, which has not changed and will remain unchanged. Based on this spirit and the principle of non-interference in each other's internal affairs, France refuses to support any form of 'Tibet independence.'

The two sides hold the view that in the context of profound changes in the international political and economic situation, China and France, both as permanent members of the UN Security Council, shoulder major responsibilities in maintaining world peace and promoting development. The two sides stand ready to strengthen dialogue and coordination and jointly respond to global challenges including the international financial crisis.

Acting in this spirit, the two sides decided to conduct high-level contact and strategic dialogue at a proper time to enhance bilateral cooperation in various fields and promote the harmonious and steady growth of China-France relations
."
The United States echoed France's 'One China' policy agreement. The
ChinaDaily
reported on November 17, 2009 that the U.S. and China reiterated that
"the fundamental principle of respect for each other's sovereignty and territorial integrity is at the core of the three Sino-US joint communiques which guide China-US relations. Neither side supports any attempts by any force to undermine this principle
."
Sadly, this 'dance of veils' continues to this day between China and its trading partners — while human beings are slaughtered at Beijing's command.
The Falun Gong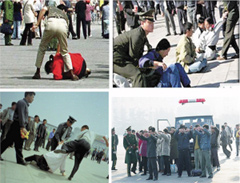 Beijing's military and economic march across the globe is as systematic and persistent as its persecution of dissidents inside China.
In May 2010, the United States and China held the fourteenth round of the bilateral human rights dialogue. These talks resumed in 2008 under President Bush, after a six year interruption. The discussions were led by President Obama's Assistant Secretary of the Bureau of Democracy, Human Rights, and Labor, Michael H. Posner, and General Chen Xu — China's Minister of Foreign Affairs Department of International Organizations.
No breakthroughs were reported in 2010, at the end of the dialogue.
In April, 2011 the United States met with Chinese officials in Beijing for another round of bilateral human rights dialogue.
No breakthroughs were reported either. In fact, it was a disaster.
Several days before the talks were to begin, the Chinese Foreign Ministry accused the United States of also violating human rights, and asked that Washington stop interfering in China's "internal affairs."
Of particular concern in the area of human rights in China is the persecution and crackdown of the Falun Gong — a spiritual movement that the Communist Chinese government despises, because it is effective, and because it is homegrown. The human rights abuses reported include imprisonment and execution of those who identify themselves with this form of spirituality.
The lucrative organ harvesting trade in China is another horrendous side of the persecution of the Falun Gong, as well as Tibetan Buddhists and Christians — who are murdered in prisons, and have their internal organs removed and sold for transplant procedures.
In addition to political persecution of dissenters, ethnic and religious groups — the forced massive abortion campaign never ceases, along with massive forced sterilization, sometimes involving entire towns.
In spite of Beijing's ongoing blood bath, U.S. Secretary of State, Hillary Rodham Clinton, stated during her exclusive interview published by
The Atlantic
on May 10, 2011 that,
"We do business with a lot of countries whose economic systems or political systems are not ones we would design or choose to live under. And we have encouraged consistently, both publicly and privately, reform and recognition and protection of human rights. But we don't walk away from dealing with China because we think they have a deplorable human rights record
."
Communist China as the World's Second Largest Economy
During the first six months of 2010, China left Japan behind as the world's second largest economy. Japan's tragic natural disaster and nuclear plant crisis will seriously affect that country's plans of recovery from the global economic crisis. Japan will remain vulnerable as China continues to claim Japanese territory.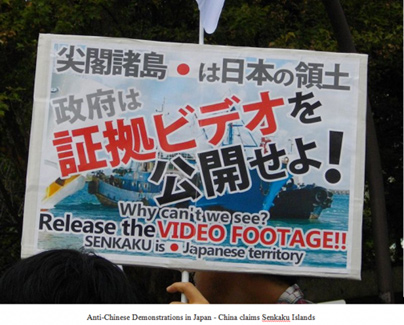 China's economic aspirations have a clear focus on further deepening the United States' economic disadvantage — through unfair trading practices and manipulation of the yuan (RMB).
The United States' increasing bilateral trade deficit exceeding $200 billion per year since 2005 is only part of the unfair equation. China continues to dominate as the primary holder of U.S. Treasury securities. China also boasts $2.4 trillion in foreign currency and gold reserves.
While China grows as an economic superpower, it ignores diplomatic exhortations concerning its activities in the South China Sea, where Beijing claims to have "indisputable sovereignty." We're talking about some of the busiest navigable waters in the world, which Beijing will now "allow" others to navigate.
Beijing also refuses to participate in denouncing the North Korean nuclear program, while the world watches Pyongyang's assaults on South Korea. China's illicit activity and suspicious behavior was again evident this last week, as news was unfolding regarding a United Nations' report on possible illegal transfers of ballistic missile-related technology, between North Korea and Iran. Here's an excerpt from Reuters, on May 15, 2011:
"Several [United Nations] Security Council diplomats said China was unhappy about the report and would likely not agree to release it to the public. At the moment, only the 15 council members have official access to the document. One of the experts on the panel is from China and diplomats said he never endorsed the report, which was delivered to the Security Council on Friday. His refusal to endorse the report delayed its submission for around 24 hours, diplomats said."
One thing is certain: since 2009 Beijing has intensified its aggressiveness in territorial claims, and has supported this aggression with a clear military and economic strategy.
The Other Side of the I-Pad: Chinese Workers Jumping Off Buildings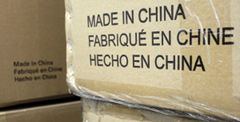 Just about everything in the United States is "Hecho en China." That includes components in gadgets such as the I-Pad, as well as in thousands of electronic products.
Foxconn, a Taiwanese-owned company, is considered to be the world's most powerful manufacturer of electronic products, and operates a massive facility in Shenzhen, which is located in Southern China's Guangdong Province. Foxconn has been the contract manufacturer for Apple's I-Pad, I-Pod and the I-Phone.
Many Americans believe that our manufacturing base in China will help the Chinese people live better lives, through exposure to foreign enterprises and business practices.
So, are Chinese workers happy at the Foxconn Shenzhen facility?
The Apple Supplier Responsibility 2011 Progress Report
describes the extreme measures that have been taken to prevent workers from committing suicide at the Shenzhen facility. This is not surprising for a people systematically oppressed and persecuted by their communist government. Their jobs at the Apple contract facility have not changed their communist reality.
Here's an eye opening excerpt of the Apple Report. Bold added for emphasis:
"In August 2010, the independent team [for suicide prevention] presented its findings and recommendations to Terry Gou
[president of Foxconn]
and senior executives from Foxconn and Apple. The team commended Foxconn for taking quick action on several fronts simultaneously, including hiring a large number of psychological counselors, establishing a 24-hour care center, and even attaching large nets to the factory buildings to prevent impulsive suicides
."
This feeling of despondence is not foreign to the people of China. Thousands upon thousands committed suicide during Mao's "Cultural Revolution" (a culture of death, that is) — one of history's most horrific examples of how a communist government can turn a country into a bloodbath of torture and killings.
Do we have any friends?
China has also embarked on a new stratagem to further overtake the U.S. economy. On April 2009 China entered into an agreement with Argentina, whereby 70 billion yuan, (10.24 billion US dollars) would be exchanged in their respective currencies, for use in trade and investment — thus avoiding the need to buy U.S. dollars to pay for transactions.
On March 29, 2011 the
Miami Herald
wrote about Hugo Chavez, "freedom of expression" and Argentina, in an article titled, "Hugo Chavez, journalism award winner in Argentina":
"He
[Hugo Chavez]
has a sure ally in Argentine President Cristina Fernandez, who sees privately owned media groups as a bigger threat to freedom of expression than state control of airwaves or newsprint. Fernandez is trying to transform Argentina's communications industry through a law that would break up media monopolies and force cable TV providers to include channels run by unions, Indians and other activists
."
Will Argentina turn to China for more help with its inflationary problems? Just about everyone else does.
Plus, Argentina may be well suited for business and even stronger ties with Communist China. After all, even Argentina's University of La Plata has bestowed its press freedom award on Venezuelan President Hugo Chavez —
despite Chavez' Beijing-style crackdown on independent or privately owned media companies in Venezuela,
and despite Chavez' strong friendship and support of Castro and his bloody communist dictatorship in Cuba — where there has been no freedom of the press for more than 52 years.
But America cannot expect the rest of the world to take a moral stand against Communist China, while the U.S. turns socialist, while bowing to Beijing.
Citigroup and other powerful banking institutions like JP Morgan have been participating in "road shows" promoting the use of the Chinese Communist currency (the RMB) instead of the U.S. dollar, for trade agreements with China. HSBC and Standard Chartered are examples of institutions who offer discounted transaction fees and other financial incentives to companies that trade in the RMB.
The worldwide fast food chain, McDonald's, became the first foreign non-financial company to sell RMB-denominated bonds.
Something to think about before you order that Big Mac.
The unfairness of the U.S.-Sino trade relationship is further detailed in the following chart:

The U.S Dept., of Commerce reported that for the first eight months of 2010, China's goods exports to the United States were $229.2 billion, while U.S. goods exports to China were $55.8 billion, with the U.S. trade deficit in goods at $173.4 billion, an increase of 20.6 percent over the same period in 2009 ($143.8 billion).
China manipulates its currency like a yo-yo — in violation of international norms
China deliberately undervalues the RMB in order to make its exports cheaper to buy, and imports more expensive. This is another way that the Chinese government gets foreign companies to invest in China. With this set-up, there is less desire to invest in the United States or in Europe — hurting the U.S. and European job markets even further. At the end of the day this is a game of protectionism — while violating international norms.
Article IV of the Agreement of the International Monetary Fund reads as follows:
Obligations Regarding Exchange Arrangements (Section 1): Each member shall,

(iii)
avoid manipulating exchange rates or the international monetary system in order to prevent effective balance of payments adjustment or to gain an unfair competitive advantage over other members;
A cure for this Chinese malady would be to do what some economists are suggesting: the U.S. government should tax the income on Chinese holdings of U.S. financial assets. The U.S. Treasury could withhold tax on the interest paid on Treasury bonds held by China. That would show that we mean business.
Instead, as I said at the beginning of this article, an attempt was made to give a 'slap on the hands' of the Chinese, as expressed by Secretary of Treasury, Timothy Geithner:
"We
hope that China moves to allow the exchange rate to appreciate more rapidly and more broadly against the currencies of all its trading partners. And this adjustment, of course, is critical not just to China's ongoing efforts to contain inflationary pressures and to manage the risks that capital inflows bring to credit and asset markets, but also to encourage this broad shift to a growth strategy led by domestic demand
."
Geithner's use of the words "we hope" is a good representation of what we can expect, based on the fact that Communists do not respect rules and international agreements.
But China always seems to come out ahead, as evident from another remark made by Geithner, at the closing of this week's strategic and economic talks:
"
If you look over the next several years, you're going to see Chinese investment in the United States continue to expand very, very rapidly. That will be good for the United States, good for China. Of course, that's driven by the desire of Chinese companies to have more access to U.S. technology and to try to expand their opportunities in this market, and again, we welcome that
."
Geithner went on to say:
"...although we recognize China's interest in expanding opportunities in the U.S. market, it's worth recognizing that China's own investment regime is a much more restrictive regime with a much more careful management and set of limitations on the ability of foreign firms to invest and purchase stakes in Chinese companies.
Geithner added that we should expect to see some changes. Maybe he thinks that Americans are fools. After all, we're dealing with Communists.
China's "concerted efforts" and "commitments" — that continue to fall short of "implementation" of ethical business practices, was best described in the latest White Paper from the American Chamber of Commerce in China, dated May 9, 2011:
On the subject of discriminatory practices:
"In
the 2011 White Paper, AmCham-China urges China to reconsider discriminatory industrial policies that shelter domestic firms from the healthy market competition that drives innovation
..."
On the subject of intellectual property rights (IPR):
"The 2011 Business Climate Survey reveals a rise in the percentage of members who consider IPR infringement among the top five challenges to doing business in China, from 19 percent in 2010 to 24 percent in 2011. A majority of member companies, 70 percent, still rate China's IPR enforcement as either "ineffective" or "totally ineffective."

"AmCham-China appreciates the concerted efforts China has made to improve IPR protection, including through the State Council's IPR enforcement campaign launched in October 2010. At the JCCT in December 2010, China also committed to enforcing legalization of SOE software procurement and not discriminating against foreign-originated IPR in government procurement. These are important steps. However, to fully realize their benefits, implementation will be crucial
."
Imagine that!
Americans doing business with China are victims of discrimination and property rights infringement — at the hands of Beijing Communist bureaucrats!
We're shocked!

Related Reading:
Mao's Last Revolution
The Atlantic
The Status of American Business in China — May 9, 2011
The International Monetary Fund and the End of the "Age of America"
The Falun Dafa Information Center: The Official Source on Falun Gong and the Human Rights Crisis in China
© Marielena Montesino de Stuart
---
The views expressed by RenewAmerica columnists are their own and do not necessarily reflect the position of RenewAmerica or its affiliates.
---