Marielena Montesino de Stuart
JESUIT CREATIVITY IN THE VATICAN: Is Francis sending mixed messages about marriage?

By
Marielena Montesino de Stuart
April 12, 2014
"A Jesuit must be creative."
– Francis, August 19, 2013 (La Civiltà Cattolica)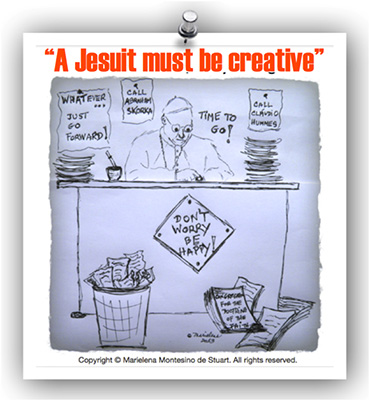 After a calamitous year of homosexual tolerance affirmations from Catholic priests, Bishops and Cardinals – following Francis's
"Who am I to judge..."
statement about homosexual clergy – we are now hearing Francis speak about the importance of marriage between a man and a woman – stating that
"marriage is the icon of God's love for us."
Francis is like a walk through London. You never know what to expect.
But are his latest words on marriage based on his "Jesuit creativity"?
Is this a public relations maneuver? After all, just a few days ago, after Obama's red-carpet reception with Francis at the Vatican, the BBC was talking about
Francis's behind-the-scenes PR man,
Greg Burke, a member of Opus Dei and senior communications adviser with the Vatican's Secretariat of State. Burke is acclaimed as
"the man behind the Pope's PR success story
."
This is what is has come to? The Throne of Peter under the influence of a PR Opus Dei man? Or is the influence coming from the socialist activist
Cardinal Hummes in São Paulo
? Or both...
Or could it be that the coffers are running low in the Vatican?
You see, it is critical to understand that during these very dark times, in order to defend the sanctity of traditional marriage a person must:

1. Express an unwavering rejection of homosexuality, as a sexual activity offensive in the eyes of God.

2. Vigorously denounce ideologies that support homosexuality and the disintegration of the traditional family – like Marxism.

3. Denounce those who profess and support Marxism – particularly when they disguise it as "social justice" or "liberation theology."
Francis has done none of the above. As such, we are simply hearing mixed messages.
Francis's latest assertion about marriage is not consistent with
having favored homosexual civil unions in Argentina
, when he was known as Cardinal Jorge Mario Bergoglio.
Neither is he being consistent with his very public
"Who am I to judge..."
position about homosexual clergy "who are looking for the Lord." This is a slap on the face of the victims of
pederasty
in the Church.
Nor is he being consistent with his announcement,
"
I have known great people who professed Marxism
."
Not only was this an insensitive and horrific statement to the memory of more than 120 million victims of Marxism worldwide (and counting) – but as I pointed out above, Marxists support homosexuality and the disintegration of the traditional family. I know this full well. I lived under Fidel Castro's bloody Communist regime – and suffered the terrible ramifications of Marxism, including the vicious persecution, torture, imprisonment and execution of members of my family – at the hands of "professed" Marxists.
Francis's embrace of Marxists was also evident in the
stealth meeting
which he held on September 11, 2013, with the infamous Dominican Marxist, Father Gustavo Gutiérrez, the father of Liberation Theology.
EXCERPT from a Catholic News Service article titled
"Under Pope Francis, liberation theology comes of age"
(bold added for emphasis):
VATICAN CITY (CNS) –
Pope Francis' Sept. 11 meeting with Dominican Father Gustavo Gutierrez
[sic]
was an informal one, held in the in the
[sic]
pope's residence, the Domus Sanctae Marthae, and not listed on his official schedule. Yet the news that Pope Francis had received the 85-year old Peruvian priest, who is widely considered the father of liberation theology, has excited interest far beyond the Vatican's walls.
This Marxist environment in the Vatican was further intensified by Francis, when he not only kept the pro-Liberation Theology Archbishop, Gerhard Ludwig Müller, as the Prefect of the Congregation for the Doctrine of the Faith – but actually rewarded him by
elevating him to Cardinal.
You're not OK...
When I think of the non-judgemental statements that Francis has made about
homosexuality
,
Marxism
and even
atheists
– I feel we are witnessing someone conducting a 1960's therapy session – using the
"I'm OK, You're OK"
technique of Transactional Analysis. Interestingly, Transactional Analysis is very much in vogue through worldwide "organizational and leadership" training.
But we are Roman Catholics – and this
"I'm OK, You're OK"
business coming out of the Vatican goes against everything that the Church has upheld – during more than 2,000 years of martyrdom in defense of Christendom.
Roman Catholicism is not "tolerant."
Roman Catholics believe that
"You're not OK."
That is why they have crisscrossed the globe for hundreds of years, as missionaries for Holy Mother Church. Thousands have been martyred or died in the process.
Roman Catholicism is monarchical by nature. As I said in
Once Upon a Time, by the Grace of God...
,
"any Catholic who does not understand this or denies this fact, has indeed been deprived of proper formation, under Vatican II's modernist agenda
."
Roman Catholics who are properly formed in their faith should know that Popes have issued moral judgements throughout the history of the Church. It is one of the ways in which they lead their flock.
Let's recap...
Francis's tolerance towards those who profess ideologies that support abortion and homosexual "marriage," such as Marxism, and his non-judgemental position about homosexual clergy – sends a mixed message to over one billion Catholics across the world. The most vulnerable are the children, who are in
desperate
need of a solid and proper foundation in their Catholic faith – as they try to survive in a world of depravity.
Marxism is an ENEMY of everything that we stand for as Roman Catholics.
Homosexuality is NOT a "delicate," negotiable, or
who-am-I-to-judge
issue in the Roman Catholic Church.
These pallid moral positions on the part of Francis, are entirely foreign to the nature of the papacy and the sacred laws of the Church.
But as we all know, these are
very
different times – and Francis is distilling, drop by drop, the "social justice" modernist approach that was laid out by the Second Vatican Council: dialogue, dialogue, dialogue.
How to be a "creative" Catholic...
Keep your eyes on the ball – considering that the
modernist
Catholic administrators are following socialist Vatican II guidelines (disguised as "social justice") – and socialists are well-known for issuing public relations communiqués that go out in every direction, which, as I like to say, helps keep innocent faithful Catholics "bewitched, bothered and bewildered."
This stratagem is very helpful when it comes to fundraising.
And if you are concerned with helping the poor,
as we should all be
, then make sure that your donations will not be used for funding expensive lawyers and public relations firms, hired by Church administrators, to stall or prevent victims of clergy sexual abuse from receiving justice. As an example of this, study the
Archdiocese of Los Angeles clergy sexual abuse scandal.
If you want your money to reach the poor – then be "creative"... just like Francis.
From São Paulo to Buenos Aires to Los Angeles... Catholic modernists are busy at work
I wrote about the
modernist
Catholic Church's public relations approach in my first article about Francis,
"FRANCIS: Jorge Mario Bergoglio, a Jesuit from "the end of the world" – may end up taking you there..."
– which I published on March 13, 2013 – the day he was elected to sit on the Throne of Peter.
Given the more than 50-year train wreck of the modernist Vatican II – and the fact that the Conclave that elected Francis included the likes of Cardinal Roger Mahony from Los Angeles, I was ready to present Francis's background, as the former Cardinal Bergoglio of Buenos Aires, as soon as he stood on the Loggia of the Blessings – next to his good friend,
the very socialist activist Cardinal Cláudio Hummes
from São Paulo, Brazil.
Here is an excerpt from
"FRANCIS: Jorge Mario Bergoglio, a Jesuit from "the end of the world" – may end up taking you there..." published on March 13, 2013:
"Whatever Bergoglio has done to speak out against abortion (which is Catholicism 101 for any Catholic – never mind for a Cardinal) has been overshadowed by his scandalous liberal activities, which he carefully balances with his "people's Cardinal" image – of riding the public bus and meeting with the poor.

Bergoglio is actually a crafty PR man who knows how to perform the 'dance of the seven veils' – so as to keep his audience entertained with messages, which go out in every direction.

Most Argentinian Catholics, like Catholics all over the world, have grown up under Vatican II modernism – and often lack the proper Catholic formation to discern when Holy Mother Church is being violated. In addition, Catholicism requires obedience – and most Catholics do not question Church authority. Fortunately, there are still some traditional Catholics in Argentina who are documenting and reporting the modernist activities of priests, Bishops and Cardinals – like the former Cardinal Bergoglio."

Oh, Marielena... this cannot be!
On March 19, 2013 I followed up on my initial article about Francis's past – and published a Special Report titled
"Francis, first 'Pope' to have favored homosexual civil unions"
– which shocked, absolutely SHOCKED!... those who simply refused to accept that a Cardinal in the socialist-modernist Catholic Church could do such a thing!
Less than a year after I began to chronicle his past and present, Francis appeared as "Person of the Year" on the front page of
The Advocate,
(a homosexual magazine). Indeed, poorly formed Catholics, homosexuals, free thinkers – and just about every passive follower on earth, were lauding Francis's famous words,
"Who am I to judge...?
"
Again, Francis, as the man elected to lead the Roman Catholic Church, is simply NOT going to judge homosexual priests "who are looking for the Lord" – in spite of the RAMPANT PEDERASTY in the Catholic Church – which continues to destroy the lives of countless children and their families.
But it gets worse.
Following Francis's effervescent proclamations – priests, Bishops and Cardinals are coming out of the woodwork with their "open-mindedness" and tolerance towards homosexuality.
Like the latest fashion on the runways of Paris and Milano – it now appears that openly expressing
"no sense of judgement"
towards homosexuality is quite fashionable under Francis's very modernist administration.
New York's Cardinal Timothy M. Dolan is a perfect example of this – as he continues to speak... out of both sides of his mouth.
Here is Dolan reacting on
Meet the Press
,
upon hearing that Michael Sam (a football player) had "come out" as a homosexual:
CARDINAL DOLAN:
"Good for him. I would have no – no sense of judgment on him. God bless ya. I don't think – look, the same – the same bible that tells us that – that – teaches us well about the virtues of chastity and – and the virtue of fidelity and marriage also tells us not to judge people. So I would say, 'Bravo.'"

This was not the first time that Cardinal Dolan had expressed his tolerance towards homosexuality, as a representative of the Catholic Church. During a previous
Meet the Press
interview, on November 30, 2013, Dolan spoke about the Catholic Church being
"
out-marketed
"
on the issue of "gay marriage." He added,
"We've been caricatured as being anti-gay
."
Well, Cardinal Dolan need not convince us. By now the world knows that Dolan is certainly NOT "anti-gay." His support of the openly "gay-friendly"
Church of St. Francis Xavier in New York City
, is a testament to his approval of active lay homosexual representation inside the Church.
Given the above scenario, the world can expect to hear more mixed messages from the Vatican and its modernist administrators – who are simply echoing the voices of those who have enthusiastically justified and promoted the Second Vatican Council (Vatican II) – on television, radio and at parishes across the world.
It's hard for Catholics to get away from the "fruits" of the modernists – because Vatican II is like a
surf n' turf
menu. It is available everywhere on land – and even in the high seas of Catholicism – on Caribbean and European cruise ship lectures, between shrimp canapés and glasses of beer.
Meanwhile, Francis is simply living up to his words,
"A Jesuit must be creative
."
So must we.
Someone has to say the truth...

|||||||
Please click
HERE
for important copyright terms and conditions, and instructions for quoting excerpts.
Please click
HERE
to submit a comment and to access reference materials.
© Marielena Montesino de Stuart
---
The views expressed by RenewAmerica columnists are their own and do not necessarily reflect the position of RenewAmerica or its affiliates.
---