Marielena Montesino de Stuart
EXTREME INCLUSION: Francis welcomes Marxists and Martians to the Vatican

By
Marielena Montesino de Stuart
May 15, 2014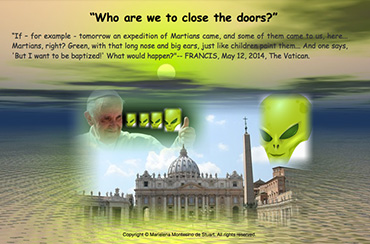 This is a joke, I thought... perhaps written by someone who had just stumbled out of a hallucinogenic mushroom festival. But no, the messages I began to receive from my readers – about Francis's inclusion of Martians in his heavenly spaceship – were actually true.
Now, this is a game changer. This elevates the concept of "inclusion" to a whole new level.
I thought it was bad enough that we had to deal with
Marxists
being
welcomed
in the Vatican. Now we have to put up with Martians too!
Some questions come to mind:
What if these Martians demand the Latin Mass? Will Francis still welcome them?

Will these Martians get along with the modernist aliens who have occupied the Vatican for more than 50 years?

Don't be surprised if you see little green men kneeling at the end of your pew. If you are a fan of Francis, anything – and I mean
ANYTHING
is possible.
Someone has to say the truth...
REFERENCE:
"Who are we to close the doors?"
|||||||
IMPORTANT RELATED ARTICLES:
"Francis and his Heavenly Spaceship"
"It's All in the Stars: The Vatican, Francis and Marxism"
"Who said...?
"Francis trivializes and dehumanizes the most massive genocide in human history "
"The Impossible Colloquy between Saint Thomas More and Francis"
|||||||
Please click
HERE
for important copyright terms and conditions, and instructions for quoting excerpts.
Click
HERE
to send a comment.
© Marielena Montesino de Stuart
---
The views expressed by RenewAmerica columnists are their own and do not necessarily reflect the position of RenewAmerica or its affiliates.
---