Rev. Austin Miles
ObamaAlert! True history of the Crusades

By
Rev. Austin Miles
February 12, 2015
WASHINGTON, D.C. (2/12/15) As expected, Obama used the National Prayer Breakfast to exhibit his contempt for Christianity. At least he is dependable. There are too many instances of blasphemy on his part to list, but perhaps the most serious of all is when he states that he is a Christian.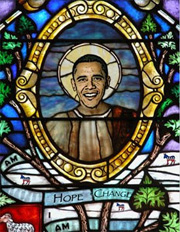 He is nowhere near that description. First of all, he was born and raised Muslim and favors Islam. Plus, he is a verified, documented COMMUNIST. One cannot be a Marxist AND a Christian. So that is another lie. As the Koran says, it is permissible to lie to further an agenda.
The plan is to have a one world Government under Communism with Islam as the official religion. Why? Islam would keep the people in fear making them more pliable for leaders to control.
The National Prayer Breakfast held in D.C.
was established to honor Jesus Christ and to acknowledge our country's gratitude toward God, Whose biblical principles were employed in the founding of this nation.
To use that event to denigrate Jesus would have been unthinkable
, that is until now.
Obama describes the Crusades as a cruel world invasion to force conversions of non-Christians.
Mr. Obama, pull up a chair for a history class.

The Christian Crusades began ONLY after 458 years of horrific attacks on Christians, their monasteries and the Vatican itself by murderous Muslims.
After Islamic forces attacked and conquered Jerusalem and took over its Holy sites, the Catholic Church THEN responded with the Crusades.
Let us go back to the beginning of Islam and the Crusades: Muhammad received his "vision" on Mount Hira in 610 AD. In 624 he married the 10-year old daughter of Abu Bekr, who was named, Aisha. The following year, 625, he began dictating what would become known as the Koran or Quaran.
Within four years after organizing Islam, the slaughters began. Muhammad's forces captured Mecca. Muhammad wrote letters to all the world's rulers explaining the principles of the Moslem faith. Persia was invaded and conquered, causing its leaders to appeal to China for help against Islamic terrorism.
Muhammad's forces captured Gaza and in 637, they invaded and conquered Jerusalem. They next attacked Armenia (639) Tripoli (642) and Cyprus in 649.
Rampaging Muslims invaded and conquered city after city, threatening civilization itself, creating a living nightmare for their victims as blood ran down the streets.
Not only did Muslims conquer entire areas like Sicily (878), making Palermo their capital, they had begun systematic attacks on monasteries after they attacked and damaged the Vatican in 846.
This prompted Pope Leo IV to build the Leonine Wall around the Vatican to protect it from future attacks by Islamic warriors.
In 1009, the Mohammedans sacked the Holy Sepulcher in Jerusalem. The attacks and need for defense did not let up. Christians everywhere were being slaughtered.
The Catholic Church could no longer sit and allow itself to be destroyed by this Jihad. St. Gregory VII had planned to organize a crusade in answer to anguished appeals from the shaky Eastern Empire but the fight over lay-investiture had prevented him from doing so. Now Pope Urban II had no other choice but to take action against Islamic attacks.
Under his direction, the Crusades began in 1096.
The Christian Knights were correctly called, The Defenders of The Faith.
The first order of business was to recover the Holy Sepulcher of Christ that had been seized by Islamic Jihad fighters.
Misleading Islamic history might be understandable since propaganda, such as put out by Obama, had worked its way into world history as truth. Public discussions and presentations would represent that the Catholic Church had declared war on Islam so there would be one identity, one religion and one pope.
An example was an article titled,
War: A Muslim Perspective, published in Christian History (10/05/01
). Islamic historian, Hadia Dajani-Shakeel, who is also co-editor of
The Jihad and Its Times (Michigan 1991)
made this statement:
"In 1095, Pope Urban II staged a massive military invasion of the Muslim East. That invasion and occupation caused the forced expulsion, conversion or enslavement of the Muslim majority."

Notice the total absence of the events leading up to that action
. It is this deceptive view that has been and IS being pumped into our newspapers, our schools, literature and right into and out of The Oval Office. If Mr. Obama is trying to be diplomatic and make nice, then this is political correctness gone mad.
But this has nothing to do with diplomacy. He is a Muslim apologist.
Purposely distorting historical facts in order to excuse the evil that is being done in The United States and against non-Muslims throughout the world is, (pardon the expression) a Cardinal sin.
Obama is not dumb.
He knows exactly what he is doing having been groomed and programmed from an early age to eventually be PLACED in The Oval Office. He is an authentic Manchurian Candidate. In what can only be perceived as an attempt to justify the attacks on America by Islamic Jihad Forces, Obama travels the world "apologizing" for America, that he calls, "arrogant."
He told the National Prayer Breakfast that basically, Islamic terrorists are no different than Christians; that we 'need to get off our high horse,' since Christians have a long violent history; The Crusades, The Inquisition, witch trials and slavery along with any other derogatory complaint he could come up with. Yes, according to the book of Obama, America is no better than our enemies.
What comfort he gives to those who intend to destroy us. Especially since
these statements by Obama were given at The National Prayer Breakfast in Washington, D.C. the Capitol of The United States.
With a more careful look at ACCURATE historical accounts, world events can be sorted out more effectively and better decisions can be implemented for the future. Do not let the squatter in the White House continue to deceive you.
America is at its most critical stage in history. We can lose our country, our way of life and our freedom. It is time to wake up, THINK, and take action. Contact your representatives now.
"How long will thou sleep, O sluggard? When wilt thou arise out of thy sleep?"
Proverbs: 6:9

****

Photo Caption: Christian Obama?

Photo Credit: The Connecting Link
© Rev. Austin Miles
---
The views expressed by RenewAmerica columnists are their own and do not necessarily reflect the position of RenewAmerica or its affiliates.
---