Rev. Austin Miles
Presbyterian pastor said Planned Parenthood is WHAT??

By
Rev. Austin Miles
April 27, 2015
BOISE, Idaho (4/26/15) – Having been raised
Presbyterian
, it has been shocking, to say the least, to see the reports coming forth regarding the former prestigious denomination that once preached to presidents. Among its illustrious alumni was
Peter Marshall
, the famed Chaplain of the Senate (1947-1949 before his death) and his son, a historian, who wrote and lectured about the Christian founding of our country. This latest example of the Presbyterian ministry has rattled the faithful enough to run, not walk away, from what has become a REAL institution. Mental that is.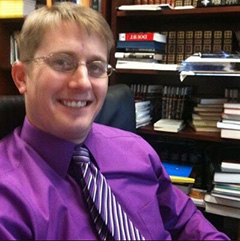 Andrew Kukla
(whom we will NOT call 'reverend') describes himself on Twitter thusly: "Presby minister, love philosophy and Kierkegaard in particular, dad of four young kids, and I live in Boise, ID." So far so good.
A link then takes you to the truth: This deluded "pastor" of
First Presbyterian Church in Boise,
postulates that Planned Parenthood, the baby murder industry, is a (prepare yourself)......MINISTRY! What? Kukla goes on to say:
"I love Planned Parenthood. I love the people, that are Planned Parent Hood. I love their ministry." This gags me as I write it.
This of course pleases that satanic- led organization, who posted
this
on their blog with the headline:
"Pastor Loves Planned Parenthood. "
This is to legitimize them as a credible social organization, with the help of a
misled pastor who obviously was not called to the ministry, but entered it as a career choice
and uses the church to encourage abortions rather than encouraging congregants to come to Christ.
When confronted by critics, this so-called "pastor" proclaims that "Planned Parenthood consists of, now get this,
"resurrection workers."
This counterfeit Christian and career pastor participates and promotes the very thing that is an abomination to God, the torture and death of innocent babies.
The Bible is clear that harming any of these little ones will be such an offense to God that it would be better if a millstone were hung around his neck and he were drowned in the depths of the sea.
Matthew 18:6
. That would be better than going to hell which would be even more horrific.
"Unfortunately," writes
Carole Novielli
who broke the LifeNews.com story "this heretic pastor and church is not alone"
In a tweet by Planned Parenthood president,
Cecile Richards
, she gleefully states:
"So grateful to the many faith leaders who stand with Planned Parenthood and our patients."
Not THIS one my dear.
Planned Parenthood is of course a political issue, with
Obama
being a prime proponent, along with
California Assemblywoman Susan Bonilla D-Concord
who is running for a senate seat runoff, who is sponsored by....Planned Parenthood. And she is the daughter of missionaries. God help us all.
To see the entire story use this link to LifeNews.com:
http://www.lifenews.com/2015/04/24/presbyterian-pastor-i-love-planned-parenthood-calls-abortion-business-a-ministry/
Another politician running on the abortion vote is Hellary Clinton...no wait,
Hillary Clinton (TYPO) who says if she is elected, she will,
"push unlimited abortion on demand."
She has a long history of pushing abortion, even on a global scale.
Now hear this!
The woman who would rule from the Oval Office, wants to change the church, the Bible and Holy Scriptures into those she approves of, saying:
"Deep-seated cultural codes, religious beliefs and structural biases have to be changed for the sake of giving access to women for reproductive (abortions) health care."
Perhaps she should FIRST meet with God to discuss these alterations.
Madam Secretary included this in her screeching;
"To be pro-woman is to be pro-abortion."
She then belched on to say how much she admires
Margaret Sanger
, the racist founder of the Planned Parenthood abortion business. Yes the one whose face Obama would like to put on the twenty dollar bill.
To read the complete story by
Steven Ertelt of LifeNews.com,
click the link below. Meanwhile, I am going back out for another long walk. A real long one this time.
Subject: Hellary on Abortion
http://www.lifenews.com/2015/04/24/hillary-clinton-pushes-abortion-in-first-speech-as-candidate-too-many-women-denied-abortion/
© Rev. Austin Miles
---
The views expressed by RenewAmerica columnists are their own and do not necessarily reflect the position of RenewAmerica or its affiliates.
---