Rev. Austin Miles
Church massacre satanic attack--not racial!

By
Rev. Austin Miles
June 21, 2015
This past Wednesday June 17th, a 21 year old man,
Dylann Storm Roof,
consumed with racial hatred in his heart, went to the
Emanuel African Methodist Episcopal Church
in Charleston, South Carolina where a Bible study and prayer meeting was taking place.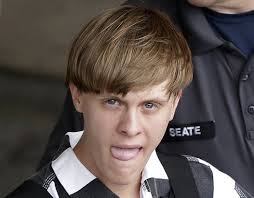 He packed a 45 caliber pistol in his pants and sat in the back pew for the entire hour for the meeting. As congregants got up to leave at the end of the service, he opened fire, killing 9 people including the beloved pastor who had welcomed him, and leaving others seriously wounded. For what reason? These were good church people who were praying for others.
Obama and others
quickly exclaimed that this was a racist attack, that 'racism has not changed in America.' He also blamed the gun for the murders, not the one who had the gun.
This was not a racist attack.
This was an attack by another of Satan's recruited representatives on earth. Yes, this misguided individual did hate black people, but
where does such hatred and violent behavior originate?
Only from one place.
It is the enemy who stirs and agitates extreme hatred to invade someone's conscience with the goal to have the hatred acted upon along with the emotions that accompany it. This is how the enemy recruits unaware people to do evil for him. Don't be dumb enough to fall for it. Instead of being rewarded, you will spend a horrible eternity in hell.
The shooter,
under satanic influence,
curiously named, Dylann STORM ROOF, took the bait and signed on the bottom line to become a servant of
Satan who hates any church that preaches love and Jesus. That was the actual target that he set up, not blacks
. The shooter was the instrument Satan used to kill Christians.
Hatred comes only from the enemy who hopes that it will overtake your mind and heart to compel you to do his bidding. Two satanists tried to invade my church last Sunday (June 14th) but were stopped in their tracks and fled.
Another being manipulated by Satan is Obama, the most immoral,dishonest, anti-God, occupant of the White House in history. He is doing his assigned work to destroy the Christians, our churches and to strip all morals from society knowing that slumbering citizens will not challenge him. Come to think about it, those are exactly the strategies of the enemy. The two are on the same side.
Notice what follows
: Obama immediately proclaims that" this shooting is a direct result of racism, a problem that will always be a part of American society." Al Sharpton was quickly on the scene with the same message that expands the hatred so that blacks hate the whites, declaring inner war against them and then whites get ready for battle, being drawn in by the blacks that stage destructive protests, and it goes on and on. And as it does we have all bought the devil a steak dinner.
Both Satan and Obama can be stopped by recommitting ourselves to God.
Pastors, awaken your congregations. S
tart preaching against Satan again
. Expose him
. Why has this teaching been silenced in our churches? God did not say to keep Satan a secret. Encourage your flocks to have a closer intimate relationship with Our Lord. Be strengthened by
His Holy Spirit.
Pray earnestly.
Again people, this entire tragedy was fueled by hatred engineered by Satan who used the idea of racism to recruit the shooter and that plan was carried out to attack a church and the devoted Christians who worshipped there. This is what Satan hates more than anything. And he will try to warp anyone's mind to accomplish it for him.
Keep your own mind and conscience pure. Whenever we are tempted to hate anyone take a stand against the enemy.
Satan is the author of hatred.
Do not let allow him to recruit you by letting him put hatred in your heart. Stand up for righteousness, do not flinch, and be not a sluggard that will do nothing. Pray, contact your representatives regarding these issues. If enough Christians do so, things will start to change.
****
Photo Caption: Church Shooter Dylann Storm Roof.

Photo Credit: Courtesy of The Huffington Post
© Rev. Austin Miles
---
The views expressed by RenewAmerica columnists are their own and do not necessarily reflect the position of RenewAmerica or its affiliates.
---