Rev. Austin Miles
Vladimir Putin's abrupt about face on religious freedom

By
Rev. Austin Miles
July 6, 2016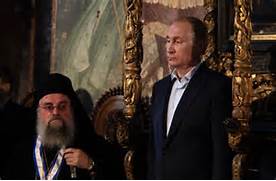 This story came as such a shock that before touching it, all news sources were thoroughly checked, including those overseas to verify its authenticity. This writer could not help but mentally suggest that "once a KGB operative, always a KGB operative."
When Vladimir Putin was being considered to be President of Russia, the owner of a
Russian College
in San Francisco was asked
, "Would the Russian people really want to have the former head of the notorious KGB become president?"
The college owner replied
, "Bad order is better than no order."
When Mr. Putin took the office, he seemed to embrace Christianity, and was close to the Russian Orthodox Church. When that
punk rock girl band
called
Kitty Riot
(restraint employed to upgrade the actual word in the title) actually violated the church by charging into it, up to the sacred altar and sang songs against Putin and the government, interrupting any prayers that may have been taking place, they were quickly arrested and rightfully put in prison, which greatly encouraged us since it showed that President Putin would protect the church from harm by such vandals. There is a little known similar law in the U.S. that makes it a felony to interrupt a religious service. It was not surprising to learn via news sources that President Putin had become a Christian. And we believed it.
Just as we were convinced that the original Soviet Union, where churches and Christianity were outlawed, became the new society that embraced the church and Christianity, that new society sadly reverted back to Old Soviet Union policies.
Suddenly, according to Christianity Today, Christians in Russia would not be allowed to email their friends an invitation to church or evangelize in their own homes! Faith had to stay within the church walls.
The new laws, considered the country's most restrictive measures in post-Soviet history, placed broad limitations on missionary work, including preaching, teaching, and engaging in any activity designed to recruit people into a religious group.
Proposed by United Russia party lawmaker Irina Yarovaya, the law appears to target religious groups outside the Russian Orthodox Church. It is to be noted that Russian nationalist identity remains tied up with the Russian Orthodox Church that was under surveillance by the Communist Party in the old Soviet Union.
This new law now means that any religious activity must be confined to inside the registered churches
while at the same time, banning parents from teaching faith to their children – WAIT
-HOLD ON! Isn't this the very same thing that is happening in the United States of America at this point in time?
Soviet history clearly shows how many people of different faiths have become persecuted for spreading the Word of God. This takes Russia back to its shameful past.
Our sincere thanks go to Christianity Today writer, Kate Shellnutt, for first bringing this to our attention.
Photo Caption: President Vladimir Putin visiting Orthodox Priest
© Rev. Austin Miles
---
The views expressed by RenewAmerica columnists are their own and do not necessarily reflect the position of RenewAmerica or its affiliates.
---