Matt C. Abbott
Matt Barber's 'Right Hook' a KO

By
Matt C. Abbott
October 29, 2009
Fellow RenewAmerica.com columnist Matt Barber has a new book out —
The Right Hook: From the Ring to the Culture War
.
Matt made headlines a few years ago when he was fired by his then-employer, Allstate, for writing "politically incorrect" commentary on his own time and on his own computer.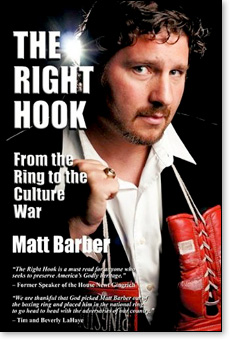 He sued and the case was later settled (
click here
for the story; and
click here
for the recent story about how some of Matt's critics have posted nasty "reviews" of the book on Amazon.com without having read it).
One of Matt's supporters is former Arkansas Gov. Mike Huckabee, who said: "Our country is at a crossroads. Now, more than ever, we need strong voices to stem the tide of liberalism that is washing away America's Judeo-Christian heritage. Matt Barber is one of those voices...."
Below are two excerpts from
The Right Hook
. The first is the Foreword, written by
David Limbaugh
; the second is Matt's Introduction. Thanks to Matt for allowing me to reprint this material.
Foreword


My friend Matt Barber and I share a number of passions. We are both fans of the fight game, boxing and, now mixed martial arts (MMA). My participation — other than artful shadowboxing — has been vicarious. Matt has actual experience in the ring and with impressive results: undefeated as a professional boxer. He sent me a link to videos of a few of his fights and I must tell you, his left hook is wicked.

Matt approaches politics and the culture wars, other passions we share, with similar courage and intensity. He is not a go-along-to- get-along type of guy. He recognizes that our culture and our very political system are under assault and he intends to fight for both, and to make a difference. And, as anyone privy to his excellent writings can attest, he does make a difference.

As Matt explains in these pages, he entered this different fight arena when fired for penning an article in which he had the audacity to defy the inflexible laws of political correctness, by defending traditional marriage. Since then he has had many other "bouts" with a variety of other very important issues, in which he has unapologetically articulated positions consistent with his conservative Christian worldview.

I especially appreciate Matt's willingness to tackle these issues from an openly Christian perspective. We live in a time when many, including many fellow Christians, are pressuring believers not to engage in politics or participate in the culture wars. They believe that Christians should be spending their time evangelizing, and that it is somehow unseemly for them to show their pugnacious side. We should, some Christians assert, leave this up to our sovereign God, who doesn't need our help to effectuate his will.

Without getting into a debate over predestination, suffice to say that I agree with Matt that we Christians do have a right — and I believe responsibility — to try to make a difference in the culture. We don't have to be passive observers as we witness the deliberate, systematic destruction of what we believe to be noble, honorable and spiritually healthy in our world. I don't believe that Jesus was, or is, passive about the truth, which He warned us "divides." Nor do I believe that He would prefer we subordinate the truth to some quixotic quest for bipartisanship. Taking a stand on principle is not always the surest path to social harmony.

- David Limbaugh



---




Introduction


It was 1976, and the fight game was at the pinnacle of its popularity. As you climbed the narrow stairwell and entered Denver's Fire House Gym, you were greeted by a symphony of sights and sounds perhaps only properly appreciated by a gritty enthusiast of the sweet science.

The percussive swat of leather jump ropes against the dusty hardwood floor combined with rapid-fire speed bag and rhythmic, muffled blows against the heavy bag. The musty air betrayed ghosts of fighters past who spilled both sweat and blood in preparation for bouts fought long ago but remembered still on walls adorned with classic fight posters and other memorabilia.

For a boy of seven, it was a magical place. I jumped rope alongside a thirteen-year-old "Lightening" Lonnie Smith — who would later become the world Junior Welterweight Champion. I watched with brimming pride as my dad, Tom Barber, sparred and held his own with number one ranked, world heavyweight contender, Leroy Jones.

Dad was training for the Western U.S. Olympic trials (he ultimately took the silver). Jones would eventually get a title shot against Larry Holmes.

As fighters, trainers and gym rats gathered around the ring apron, head-trainer Bobby Lewis barked instructions. "Throw the jab! Move your head! Slip the right!"

There was a hopeful energy forecasting victory in bouts yet to come.

Flash forward about a quarter of a century. Now I'm squared off in Chicago's historic Windy City Gym with heavyweight contender Andrew Golota, in one of our many sparring sessions.

Golota — perhaps most famous for pummeling Heavyweight Champ Riddick Bowe to a bloody pulp twice before being disqualified for low blows — was preparing to challenge John Ruiz for the WBA world title. I was getting ready to take on former Cuban national team member Roberto Valdez on a Showtime Boxing card before thousands at the UIC Pavilion. I won my fight. Golota lost a close decision in his.

It's a riddle. What on God's earth compels two otherwise civilized human beings to climb into a ring and attempt to bludgeon one another into unconsciousness?

For the vast majority who have neither stepped through the ropes nor helped prepare a fighter for combat, there can be no true understanding of what occurs — of what the fighter experiences in body, mind and soul as that highly anticipated and feared moment is upon him.

I'll do my best to take you there: introductions have taken place. You stand in your corner, anxious yet poised. The impetus for battle is the bell's shrill chime, but the will to fight must come from within.

Ding, ding!

Numbness subsides, and you know you're alive. As if someone has turned down the volume, the clamor of the electric crowd fades into silence. You hear only the sound of your own measured breathing and muffled heartbeat.

Meeting your adversary at ring's center, you greet him with a stiff jab. He erupts with a wild flurry of punches. Remaining confident and calm, you absorb each blow with your elbows, forearms and gloves. Thud, thud, thud...and still — only the sound of your own breathing.

It's a chess game. Anticipate his next move — react, counterpunch. Left hook to the body — to the head. Slip his jab — right uppercut, left hook, straight right.

The right connects! Pay-dirt! His knees buckle, his eyes glaze and then...the bell.

As you return to your corner to refuel and receive instructions, any fear is gone. There is only adrenalin. iv

You lower yourself to the stool while your subconscious faintly picks up the whistles, whoops and hollers. Rowdy fight fans express their approval of the scantily clad card-girl who struts gracefully and displays, among other things, "Round 2."

But you don't see her. Your eyes are fixed on the pug across the ring, and as your glances connect, he falters, shifting his gaze toward the canvas. At that moment you know...victory is yours. When a man steps into the ring he takes an enormous gamble. He exposes himself to the risk of a knockout, a broken jaw, a broken nose — all variety of injury.

But it's not the physical harm he fears. What he dreads is failure - letting down those who have invested so much in him. Friends, family and fight fans look on, as he rolls the dice and puts it all on the line.

He lay awake the night before, fighting the fight over and again in his mind's eye, only to have it play out in such a way that he never predicted.

A fighter must have the courage to go to battle. Yet, as my father often said (and as I later learned firsthand), without God, it's nearly impossible to muster that courage.

There are no atheists in the foxhole, as they say, and I promise you this: there was never a fighter who — at some point — did not have a heart-to-heart with his maker (self-avowed atheists notwithstanding).

Still, life is a lot like the fight game. Every day we're each faced with "fight or flight" decisions to make and, again, as with boxing, it takes courage to choose the former over the latter.

People often ask me why I hung up the gloves. I was undefeated and quickly moving up the levels of competition. The decision wasn't easy. As I often explain, I worried that I might, after years of cumulative punches to the head, start voting Democrat if I continued to box.

But the reality is that after I had spent three nights in the Loyola ICU for a potentially life threatening throat injury incurred in my last fight, my wife and I prayerfully decided I should retire.

As I stepped from the ring I took with me that fighting spirit God had hard-wired so long before. The shift really seemed insignificant. I removed the focus from athletic competition and placed it on other passions: politics, faith and culture. (Despite liberals' best efforts to separate the latter two, they remain inexorably and necessarily linked.)

Above all, I felt led — or pulled — to serve God (not that he couldn't get along without me). By publicly fighting to defend the transcendent truths revealed through His living word — the Bible — it was, and remains today, my goal to cast some small light of truth into a culture of darkness.

My boxing experience tremendously helped me toward that end. It taught me many things. Chief among them was that if I could face a 6' 6," 275 pound gorilla who wanted to knock my head off, I'd have little to fear from a few left-wing lightweights in the ring of public policy.

At this point — it was October, 2004 — I was managing a team of internal corporate fraud investigators at a Fortune 100 company. A buddy of mine from graduate school, Nathan Tabor, had launched TheConservativeVoice.com. Nathan knew I enjoyed writing and asked me to pen a weekly column.

The rest, as they say, is history. On my own time, I began writing op-eds on issues ranging from the war in Iraq to the 2004 presidential election. A number of conservative websites began to run my column.

I found that my particular writing style — as you will discover in the following pages — tends to delight those who agree, and infuriate those who do not.

I had no idea.

Things were going along swimmingly, and I received no complaints from my employer. Then I committed the unforgivable sin.

In a nutshell, here it is: I awoke one night with an idea for an article. I penned a piece entitled, "Intolerance Will Not be Tolerated," wherein I defended traditional marriage and pointed out the many pitfalls associated with the homosexual lifestyle. The article's title became painfully ironic a couple of weeks later.

I was called into the Human Resources office, asked if I had written the piece, told that my company "celebrated diversity" and I was summarily fired the following business day.

I filed a lawsuit with the aid of David Gibbs III — attorney for the parents of Terri Schiavo — and the Christian Law Association. Less than a year later we settled out of court.

During discovery, we learned that the Human Rights Campaign (HRC) — the nation's largest and most powerful homosexual pressure group — had complained to my employer, demanding my head on a silver platter.

They got it, alright. This was my first real brush with "tolerance" and "diversity," liberal-style.

But as He promises, God is faithful. He stepped in to make me whole, through a series of impossible and miraculous "coincidences." What they intended for evil, He used for good in ways that neither I, nor the HRC, I suspect, could have imagined. I now find myself on a path that is far more exciting and fulfilling than the one upon which I had previously walked.

As a fallen soul, I am no more righteous or worthy than those I oppose on ideological grounds. Yet God is permitting me to serve Him, as this nation moves toward what I believe, hope and pray may be the next great awakening. In short, I'm having an absolute blast and I owe it all to both God and the HRC.

So, as you're faced with your own "fight or flight" tests — that I promise can and will befall you — I humbly suggest you do as I did when stepping into the ring and as I continue to do in the new battles in which I'm enlisted. Take with you Psalm 118:6. "The LORD is with me; I will not be afraid. What can man do to me?"


© Matt C. Abbott
---
The views expressed by RenewAmerica columnists are their own and do not necessarily reflect the position of RenewAmerica or its affiliates.
---