Matt C. Abbott
Chicago bishop: abortion 'quietly' decimating black community

By
Matt C. Abbott
March 12, 2010
Lamenting the news early this year that "the number of abortions performed in Illinois reached a 10-year high in 2008," Chicago Auxiliary Bishop Joseph Perry describes in a written statement/talk how the black community in general has been profoundly affected by abortion.
Bishop Perry, who is African-American, writes:
"Abortion killed at least 203,991 blacks in the 36 states and two cities (New York City and the District of Columbia) that reported abortions by race in 2005, according to the CDC. During that same year, according to the CDC, a total of 198,385 blacks nationwide died from heart disease, cancer, strokes, accidents, diabetes, homicide and chronic lower respiratory diseases combined. These were the seven leading causes of death charted for black Americans that year."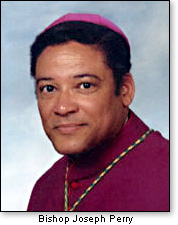 Bishop Perry asserts that "African Americans have a keen understanding of civil rights and are often hard-pressed to be found on the opposite side of an argument for" moral issues such as abortion and same-sex marriage.
Still, abortion "is a topic essentially kept hush-hush in the black community, defying the often quoted mantra that black families are welcoming of their children, all children, anybody's children, legitimate and illegitimate."
Bishop Perry also notes that the abortion industry specifically targets the black community. He writes:
"Dr. Alveda King, niece of slain Dr. Martin Luther King Jr., is a pro-life activist. In August 2007, she told a meeting of Priests for Life 'those abortionists plant their killing centers in minority neighborhoods and prey upon women who think they have no hope.... the great irony is that abortion has done what the Klan only dreamed of."
Bishop Perry calls the large number of abortions procured by African-American women "alarming" and believes there is "urgency for catechesis and evangelization in our black churches and the wider community."
Abortion "is quietly spelling the decimation of the black community in our society," writes Bishop Perry.
"Considering the gun violence ... in many of our urban areas as well as the violence of abortion and pervasive breakdown of marriage and family life, religious and community leaders are trying to get the community to stop and reflect upon the cultural and moral disintegration that is evident in our communities.
"In churches all over, prayer is constantly raised for a change of heart on part of persons considering abortion and especially on part of our lawmakers. In parishes and in dioceses all over the country, Catholics consider the subject of abortion one of the chief witnesses of our modern times for which we are pledged to continue to raise awareness about alternatives to abortion, particularly, to let women in trouble be aware that they have other options....
"The Church's articulation offers Catholics and other sympathetic individuals a higher consciousness, one grounded in the teachings of Jesus Christ in the gospels. Notions of freedom in the secular city are simply inadequate at framing a proper moral analysis of this great evil. Human life is sacred. When we dismantle life at its source, nothing can stop one from reasoning to dismantling life at any stage of development."
Bishop Perry concludes:
"In the final analysis, there are certain things we can never do and certain things we can never be simply because we love and admire Jesus Christ. And once we have handed over our lives to Him, the playing field suddenly shrinks and options are few. One option remains, and that is to do that which is good and to hold the good above every expediency."
On a related note, the targeting of the black community by the abortion industry — specifically Planned Parenthood — is the subject of
Maafa 21
, a documentary produced by Texas-based Life Dynamics.
The documentary even has the strong endorsement of Father Frank Pavone, national director of Priests for Life, who said,
"Maafa 21
must be seen by everyone who values freedom and equal rights."
See the trailer for
Maafa 21
here
.
Bishop Perry's full statement can be read on
www.blackcatholicchicago.org
.
© Matt C. Abbott
---
The views expressed by RenewAmerica columnists are their own and do not necessarily reflect the position of RenewAmerica or its affiliates.
---