Matt C. Abbott
'Spiritual Dangers of the 21st Century'

By
Matt C. Abbott
March 25, 2010
Below is the introduction to the book
Spiritual Dangers of the 21st Century
, by Father Joseph Esper, a priest of the Archdiocese of Detroit. Thanks to Father Esper for allowing me to publish the excerpt in my column. Click here to order a copy.
Introduction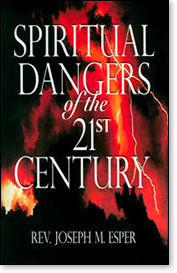 The great Russian author Leo Tolstoy began his novel
Anna Karenina
with the words, "Happy families are all alike; every unhappy family is unhappy in its own way."
To a certain extent, this insight also applies to societies and historical ages: the elements of peace, progress, and prosperity are largely similar in each successful civilization or age of widespread contentment (though these "golden eras" of human existence are admittedly unusual, and generally short-lived). Troubled times, however, while sharing some common characteristics, usually involve their own unique crises and challenges; it's as if new tests of character arise to confront and confound the smug sense of superiority possessed by each succeeding generation.
This is certainly the case early in the 21st century. Not only does humanity as a whole (with most Americans definitely included) consider itself more advanced, enlightened, and sophisticated than ever before; the challenges confronting today's world are, in many ways, unprecedented. Rather than looking at such problems as overpopulation and global warming (whether these crises are real or imagined), along with concerns over renewable energy, good stewardship of the earth, health care, the elimination of poverty, the possibility of nuclear terrorism or a global holocaust, and other serious issues of a material, financial, or political nature, the focus of this book is on the realm of the spirit. What specific spiritual dangers confront Catholic Christians as the 21st century enters its second decade?
The Seven Deadly Sins have been alive and well throughout most of human history — but in the Western world, they're now tolerated, and even celebrated, more than ever before. Immorality is nothing new, but the sins of contemporary America (especially in regard to sexual immorality, abortion, and genetic engineering and the scientific manipulation of life itself) might well shame and appall the residents of ancient Sodom and Gomorrah. Religious persecution of (and, unfortunately, sometimes by) Christians is nothing new — but modern technology allows for the surveillance and suppression of believers to an extent previously unimaginable.
No one can yet say with absolute certainty whether our era of Church history is the one which will undergo the scourge of the Antichrist's brief but diabolically horrible reign over the earth; we have every reason to pray and hope we may be spared such a test. It cannot be denied, however, that we face many other tests of a severe and challenging nature.
Never before has human technology been so advanced, and with such a great capacity of being misused or of leading people astray; ever-new and more amazing inventions, scientific discoveries, and medical advances have convinced growing numbers of people that all the secrets of life will eventually be unlocked, obviating the need for a Creator — if indeed, He exists at all. More than any earlier era of history, ours might be called the "Age of Atheism," even though a majority of Americans still claim to believe in God, increasing numbers of people live in a way that suggests His existence has no meaning for them personally. A practical denial of God, a refusal to abide by divine law, and a rejection of the moral authority of His Church, all underlie such phenomena as societal disintegration, narcissistic leadership, widespread and even violent youthful rebellion, self-destructive forms of entertainment, and cultural degradation.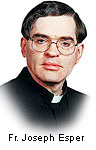 Christians who take their faith seriously — unless called to a monastic lifestyle — are not supposed to withdraw from such a world, but to transform it; their influence, example, and prayers are intended to demonstrate God's love for the world — a love so great that He sent His only Son for its salvation (cf. Jn. 3:16). Fulfilling this mission, however, requires an awareness of the challenges we face — challenges which, while they can only be overcome through divine grace, require us for our part to be as "shrewd as serpents and simple as doves" (Mt. 10:16).
This book is offered as a possible resource for Catholics seeking to be "salt of the earth" and "light for the world" (cf. Mt. 5:13-14) in early 21st century America. God has blessed our country in unprecedented ways — and much is expected of those to whom much is given (cf. Lk. 12:48). May our efforts to recognize and overcome the unique spiritual dangers and challenges confronting us help bring about a new age of grace for ourselves and our families, our nation, and our Church.
---
The table of contents and appendices of Father Esper's book are as follows (in paragraph form):
Section A: The Moral Disintegration of America; Chapter 1: The Seven Deadly Sins in Today's Society; Chapter 2: The Remaking of American Culture; Chapter 3: The Rise and Celebration of Immorality; Chapter 4: Secularism — the New National Religion; Section B: Technology — Servant or Master?; Chapter 5: Technological Benefits and Temptations; Chapter 6: A "Brave New World" in Medicine and Bioethics; Chapter 7: Growing Threats to Freedom and Faith; Section C: Spiritual Assaults and Religious Counterfeits; Chapter 8: Young Americans in the Crosshairs; Chapter 9: The New Age Movement; Chapter 10: Manifestation — or Manipulation?; Chapter 11: Danger and Disunity Within the Church; Section D: Is A Religious Persecution Coming?; Chapter 12: Signs of a Coming Persecution; Chapter 13: Government Plans and Preparations; Chapter 14: What to Expect and What to Do; Section E: Our Call to Heroism and Holiness
;
Chapter 15: True Love vs. Moral Blindness; Chapter 16: Spiritual Guerilla Warfare; Chapter 17: Happiness and Growth While Under Siege; Chapter 18: Weapons in Our Spiritual Arsenal; Appendices
;
Appendix A: How to Go to Confession; Appendix B: Prayers for Troubled Times; Appendix C: Patron Saints for Frightened and Confused Catholics.
See also:
"
When evil attacks personally, a shield is built through the sacraments and love
"
"
In fascinating book well-known priest spells out dangers with microchips, human monitoring, and other technology
"
---
Speaking of spiritual dangers...
Responding to a
March 15 story
on EmaxHealth.com titled "Free Contraception Can Cut Abortion Rate in Half," Brian Clowes, Ph.D., director of research for Human Life International, said in an e-mail (slightly edited):
'After 40 years of widespread contraceptive use in the United States, we should have learned that more and more contraception is not the answer to less abortion. This is because two things are imperfect: the contraceptive methods and the people themselves.

'According to the Guttmacher Institute, the research arm of the Planned Parenthood Federation of America, there are more than two million contraceptive failures in the U.S. each year. Two-thirds of women seeking abortions were using contraception when they got pregnant. Contraceptive Technology, the 'Family Planner's Bible,' states that condoms, perhaps the worst offender, break, tear or slip off one time out of twelve, which means that the average condom user experiences eight failures every year.

'Contraception is obviously not the answer to ending abortion, as history has shown us. And it is certainly not the answer to ending sexually transmitted diseases. The only answer to ending these [evils] is living by nature's plan — abstinence before marriage and fidelity after. Those who sneer at this solution are both unscientific and tend to select the easier wrong over the harder right, claiming the former is 'impractical.' What is truly impractical is doing the same thing for decade after decade and expecting a different result.

'The Norwegian study purporting to show that women use the pill more when it is free flies in the face of human experience. In general, people tend to use and maintain products better if they have to invest in them. The Norwegian study must have missed one or more factors that impacted the behavior of these women.'


And, of course, contraception
is
intrinsically immoral.
Related links:
"
Contraception: Why Not?
"
"
Birth Control
"
HLI Research: Contraception
© Matt C. Abbott
---
The views expressed by RenewAmerica columnists are their own and do not necessarily reflect the position of RenewAmerica or its affiliates.
---