Matt C. Abbott
Despicable abortionists, Notre Dame's hypocrisy, beating the ACLU, Obama's counterfeit Catholics

By
Matt C. Abbott
June 29, 2010
Here's the latest from Ann Scheidler and the Thomas More Society:
On May 29, 2010, the abortionists stooped to a new low, even for them. Here's what happened. In previous letters I've told you about Wayne Webster's abortion mill in Rockford, Illinois, which is decorated with rubber chickens hanging from nooses, a nun doll in a coffin, and various placards with hateful and mocking messages.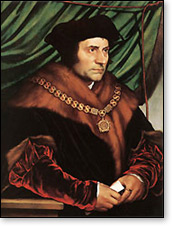 Well, on May 29, a new sign appeared at Webster's main entrance: a poster of Jesus giving "the finger" to passersby with the caption: "Even Jesus Hates You." What's the purpose of this outrageous, blasphemous poster? Apparently, Webster's message to the pregnant mothers scheduled for abortion is: "Jesus hates you, so you might as well go ahead and kill your baby." A poster like that could break the spirit of a vulnerable woman.
Insulting Jesus Christ in such a gross manner is bad enough. But there's more. Webster and his allies are also attacking and insulting the dedicated clergy who regularly pray and
save babies
outside his abortion establishment.
While one priest was praying in front of the mill, a Webster ally stuck a homemade bumper sticker onto the priest's car that said, "I Rape Children."


Another clergyman had his car egged by a Webster ally.


Webster displays new posters at his mill with these messages: "F--- your perverted priests" and "Stop the perverted Catholic priests from raping young boys," "F--- your criminal priests," and "We love God. Abortion is part of God's plan."


Webster is more than just a sick man. He's evil. But the clergy have responded to his outrageous mockery, threats, attacks, and insults as Jesus responded to mockery: with love, humility, and prayer. And members of the clergy continue to pray and save babies at the mill. Why has Webster launched this vicious attack on the priests and other pastors and ministers who pray and save babies outside his mill? Because, according to sidewalk counselors, the prayers and presence of these clerics has slashed the number of abortions by more than half!
That's a serious drop in Webster's baby-killing business and a lot of babies saved. You might be wondering how it's possible for a group of clergymen to cut the number of abortions by more than half. Well, there are two reasons: Their prayers for life are powerful. When pregnant mothers see "men of the cloth" in prayer upon approaching an abortion mill, many of them change their mind and choose life.
What happened one day last winter shows not only the power of prayer but also the power of the clergy. Even though the wind chill on that January day was well below zero, the pastor outside the Rockford mill had his coat wide open. The sidewalk counselors urged the pastor to button his coat and cover up better. But the pastor declined to button up his coat because that would conceal his clerical collar from public view. He left his coat open so that the people entering Webster's killing center would know a member of the clergy and preacher of the Gospel was there for them.
Though he was freezing and shivering, he offered up his suffering as a prayer for the pregnant mothers scheduled for abortion that day. A young Hispanic pregnant mother who arrived at the mill for an abortion noticed the priest's collar. She knew he was praying for her. She changed her mind, left the mill, and never returned. Others also changed their minds and chose life for their babies. The clergy come to pray at Webster's mill in all kinds of weather. Nothing stops them. But Webster must be stopped. And that's why we're suing him.
As I told you in another letter, we've filed a hefty lawsuit against Wayne Webster and the City of Rockford for harassing pro-lifers and denying their civil rights. One of Webster's colleagues, Keith Stirkeson, has even thrown a punch at a pro-lifer and, while walking his pit bull, threatens to turn his pit bull loose to attack pro-lifers.
You see, Webster isn't just attacking and insulting priests. With the cooperation of the City of Rockford, Webster has had peaceful sidewalk counselors arrested on flimsy, phony charges in brazen violation of their First Amendment right to talk to pregnant mothers as they approach the abortion provider. Webster's trampling of pro-lifers' First Amendment rights is intolerable.
Here's the latest news in that lawsuit. We've filed a motion for sanctions against Wayne Webster for not giving us documents that the judge ordered him to turn over. One of these documents is his tax return. Obviously he doesn't want to let us see his tax return, but that's too darn bad. He'll have to furnish it whether he wants to or not.
Another case that's coming to a head is our lawsuit against the Haitian abortionist Jean-Jacque Renelique. I've told you about this incredible case, where Renelique cooperated with his administrator Belkis Gonzalez to conceal the murdered body of a well developed baby who survived a late term abortion attempt. When police got a tip about the murdered baby and entered the abortion premises with a warrant to search for it, they couldn't find the body at first. Why? Because the abortionists had hidden the body on the mill's tin roof, in the blazing hot Florida sun.
We were instrumental in getting Renelique's license to practice medicine in Florida permanently revoked. So he ran up to New York to kill babies there, despite his shocking record of malpractice in Florida. So far, New York authorities just shrug their shoulders. But we've only begun to fill them in on all the details we're learning about this reckless abortionist.
Renelique needs to be stopped, and our lawsuit could put him out of business for good. We've filed an amended complaint against him to defeat his motion to dismiss our Florida suit.
In other words, Renelique is still on the hook. And the case is coming to a "crunch point." We have to be ready to press this case home to victory.
We've got strong cases going against Jean-Jacque Renelique, Belkis Gonzalez, Wayne Webster, and other enemies of life. It would be tragic to let
any
of them off the hook. Keep in mind that abortion lawyers are clever enough to get most cases against abortionists dismissed on technicalities. That's because their opponents usually underestimate them or don't pay enough attention to details to press the cases against them. But our lead attorney Tom Brejcha doesn't let that happen. He knows the abortion lawyers are diabolically clever. He never underestimates them. He always pays close attention to the details so no abortionist gets off the hook on a technicality.
Another case that's heating up is our defense of the "Notre Dame 88." These are the 88 pro-lifers who peacefully prayed the Rosary to witness for the sanctity of life while Notre Dame's President Father John Jenkins, C.S.C., heaped honors on the most pro-abortion president in American history: Barack Obama.
Notre Dame's transparent hypocrisy
Here's what's so sad and disappointing about the situation at Notre Dame. When other protest groups, such as "gay rights" or anti-ROTC activists, staged demonstrations on Notre Dame's campus, even without the "required" written permits, the university has coddled them.
For example, militant "South Bend Equality" gay rights activists paraded right up to Notre Dame's Golden Dome last January — the Dome with a statue of Mary, the Mother of Jesus on the top — but campus police didn't stop them, even though the demonstrators had no written permit, as the rules supposedly require. These "pro-gay" activists went up the stairs and were only stopped when they tried to enter the building. Father John Jenkins even sent out an official representative to receive their petition and to thank them for being there!
When other "pro-gay" protesters were arrested a couple of years ago, they were quickly released after a brief detention on campus. They were told, "You'll be hearing about your court date." But to this day they have heard nothing. No charges were ever brought against them, or they were dropped. Anti-military protesters received the same "slap on the wrist" treatment.
Here's the hypocrisy. Notre Dame says it bans all campus protests without written permits, and this is why it is still supporting the ongoing prosecution of criminal trespass charges against pro-lifers for the peaceful campus protests of last May, when Notre Dame honored anti-life President Obama. But now we have proof that this claim of "equal treatment" is a falsehood. Protesters who embrace "politically correct" causes are coddled, but those who proclaim that life is sacred from the moment of conception are prosecuted to the hilt. (Isn't Notre Dame supposed to be a Catholic university?) One of the 88 pro-lifers — a valiant pro-life woman — has died of cancer awaiting her trial.
Another crucial case that's reaching the boiling point is our zoning lawsuit against Planned Parenthood's "mega mill" in Aurora.
The Chicago Tribune called our zoning lawsuit against Aurora Planned Parenthood the "silver bullet" in the long battle against this colossal baby-killing center. Planned Parenthood tried to use the "Cinderella defense" to deflect attention away from its brazen deceptions and zoning violations. I'm sure you remember that, in the famous fairy tale, Cinderella had to hurry up and run out of the ball before twelve midnight or else her carriage would turn back into a pumpkin.
Well, Planned Parenthood's "Cinderella defense" was to argue that our zoning lawsuit was filed "too late." Actually, we filed our lawsuit right on time — less than 24 hours after the mayor of Aurora (whose political party counts Planned Parenthood as a major backer) shut down the city's investigation of Planned Parenthood's myriad legal violations and hastily issued an occupancy permit. Yes, within 24 hours of the mayor's action, Peter Breen, former pregnancy center director and now our executive director at the Thomas More Society, burned the midnight oil and filed our zoning case, before the mega-mill ever opened for business.
We have the silver bullet against the Aurora Planned Parenthood mega-facility. If we win, Planned Parenthood will have to vacate its giant abortion fortress and may even have to take the building down.
Yet another case in jeopardy is the parental notification case in Illinois.
Beating the ACLU (and the attorney general) on parental notification
Let me give you a baseball analogy to show you the outrageous disregard of the law by pro-abortion Illinois Attorney General Lisa Madigan.
Let's say the Yankees are clobbering the Red Sox by 10 to nothing in the ninth inning. And then the last Red Sox batter makes the third out. The game is over, but instead of leaving the ballpark the Yankees' manager tells the umpire that his team has decided to forfeit the game and let the Red Sox win. And the Red Sox "agree" to accept the forfeit. That would be worse than throwing a baseball game, as "Shoeless" Joe Jackson did in the 1919 World Series, the notorious "Chicago Black Sox" scandal. In our hypothetical example, the game already has ended and yet the winners have offered to erase their win and turn it into a loss.
Absurd? Unbelievable? Well, that's what's going on in Illinois. The long legal struggle to defend the 1995 parental notice law should be ended. The courts finally have ruled against the ACLU, dismissing its latest claim that the Illinois parental notice law is unconstitutional in violation of Illinois' state constitution. Thus the game is over. The law should be enforced. But the pro-abortion Attorney General of Illinois, Lisa Madigan (another recipient of major funding from the abortion industry), is playing footsie with the ACLU, agreeing to delay enforcement of the law during the ACLU's meritless, frivolous appeal — perhaps two more years.
Time out! Madigan's sworn duty is to defend and enforce the laws of the State of Illinois — not just the laws she likes but all of the laws, including the law guaranteeing parental notice before children are taken for abortions. How can she win the lawsuit, yet then agree to negate the law she's defended? To end this outrage, we're appealing to the Illinois Appellate Court — and the Illinois Supreme Court, if necessary — to force Madigan to implement the parental notice law.
We're also working on a case of elder abuse and euthanasia: An elderly lady in basically good health got bedsores in her nursing home, a sign of neglect. Instead of healing her bed sores, the nursing home and a relative — against her will — loaded her up with morphine and pain patches, medications that interact and mess up your heart. This deadly drug cocktail killed her. And the greedy relative who mistreated her is stealing her seven-figure estate.
Our mission includes the defense of elders against such abuse and so we're helping family members find legal help to sue for justice.
We're also at a key juncture in my son Eric Scheidler's appeal to the Illinois Supreme Court to reverse Planned Parenthood's unjust $317,000 judgment against him. Planned Parenthood hopes to thwart our appeal so that Eric and his family will go to the poor house.
---
"Obama's Counterfeit Catholics"
© Matt C. Abbott
---
The views expressed by RenewAmerica columnists are their own and do not necessarily reflect the position of RenewAmerica or its affiliates.
---