Matt C. Abbott
Pregnancy resource centers and praising God

By
Matt C. Abbott
June 8, 2011
Most pro-lifers know about the very important work that pregnancy resource centers do on a regular basis: They save babies from abortion and help mothers in crisis situations — and do so relying solely on the generosity of private donors. There are a number of such centers scattered about the U.S., and they all have that same noble mission.
Anna LaBounty, a director at The Pregnancy Centers of Central Virginia, recently said in an email:
'[Recently] I sat with a young woman who said she had a Christian background but had called Planned Parenthood immediately after having had several positive home pregnancy tests. She didn't think her boyfriend would be there to support her and she didn't want her baby to feel abandoned the way she had been by her own biological father. Yet, when she drove past the PP that same day, she saw people praying and it made a difference for her! She told me she realized she couldn't abort. And so, she came to our center.

'We talked about God's design for her life, her worth and value, and what she had to lose by having sex with the guys she dated. We talked about how to have a relationship of love and respect. She told me, 'I don't know what happened ... seemed like my boyfriend and I were doing fine until we had sex. Then we argued a lot, and there are times I can't stand him. I'm not a person to be like that ... don't know why I'm doing it.'

'I offered to her that when you obey God's direction on relationships and wait to have sex until you're married, you're operating in a spirit of love in doing what's best for the other person and for yourself. You have the fruits of love: respect, joy, life. But adding in sex before marriage introduces lust into the relationship because you're suddenly willing to gratify your own desires and put the other person at risk.

'This young lady had a look like a light bulb had gone off. She looked down, thinking. I told her about God's awesome grace at having another chance to start over and to really seek Him for her life. She prayed with me before she left and looked like the weight of an elephant had been lifted off her chest as she and a friend left the center. God met her need and filled her with hope of a new start!

'I thank God that we are part of one body as a witness for Him! We are so grateful to those who give up their time to show the women and men who are being drawn in for an abortion that this is not the best choice. Ending a child's life will bring only more heartache and darkness. We see and hear that truth all the time in our centers from those who are post-abortive. But praise Him that He's redeeming what is trapped.'


For more information about The Pregnancy Centers of Central Virginia,
click here
.
In Chicago, Aid for Women, a pregnancy resource center with two locations, recently dedicated Heather's House, a two-year residential program that "will offer residents a safe and loving home where they can prepare for the birth of their child. The program allows women to gain independence and self-sufficiency by completing parenting classes, continuing their education, and engaging in vocational and career exploration."
Click here
for photos of the dedication, including one of yours truly and Joe Scheidler.
For more information about Aid for Women,
click here
.
Also in Chicago, The Women's Center, a pregnancy resource center with three locations, very recently had a fire (which appears
not
to have been caused by arson) that badly damaged its main office. Below are two photos of the fire's aftermath.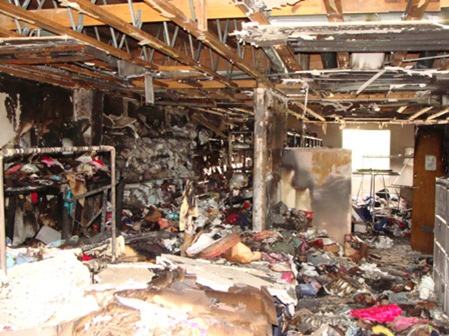 Despite the extensive damage, Jackie Keenan, the center's director of volunteer services, said in an email: "Praise the Lord no one was hurt! No matter what, we are going to praise God!"
Mary Strom, the center's executive director, added: "We are so grateful to the Lord as this could have been much, much worse!"
For more information about The Women's Center,
click here
.
© Matt C. Abbott
---
The views expressed by RenewAmerica columnists are their own and do not necessarily reflect the position of RenewAmerica or its affiliates.
---