Matt C. Abbott
241 reasons not to vote for Obama; 'Parish WebStore'

By
Matt C. Abbott
October 24, 2012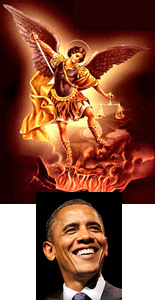 Yes, there are at least 241 reasons not to vote for President Obama next month. I'm sure there are many more, but I'll leave the task of coming up with the additional 425 reasons — so we have a grand total of 666 — to my fellow conservative columnists and bloggers.
Steven Ertelt, editor of LifeNews.com, writes (slightly edited):
"Did you know that President Obama has taken 241 actions to promote abortion and destroy human life via embryonic stem-cell research? These actions range from bill-signings to speeches, and they include major appointments and placing pro-abortion judges on the Supreme Court and other important courts. Many of them involve using your tax dollars to pay for or promote abortion or pro-abortion groups like Planned Parenthood. Two-hundred-forty-one times! Virtually every month President Obama has been in office, he has done something to promote abortion."

Click here
to see the list of 241.
---
From a news release:
An Illinois group announced this week that it has launched Parish WebStore, LLC (PWS), which a number of people are already calling the Catholic alternative to Amazon.com.

Its creators say that PWS not only features a full range of products — DVDs, CDs and mp3s, jewelry, sacramental gifts, books and e-books by authors such as Dr. Scott Hahn, Steve Ray, Father Robert Barron, and others — but it also has a wide array of user-friendly catechetical materials geared toward reaching deeper into the pew. These include resources that help solve people's real needs, including addictions, marital help, healing, parenting, and financial advice from a reliably Catholic perspective.

Company representatives say PWS does all of this because they want to provide both a trustworthy, Catholic alternative to huge online secular retailers, while at the same time financially supporting formation efforts of parishes, beginning with the Year of Faith called by Pope Benedict XVI in order to accomplish the New Evangelization.

'Our mission is really three-fold,' explains PWS President Doug Venne, Sr. 'First, and most importantly, the spiritual mission is to reach deep into the pews to draw people closer to Christ and to further the Church's mission of evangelization.

'Second, it is to be unifying, authentically Catholic, and evangelistic. We benefit and support resellers, parishes, vendors, and content providers involved in Catholic ministry who in the past have functioned fairly independently. PWS is trying to accomplish something special by uniting all Catholic ministries that share in a mutual desire to reach people. For example, a benefit to Catholic stores is the ability to expand their product offerings to include items they don't stock, like e-books, mp3s, and more. We need to work together to have a stronger impact and voice, and by doing so, I know we will be more effective,' Venne explains.

'Third, Parish WebStore provides parishes a needed ongoing income stream because the company contributes 12 percent of every parishioner's purchase back to parishes and other Catholic organizations that work with the Parish Webstore affiliate program.'

PWS connects Catholics to a wide variety of educational and spiritually-enriching products, information, and resources through a trusted, all-inclusive website for Catholic products that completely supports the Church's mission. Many Catholics are not aware of all the reliable Catholic information that exists. For example, an Internet search for 'Jesus' or 'Mary' will yield information from Catholic and non-Catholic sources. This makes it difficult for some parishioners to determine what is from a Catholic perspective and what is not. PWS enables seekers to avoid having to guess what resources accurately reflect Catholic teaching.

'After viewing the Parish WebStore site, I was excited to see how this will be an incredible resource to reach parishioners wherever they are on their faith journey,' says Father Christopher DiTomo of the Diocese of Rockford.

PWS currently works with many top vendors such as Our Sunday Visitor, Ignatius Press, Nelson Gifts and Malhame, as well as many smaller vendors including Illuminated Ink and Holy Heroes. Future plans include additional products, content, links, support for Religious Orders, expanded video content, and much more.

'Building a strong network with many Catholic organizations in order to inflame more hearts than ever is the ultimate goal of PWS,' says Venne.

Parish WebStore, LLC is a Catholic online resource and retail store which provides a wide array of faith-filled goods and resources, and further promotes the Church's call to evangelization by all of its members. For more information, contact us at 847-658-2949 or info@parishwebstore.com; or visit us at www.ParishWebStore.com.

© Matt C. Abbott
---
The views expressed by RenewAmerica columnists are their own and do not necessarily reflect the position of RenewAmerica or its affiliates.
---